Ambassadeurs Group, under the leadership of CEO Kevin McGowen, has raised more than £2m for good causes since February 2022, has just increased its GGY donation to support GambleAware in 2023, and is now focused on its corporate philanthropy for the year ahead. As Chief Corporate Affairs Officer Tracy Damestani explains, it is a team effort.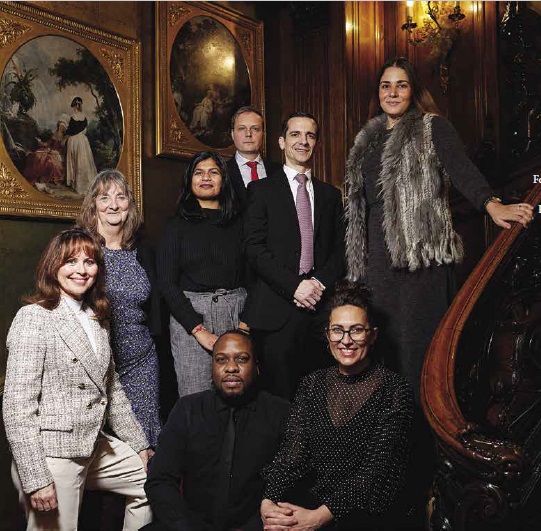 Photography by Hamish Brown
In a world where anything is possible, Ambassadeurs Group (AG) has proved that everything is possible. It is just over a year since the formation of the Group, which includes the iconic Les Ambassadeurs Club in London's Mayfair. Since then it has launched new, future-facing companies including in online gaming and travel, set up training and education programs for staff, put in place charitable alliances, and has raised more than £2 million for good causes through a focus on corporate philanthropy, community engagement and giving back.
The broader Group purpose comes as Les A – as it is affectionately known – doubled down on its commitment to support GambleAware and has increased the Club's donation of its gross gambling yield (GGY) from 1 percent to 1.1 percent in 2023. Going further still, an additional 0.1 percent of GGY will also be earmarked for harm prevention and education in the gaming sector, where more foucs is expected.
This donation to research, education and treatment (RET) into the harms that can come from gambling addiction is 10 times more than any other operator.
It is something the AG leaders are proud of. "Why wouldn't we donate," asks Tracy Damestani, Chief Corporate Affairs Officer, who has long been an advocate for safer gambling. "This enhanced commitment makes a significant difference to the safer-gambling funding body."
By any measure in any industry the commitment donating to RET is impressive. For Damestani and the rest of the team at AG, it is visible evidence of the Group's core purpose which is to raise standards and give back. This lofty-sounding approach is not just hot air. It is an approach that infuses every part of Group.
Staff – the WorkFamily – proudly volunteer in the local community, support good causes and help roll out campaigns that are designed to raise money for charities through alliances that the Group has set up.
Members are happy to share their good fortune from the casino and donate some of their winnings to good causes. Members are keen to be part of the action too, putting money into events such as a charity golf day to raise money for the Prince's Trust RISE.
Walking the walk
From the outset AG's commitment to building better futures for people, planet, members and communities had to be about positive action. "It could not be simply words or unspecified ambitions around charitable giving. It was about setting clear objectives, showing that we were delivering on them and then communicating our achievements to stakeholders," explains Damestani.
Some highlights from the year since AG was set up include:
• £500,000 raised through member contributions for safer gambling
• Sponsoring a charity golf day to raise money £10,000 for The Prince's Trust RISE, helping young people across the UK
• Hosting a charity event, in partnership with the OppO Foundation, to celebrate AG's donation of five specially adapted wheelchairs to help military veterans achieve their sporting dreams
• Donating £110,000 in support of the Disasters Emergency Committee's appeals for those impacted by the Pakistan floods and the war in Ukraine
Closer to home, more than one third of AG staff received earnings increases from October 2022, reflecting an increase of up to 25 percent.
Looking for the opportunities
The idea of a group came about during the dark days of lockdown in the pandemic years of 2020 and 2021. Like all other casinos, the doors to Les A were firmly shut and many staff were put on furlough. But the casino's CEO, Kevin McGowen, likes to think about things differently – and creatively. Instead of seeing closed doors only as a financial problem, he also looked at any opportunities that might be presented.
He pivoted the business into areas that gave a short-term boost but were also part of a sustainable business model for the future. The obvious pivot came with the introduction of online gaming, delivering the premium service Les A members expected whilst raising the standards of safer gambling.
There were many less obvious areas that McGowen started to explore. He and his team saw opportunities to serve their ultra-high-net-worth members in different ways. First came the advent of the Essential travel brands, offering a mix of concierge service, business travel and holidays that would be crucial once the world opened up post-pandemic.

Then came an exploration of new technology in areas such as cryptocurrency and non-fungible tokens (NFTs), which were both a neat way of showing members that the casino was in step with them and also about futureproofing itself. Finally, there was a chance to open the restaurant at 6 Hamilton Place to the public and use The Palace at Hamilton Place for select events. The makings of the Group were in place. But it was in the approach to the WorkFamily that the true evolution came. Many of those staff on furlough started to work on their own projects. Some baked, others developed products such as candles, while some volunteered for organizations close to their hearts. McGowen was inspired. He wanted to harness this entrepreneurial spirit and he also realized that the WorkFamily had a desire to develop new skills.
When McGowen hired Damestani, who had previously headed the National Casino Forum (NCF),to be AG's head of corporate affairs, they both recognized that they had something special in these diverse parts of the business and an opportunity to package it into a unique offering. So, with a newly energized workforce, and a management team with a clear vision, they set about changing the world of gambling by placing an emphasis on raising standards and good causes alongside the casino.
Corporate philanthropy
When the Group came together in February 2022 there had already been many high-level discussions about how to shape their corporate philanthropy and community engagement.
"It is one thing to raise money but it is entirely another to ensure it is donated in a meaningful way," says Damestani. "We are based in London's Mayfair, where people see the high-end shops and expensive restaurants. But there is another part to our local community which is now being impacted by the high cost of living. So we wanted to help good causes locally, nationally and internationally. We also wanted to boost support for safer gambling, which speaks to the casino which is at the heart of the Group. And we wanted to push entrepreneurial causes and provide support across myriad areas for the betterment of society which includes all aspects of health — mental, physical, and so much more."
The answer was to define four areas around which to concentrate AG's corporate philanthropy and community engagement: mental health and wellbeing, education, safer gambling and our community.
By organizing its efforts in this way, AG can make a meaningful difference, grow and share its learnings, and deliver key campaigns throughout the year whilst also supporting charities and causes on an ad-hoc basis.
It is all very well doing all these things but they also needed to be communicated to the wider world. A new Ambassadeurs Group website was created as the main vehicle to update the progress made.
All website content dovetails with the newly created quarterly Philanthropy newsletter, which is sent out to the WorkFamily and will be sent to AG's strategic alliances. These already include one with the Playground Theatre, which combines productions with outreach projects in West London; Cool Earth, which is being promoted by the Essential brands and aims to help indigenous people protect the rainforests; and the Felix Project, which uses surplus food to feed school children in London.
According to Damestani, more alliances will be announced throughout 2023. "Through alliances we show we are targeting donations to make a clear difference. There is a rigorous application processto ensure alliances match our core aims and fit the criteria we have set out to the board"
*** This feature was originally published in the February 2023 Edition of Casino Life Issue 156 ***