Take a look at the staggering amount of live table games on the 888 Casino desktop and mobile sites
The British online gambling market is worth an estimated £5 billion a year, making it a financial behemoth. With revenues this high – and taking up an increasingly significant slice of the overall gambling industry – it's perhaps no wonder that the online gambling market is fiercely competitive.
Finding an online casino that suits your style of play, offers you tailored bonuses and has all your favourite games is becoming trickier and trickier. Luckily for you that's where we come in. We have trawled through the best (and worst) online casinos to give you the lowdown on where to play and where not to.
This week we reviewed the highly rated 888 online casino – a leading provider in the online gambling scene. Read on to find out if you should play with them now or bet your money elsewhere.
Who are 888 Casino?
Established by brothers Aaron and Avi Shaked in 1997 as Virtual Holdings, 888 Holdings are actually one of the pioneers of online gambling. 888 Holdings were set-up with the direct aim of producing one of the world's biggest online casinos.
And that's exactly that 888 did over the next two decades, over which time the brand has become a global player in the gambling industry. As it's branched out it grown into areas beyond just casino gaming – now including 888 Sport and 888 Poker. There are also a range of bingo brands, including Wink Bingo, Spindipity, Tasty Bingo, Bingo Fabulous, Red Bus Bingo, Posh Bingo, Bingo Street and 888 Ladies.
The Shakeds sold stakes in 2017, but Avi Shaked maintained the largest stake, with 24% equity. In 2016, the Ben-Yitzhak brothers also reduced their family stake, and now have a 3% holding. As 888 has grown, the company has refused to rest on their laurels – continuing to innovate even when at the top of their game. For example, they've invested heavily in their Random Logic Software platform, which supports product development and market research.
888 Holdings don't just focus on casino games – they have several subsidiary companies that cover poker, sports betting, bingo, slots and more. 888 casino is the jewel in the crown of their online offerings, so we'd recommend you pay it a visit.
What makes 888 casino special?
As well as having a great array of top level slot games, 888's progressive jackpots give players the chance to win big, big money
There aren't that many development companies in the world of online gaming. This means the existing developers have a monopoly when it comes to games selection. 888, however, are not beholden to any development company as they created their very own.
As such the games on offer with 888 Casino are completely unique to them. You won't find them on any other site. 888 have also piled a heap of money into their development branch, meaning their games won't be beaten for quality by any other site. That said, they also offer a range of slot games developed by Netent and other leading gaming firms – so their players can get the best of all worlds.
With such a plethora of online casinos it can be a case of The Emperor's New Clothes when you're browsing different sites. There is no such problem with 888 which makes them one of our favourite online casinos.
This includes games such as Treasure Fair – one of its most popular slots games.
However, it's probably the live casino offering that makes 888 so special. By connecting players with human dealers in real time – through high-quality video and audio streams – it's able to effectively simulate a genuine casino environment. At 888 live casino, there's everything from 3 card poker to blackjack available.
888 is able to do this through a Game Control Unit, which creates a video stream at over 200 frames per second – and the quality is boosted further with Optical Camera Recognition. Its filming studios are based across Europe and Canada.
How does the website look and feel?
The 888 branding exudes a premium casino feel. With a dark colour scheme that alludes to the 'night out' vibe, it also has sleek, minimalist graphics which echo modern casino design. Its site is one of the easiest to navigate around, with simple menus and buttons taking you to your favourite games in just a couple of clicks. There are no fiddly tutorials getting in your way, unlike on other casino sites.
The design has also been well considered. This operator aims to attract new players by displaying free demo games on its homepage. Even these games are pretty high-end and quick – making you want to return for more. Plus, the 888 Casino site functions as a single-page application, so when you're moving between pages the system doesn't have to constantly reload new content – boosting the user experience further.
What's more, withdrawing and depositing funds is a speedy experience. If there's a delay, it'll no doubt be your bank or money service slowing you down.
What's the mobile version like?
When 888 first launched their mobile app, some glitches were widely reported in the gaming press. Fortunately, the company have responded to the feedback that they received and improved their app as a result.
Now the Android and Apple 888 Casino apps are just as good if not better than some of the industry's biggest names. There's no drop-off in quality when it comes to playing live casino either which is a huge bonus.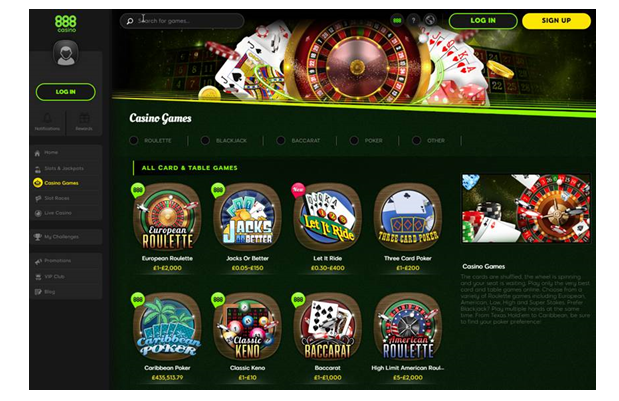 Customer support through the app is just as speedy and helpful as it is on the desktop site too meaning you can game on the move with confidence. The positive feedback that 888 have received from their improved casino app has led them to use it as the template for their current sports betting app.
How good are the bonuses?
Let's be honest, the main reason that we gamble online isn't to enjoy great graphics or excellent customer support. There are a number of enticing offers and bonuses to new customers signing up to the site for the first time as well, with hot promotions and daily deals drawing many players in.
After playing roulette for some time on the site, we also started to notice a series of enticing offers coming through to our email account. Unlike other companies, 888 won't forget you as soon as you sign up to their site – you'll be sent regular offers to keep you interested and engaged.
What's 888's track record like?
An online casino can receive all the praise in the world from punters, but being recognised by the industry itself means so much more to a site's credibility. 888 are good on that front having received a staggering amount of awards throughout the years.
In 2015 888 Casino were voted Best Casino Operator by Gaming Intelligence and have won a whole host of similar awards for their online offering. Not many online companies can boast as many awards as 888 casino which demonstrates just how good their online casino is.
Verdict: 5/5
888 Casino is up there with some of the best online casinos we've used. Everything you want from an online casino in on the 888 site and it is often bigger and better than on other sites. The modifications made to the mobile app in recent months have ironed out any weaknesses that 888 Casino previously had.
For trust, safety and support 888 Casino is also second none, making it our highest-ranking online casino.