Top 5 reasons why Macau is now World Casino Capital 
Naturally, Las Vegas will always be Las Vegas, however for those of us who are into the 'ca-ching', bling and the excitement of land-based casinos, Vegas may have now become a little 'ho-hum' and a blast from a soon-to-be-forgotten past.  Certainly, as the world's population is now more global than ever before, casino players are prepared to travel to discover more exotic gaming options.
On a global scale, the big-money, high-roller action bets seem to have been relocated to Macau, which has rapidly become the blast of the present-day with enormous new gaming and entertainment halls such as those in the Grand Lisboa Palace, The Venetian Macao Resort Hotel, The Banyan Tree and City of Dreams – Crown Towers Macau.
Of course, not everyone has the cash or the time to head to Asia's leading jackpot city. If you're looking for online casino that can mix it with Macau's reputation of producing winning jackpots, check out the Jackpot City Online Review for a guide to all the best online casino gaming action, big cash jackpots and huge welcome bonuses.
Meanwhile, let's examine the Top 5 reasons why Macau is now the World Casino Capital;
Macau is THE World Leader is Gaming Revenue
It seems odd to think that the World's Leading City in global gambling revenue is a former Portuguese settlement in Far East Asia and boasts a UNESCO World Heritage Site. The historic centre of Macau is in the heart of the most densely populated region in the world, with almost 700 000 people living in an area of only 30.3 square kilometres (12 square miles).
This autonomously-governed Chinese region is the only part of China where gambling is legal. With its ubiquitous neon-lit skyscrapers, Macau has fast become the gaming capital of the world.
Macau superseded Las Vegas as the world's leading city in terms of gambling revenues more than a decade ago. Macau generates more than CAD $60 billion annually from an estimated more than 30 million visitors who travel to the former Portuguese colony.
More than 20 per cent of the local population are employed in Macau's 33 casinos.
Macau's Proximity to China Brought Investment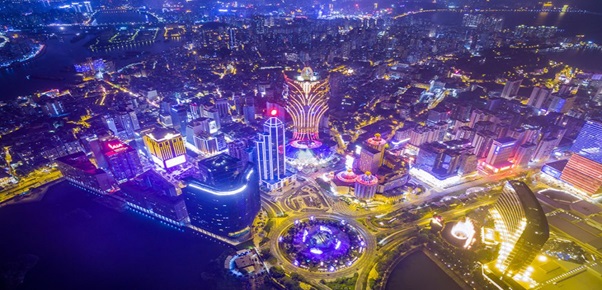 Over 400 years ago, in Macau, Portugal identified a strategic and ideal location in which to settle down and so it became the first port to be settled permanently by Westerners in the Far East.
On the 20 December 1999, Macau formally became a Special Administrative Region (SAR) of the People's Republic of China, ending Portuguese administration of the region.
Open to the Chinese market post-1999, Macau has become the biggest jackpot city in the world thanks to the gaming tourists pouring in from mainland China. The proximity and accessibility to the huge, and growing, China market that has triggered billions of dollars in investment and unrestricted access to the growing Chinese middle class market.
Visitors to Macau play the Tables
Unlike its little brother, Las Vegas, Macau's punters generally prefer playing table-based casino tables over the slot machines.
In Macau, Baccarat one of the favourite game for players mostly because it offers a lower house advantage while the slot machines offer generally a lower payout to players and a higher edge to the house.
However, its pertinent to remember the Macau government insists you adhere to its strict gaming regulations. It is recommended to leave your gaming hacks at home. Forget the card-counting and other tricks you might have picked up. They will be considered criminal offences in Macau.
Increased Competition = More Choice for Players
Until 2002, Casino tycoon Stanley Ho was 'the man' in the Macau Casino Industry for 40 years. At that time, the government changed the rules to allow competition. The six casino operators that now operate in Macau brought an end to the former monopoly system. US casino giants like Las Vegas Sands, MGM and Wynn Resorts have their branding emblazoned across many of Macau's biggest casinos. The Chinese middle class is loving the choices-on-offer and gaming revenues have increased as a result.
The Portuguese Connection
The Portuguese made Macau the first port to be settled permanently by Westerners in Asia. Modern culture in Macau to this day has numerous Chinese-Portuguese traditions which include its distinctive cuisine, art and stone architecture.
Visitors to Macau can also take a break from Macau's fabulous casino resorts to visit the many historic Portuguese monuments in this beautiful city. Having been granted UNESCO's World Heritage status in 2005, Macau's delightful Portuguese culture in the old city centre is worth a visit in itself.