Rahul Sood: "Esports audiences will push crypto into the future"
Young, tech-savvy and passionate, the esports sector has increasingly been recognised as the perfect platform for the industry's most daring innovators: a testing-ground for new cryptocurrencies, novel match-making algorithms and community-led online content.  It's a rapidly growing space that is still in the process of developing its own paradigm.  In 2014, entrepreneurs Rahul Sood and Karl Flores decided to dive into the emerging sector headfirst and found Unikrn – building a brand that would soon become synonymous with esports.  Sood's and Flores' vision has morphed into a sector-defining product: a fans-first, blockchain-powered, complete esports experience.
 
As well as being a tech entrepreneur, you've been a keen gamer for many years and have said your initial move into the hardware sector was driven by the desire to create silent PCs to improve the gaming experience. Would you say that's been your main pull in business – creating things you would want to use yourself, as a gamer?
Rahul Sood: That's a great question.  I think the best companies are those who create and iterate the best experiences for themselves, companies like Apple, Google, Ferrari, Tesla are all good examples.  At Unikrn, we hire the smartest people who love esports and video games and everything we build, we're building for ourselves.  My business career has extended well beyond gaming from my time at HP and as the founder of Microsoft Ventures, but the startups that have defined my career, and the ones that call me back, are in gaming and entertainment.  At our heart, all of the founders and almost all of the higher levels of management at Unikrn are deeply invested gamers.  We live and breathe esports and betting - it's a crazy combination, but it's so much fun.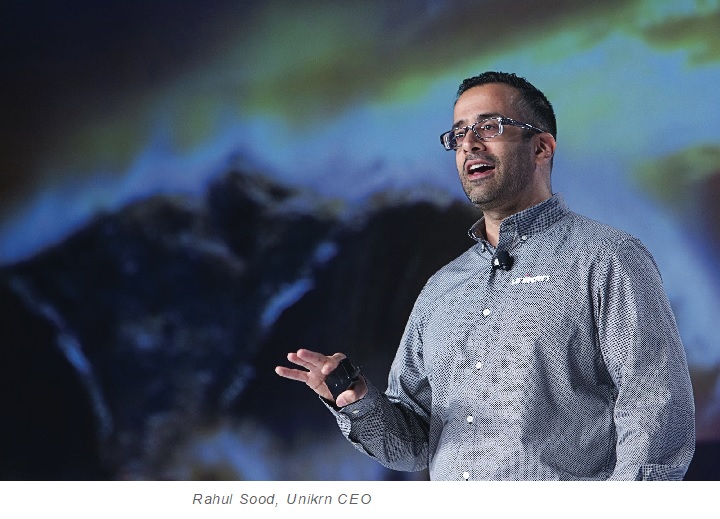 You co-founded Unikrn back in 2014 -  when the market was pretty much made up of unregulated skins betting - and managed to secure some major financial backing. What inspired you to take that initial leap of faith and why do you think other people believed in the business?
RS: Esports is the fastest-growing sport in the world and, even though mainstream culture is only recently starting to show interest, it's been growing for gamers for over a decade.  Unikrn was one of the earliest companies to erupt in this space with major backing and I think the reason we got that funding is because of our vision and our team.  My experience at VoodooPC and Microsoft Ventures helped to attract the right types of investment.  The thing that inspired me to take the leap of faith was my son telling me to get into esports — he pushed me to play a few current games and spend time learning about it.  Meanwhile, my co-founder Karl Flores was also pushing me out of Microsoft: he was, and still is, a big-time punter, loves to bet on sports and loves to play video games.  We got together with my old friend Daniel Rudolph, our CTO, and decided to start Unikrn.
 
One of the guiding principles of building a successful business is that a strong team is a strong investment.  It's what I do now and what I've always done; surround myself with people that are much smarter than me.  Those are the kind of people who can take a vision and turn it into something real.
 
How does it feel to be forging a new path in esports wagering? How do you go about taking those necessary decisive steps?
RS: It's exhilarating and nerve racking to be on the forefront of anything.  Unikrn is leading the pack for developing esports wagering, but we're an esports company first.  Wagering is one of the domains we're really defining, but we create world-class esports coverage, we partially own one of the world's leading esports teams (BIG, which is currently competing at the Super Bowl of CS:GO), we throw events and tournaments, we acquired one of the world's most technologically sophisticated tournament and matchmaking platforms and every aspect of our platform is built on revolutionary blockchain technologies that puts other platforms in the dust.  That's non-exhaustive for what we do.  When you're as far ahead as Unikrn is, there is no option to stop and wait for the market to catch up.  Everybody at this company has ideas and we have an open-door policy to share feedback.  To be clear, not everything we try works and not everything we want to try gets priority.  But the fact is that we know what we want to make and why we want to make it first.  Then we figure out how to get there and that process involves everybody: management; employees, and customers.
 
Creating original content and sharing esports news is a significant part of Unikrn's activities, particularly at your Berlin base. To what extent do you see yourself as a media company as much as a betting company?
RS: Unikrn is not a media company or a betting company: we are fans-first esports company built on the most cutting edge blockchain and gaming technologies.  Ours is a diverse platform that is all-inclusive for what gamers and esports fans need to heighten the experience of watching or participating in esports.  Our content creators work on lots of projects outside of news, which is really how the betting side and media side connect.  When we first created our content strategy, the mission was to embed ourselves within the esports community by creating great content.  Even for those with no interest in betting, our content helps gamers to become familiar with our brand and our other products, including our tournament platform, connekt, jackpots and our broader community of users.
 
Our editor-in-chief is a former Marvel Comics editor and the team working under her is made of absolute experts in esports.  These are career professionals who bring skills we not only utilise to make leading coverage, but also help us in product testing, development, marketing, QA, public relations and brainstorming new ideas.  In short, producing content makes us more efficient.  When we're making a new product, we have culture experts on hand who are always current with their gaming subcultures.  At the same time, we're giving professional coverage of a quality esports fans crave and, too rarely, see.
 
You ran an ICO to turn your Unikoin token into a crypto - Unikoin Gold - last year. Why do you think crypto has made such strong in-roads in the esports community? Are ICOs here to stay?
If there's going to be one audience ready to push crypto away from blind speculation and into tokens built for utility, it'll be the audience in esports and gaming.  Bankers are too conservative toward emerging technologies, merchants are too scared by volatility, social networks are too dependent on a less-technical audience, but gamers are none of these things.  They are excited about quality of life increases and new technology.  For those too young to remember, back in the early 1990s, a lot of people in the general population thought the Internet was a fad or a novelty.  It's unimaginable now, but it's true.  I remember reading a Newsweek article in '94 or '95 that talked about how the Internet would fail.
 
Blockchain is now where the Internet was in '92.  There are visible use cases possible, but they're complicated, clunky, slow and good projects are buried under piles of trash.  Gamers are, again, the first audience that will be there to support use cases, which bring significant quality of life increases, and Unikrn is the first esports company to lean into this revolution.  As for ICOs, they will evolve for the better.  Right now, tons of ICOs are just nonsense and the vast majority are going to disappear.  The good tokens are buried underneath a pile of rubble, but you will see over time that usage and depth will change this for the better.  In the future, ICOs will transition to Security Coin Offerings which offer real ownership stakes and real investment, and this can't happen soon enough.  First, the cryptosphere needs to start looking at the technology for the problems it solves and not for the short-term bullshit so often highlighted now.
 
How do you see things developing over the next few years, following on from the opening of the US market, and what influence do you think esports' entry into the gambling industry will have on the more traditional brands?
We believe esports is the key to reaching future wagering customers.  There's greater data accessibility, there's a growing market, there are far more games played than traditional sports and it's growing at a pace that scrambles the mind.  Unikrn already works with casino partners to help bring in gaming and esports audiences with events and we know many operators in the US are starting to see their futures in esports and gaming integrations.  In Las Vegas, slots are not attracting young people who want real interactivity and modern experiences, so we know these experiences will be integrated and a lot of traditional brands are clamouring to figure out how to do it best.  I think we'll see a lot of experimentation with this over the next 10 years and the companies that look at making experiences from the endemic perspective of gamers (companies like Unikrn) are going to be the success stories.
 
With the esports industry predicted to be worth $23.5 billion within the next two years, the growing sector will be one of the major tracks for ICE VOX 2019 providing the industry with an understanding of the esports ecosystem, how to engage with its community, and a clearer picture of how to package esports within a betting offering and treat players responsibly.
 
To take advantage of the early bird ticket prices for ICE VOX, Gaming's Spirit of Genius, visit: icetotallygaming.com/ice-vox