First impressions, as they say, count and since my introduction to the international gambling industry at the beginning of the year, I have to say that I have been suitably impressed!
In my 20-year marketing career I've worked in fascinating sectors such as travel and tourism, and I have to say that gambling is right up there in terms of innovation and excitement. It is one of the earliest adopters of new technology and includes some really notable and inspirational entrepreneurs. It's a great shame that I have joined Clarion during the Pandemic. Although it has meant that I haven't been able to meet the industry face to face it strikes me as being a resilient, creative, and super-smart sector that's full of energy and optimism.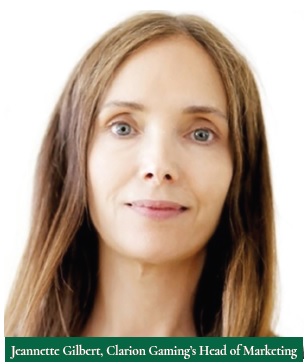 My career has been spent driving creative marketing and partnership strategies as well as launching and building brands. Clarion Gaming's track record demonstrates that it has always put customers front and centre-stage and I will always seek to work in collaboration with all of our customers including stakeholders such as the European Casino Association (ECA) and AGEM, to deliver business-centric solutions and opportunities.
Both the ECA and AGEM are making important contributions to our preparations for the much-anticipated return of in-person events, not least ICE London which will take place across 1-3 February 2022 at ExCeL London.
While in-person or live events remain the lifeblood of any industry Clarion Gaming has used the last 12 months in order to accelerate its development into a customer-first, omnichannel, year-round service provider, with the launch of two exciting new innovations both of which carry the ICE name and share the values of what is a world-leading brand.
ICE Connect is an invitation-only Executive Summit digital programme that uses algorithms to scientifically match senior level decision-makers with industry-leading solution providers. ICE 365.com is a dedicated global-gaming platform where content is available on demand and free of charge 24/7.
The ICE 365 content series is a deep dive into key sectors of the global gaming industry delivering expert insights in a variety of formats, including reports, exclusive C-Level interviews, unique data, video and live discussions. The aim of both of these innovations is to help support the industry with year round business-centric insight running alongside the return of in-person events.
Clarion has made a significant investment to make its digital channels the very best in the industry, sitting alongside and complementing what are the very best live events in the industry.
I look forward to meeting Casino Life readers at ICE London 2022, if not before!
Jeannette Gilbert,
Clarion Gaming's Head of Marketing