Clarion Gaming has confirmed a far-reaching Charter of commitments, cost efficiencies and investments to help exhibitors maximise the significant business building opportunities available at ICE 2022.
Clarion's ICE Charter includes a freeze on the cost of exhibiting space for both the 2022 and 2023 events, discounted rates on the costs of at-show IT, the removal of historical charges that have been levied on double-decker stand builds and the formation of an internal task force to help stakeholders secure the best possible room rates at London hotels. Clarion is also making a £500,000 investment in a Hosted Buyer Programme and introducing a 121 Match Programme which will organise pre-vetted at-show meetings with targeted buyers, courtesy of the ICE365.com platform.
•  £500,000 investment in Hosted Buyer Programme
• Freeze on costs of exhibiting in 2022 and 2023
• Special team to negotiate hotel rates
• Discounts on IT and Web costs
Announcing details of the ICE Charter, Stuart Hunter, Managing Director, Clarion Gaming, said: "All of the industry's really significant game-changing products and services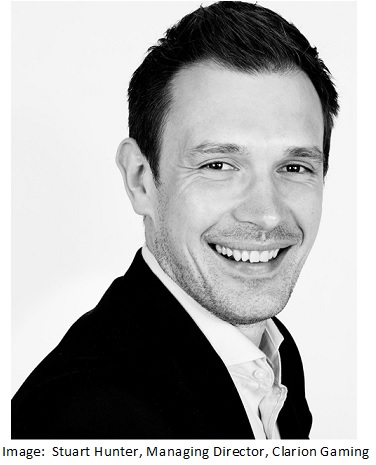 have appeared, if not been launched, at ICE. To consolidate the central role played by ICE and to assist our stakeholders in these particularly challenging times we are making a number of key changes and investments to help ensure that 2022, a year of recovery and opportunity, is kick-started at ICE next February."
Highlighting the details of the ICE Charter, he added: "For both 2022 and 2023 we are fixing the sqm rate in line with the 2020 show, thereby eliminating average yearly increases of circa 5 percent. We are also removing the historical charges for 'double-decker' space at ICE, thereby opening the way for brands to explore new design opportunities without incurring a premium charge. The commissioning of a new general contractor (GES) means that we will be in a position to offer more competitive bespoke build costs – and also provide custom builds for those brands with smaller stand requirements at a preferential rate. In the same spirit of delivering the best possible value for our exhibitors, one area they asked us to look at was the cost of internet during ICE. So, we have underwritten our direct supplier base to provide all exhibitors with a 10 percent discount for all IT orders covering hard-wired LAN internet and Wi-Fi hotspots. This discount will be introduced in 2022 and remain in place for future years."
In keeping with its pledge to help exhibitors and visitors with third party costs during their time in London, Clarion Gaming has established an internal task force and partnered with a new accommodation supplier. During the test phase of this new initiative the team secured some of the most affordable room rates in London by negotiating discounts of up to 40 percent. Looking ahead, Crossrail, Europe's biggest transport infrastructure project, scheduled to open in 2023, will link the ExCeL Exhibition Centre with central London hotels, with a single journey taking just 15 minutes.
Expanding on the Hosted Buyer Programme, Stuart Hunter said: "We have always recognised the central importance of reaching out to a truly international market and the last edition of ICE succeeded in attracting new buyers to London. To extend and build on this commitment we are making a £500,000 ($682k, €580k) investment in order to work closely with our exhibitor base to define and determine new buyers, both geographically and by industry verticals to enhance the reach of the ICE brand. We are delighted to have secured a new partner with a pedigree in delivering world-class hosted buyer programmes that will launch this new initiative with us in August.
He confirmed: "This is only the beginning. As we move closer to ICE, I will look to share more of the initiatives that will be incorporated into the ICE Charter as part of our commitment to deliver the best possible experience and return on investment."