California's Wilton Rancheria teams with Boyd Gaming to create Sky River Casino by David McKee
Casino openings are tricky. One must avoid overpromising and under-delivering. And when was the last time a casino opened early and not in an unfinished state (the dreaded "soft opening")? If you're keeping score, it was Paris-Las Vegas, 23 years ago … until Sky River. California's newest casino resort, and the one closest to the capital city of Sacramento, was finished an amazing two months sooner than planned. Opening-night ballyhoo was cleverly eschewed in favor of a dead-of-night rollout, announced only via social media – but set-ting off a stampede of players nevertheless. At present, Sky River is more casino than resort, as its creators would be the first to tell you, but there's plenty of room (100 acres) and incentive to grow. How did it happen? We spent an afternoon with Wilton Rancheria tribal Chairman Jesus Tarango and casino President Chris Gibase to learn how the tribe selected Boyd Gaming, and how this business duo hit pay dirt.
When was the Sky River project originally incepted?
JT: When we first got terminated in 1959 and then our re-recognition came back in 2009, every tribal member knew that was the most viable thing for us to do: To have a casino. So, for a lot of the membership, that's one of the first things we thought about and that's one of the best things a tribe can do, especially here in California with our market. Then we had the different legal battles that we had to en-dure. But the inception came from that recognition in 2009.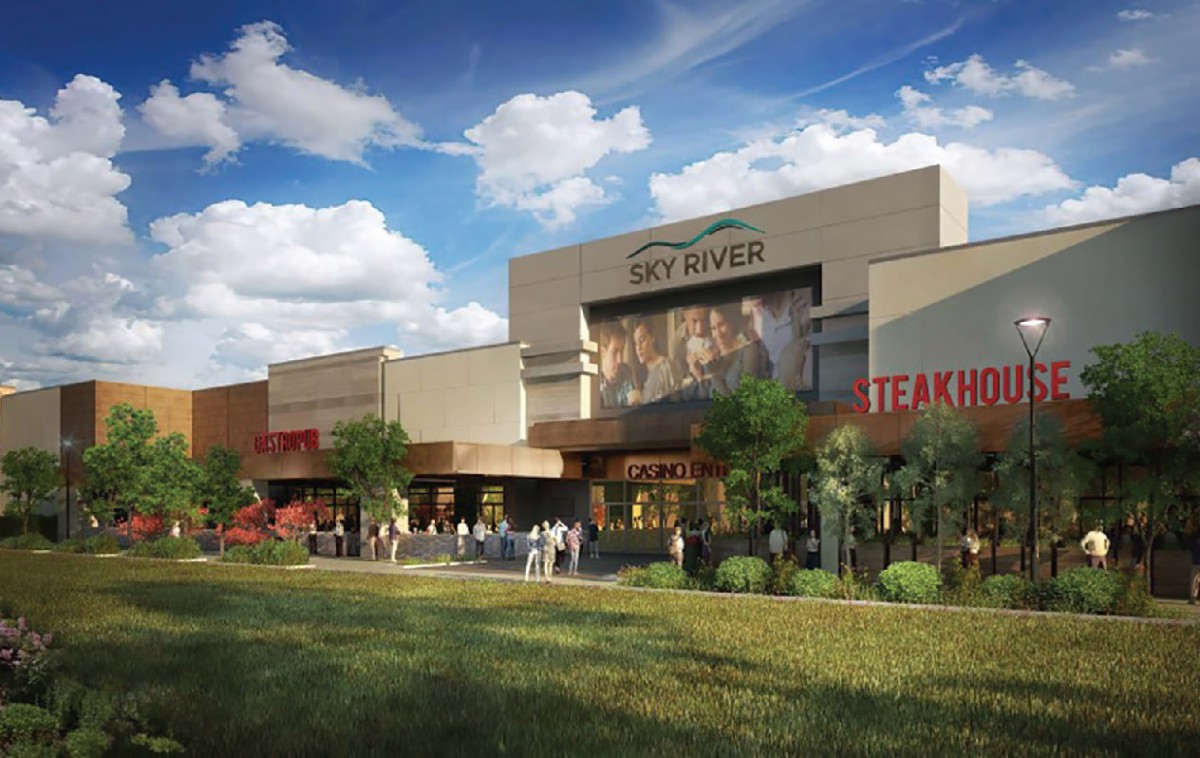 How long did the land-into-trust process take?
JT: There were many struggles in our path. Obviously, after a long, long fight by our tribal elders, who took this upon themselves, we overcame those challenges. People wanted to block the project and kind of exploited our legal system but for us it really came together in 2017, when the former governor, Jerry Brown, signed our gaming compact and later our  land was placed into trust. From that you can see it's a pretty lengthy process. If you use the formation of our government, it took us roughly five years to get it done.
When did Boyd come into the picture?
CG: We've been working with the tribe lockstep all the way through all the processes and legal battles, and all the different pieces of the puzzle that had to be put together in order to get this project off the ground. That was a pretty coordinated effort because not only did you have local issues you had to battle, you had issues in the state and also federally. So there is literally a multi-pronged approach to making sure our environmental studies were in place, making sure that everything that needed to be done for the state compact and ultimately for the federal government to approve the land and even the development-and-management agreements all took time. So it's been better than 10 years and obviously a lot more in the last eight as we've started to get to the final stages of this.
What criteria went into the site selection and why did Wilton Rancheria opt to convert a mall, as opposed to building from the ground up?
JT: There were several sites that were considered. Then you look at our location where we're at today, it's located 15 miles south of downtown Sacramento and it's our closest casino to Sacramento and our southeast Bay. But the fact that it was already permitted for commercial use, there was already a lot of infrastructure there for us. So we were able to utilize some of the things that were already there that obviously would cut down some of our costs. Ultimately it makes the most sense for us.
CG: It is a ground-up build. The mall was never completed. There were just roofs over several pads. So that was demolished and this building is built from the ground up but a brownfield development. All the environmental-impact studies were already there. So there was the infrastructure that went into a major outlet mall that we were able to utilize. But we didn't take over an abandoned mall and build into it. We built this to be a major resort complex.
How would you describe the interior design?
CG: The interior was designed to be a market leader. It would be comparable to anything you would find anywhere. You could pick this property up and, with the other pieces we're going to add, it could go in the middle of the Las Vegas Strip and be very competitive. So we had the advantage of looking at the competitors, evaluating what they had and then building something that was, in a lot of aesthetics, more pleasing, but also had the technology, because we are a new property. It gives us some market advantages over top of the other folks that are there. The property also has a really unique design that each of the four exterior walls are collapsible. So there's two sets of steel in every wall. When we go to expand, we literally attach the steel to the outside of the wall, do whatever we're going to build, then drop the internal wall so we won't have any downtime while we're expanding the property.
What motivated Wilton Rancheria to choose Boyd Gaming as its partner?
JT: They were chosen before my involvement with the tribe. However, my mother, Mary Tarango, who was our first tribal chairwoman, was around during that selection and the elders looked at Boyd's well-established track record. Boyd Gaming's been around since 1975. They're very successful. They obviously have core values that we share. It's putting your people first, which is huge in Indian Country. It just spoke volumes to us and I believe it's why those elders chose Boyd. Since my coming along in 2016 as a tribal council member – that's when I was introduced to Mr. Gibase – it's really like a family. Being in this world for the last six years, business is business but it sure makes it a lot easier when you and your partner are seriously like family. We could agree to disagree and move on, there's nothing personal, but for us it's their track record of who they are, how they conduct themselves and how they run their businesses.
How much tribal gaming management experience does Boyd have?
CG: The company was incorporated in 1975 although Bill and Sam Boyd were around a lot longer before that. Currently, Boyd operates 28 different gaming properties in 10 different states. We also developed and managed for the Choctaw down in Philadelphia, Mississippi. It was, again, the same type of environment that the chairman alluded to. With Boyd Gaming it's all about integrity. It's all about being able to shake someone's hand and say, "We're going to do this", and then follow through on it. Within Boyd Gaming there is an array of people like me that have had extensive experience throughout Native American gaming, so it's a combination of Boyd's own history but the people that make up Boyd have other experiences that come into play.
What is the decision-making process between the Rancheria and Boyd, as it pertains to developing Sky River?
CG: It's collaborative. Obviously Boyd Gaming has expertise in building, developing and operating properties everywhere. The tribe, on the other hand, this is their first venture into gaming. What went into it was a lot of building of trust between the groups and Boyd leads on the execution of building and developing the property, and now managing it, but the tribe's involved every step of the way. Every-thing from the walls to the selection of the carpet to how we do standard operating procedures, the tribe's been involved in lockstep. Like in any business, communication is the key. You keep the communication levels high and realistically, as the chairman said, there's been things we agreed to disagree on and we moved past that and keep on going.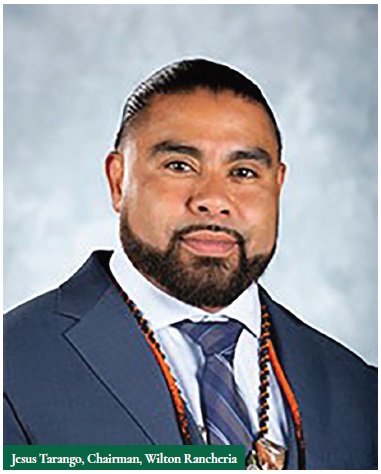 JT: The trust piece is a big factor for us. For me, Boyd Gaming's the experts. Tribes who get into gaming for the first time, you really need to do your research on who you choose as a partner. Our elders did that 10 years ago and we're seeing the fruits of their labor. They've definitely made that decision making process easier and, at the end of the day, because of that established trust, if you have any issues we've always been able to have those conversations. Like Chris said, there's been maybe a couple. We all want the same end result, which is to build a successful resort.
CG: For the tribe – and the chairman could talk more about this – it's all about how will the tribe reinvest this? The chairman will tell you it's all about for the young folks and the eldercare. It's also for six generations from now. What foundations they lay now they help the tribe through their upcoming years, for centuries to come. It appears from some of the information we have – and we don't have a lot – it appears that we're expanding the market. We're not taking from competitors. The other competitors seem to be doing fine. It's just that we're closer to the southern part of Sacramento all the way down to San Jose. We're the convenience play for them.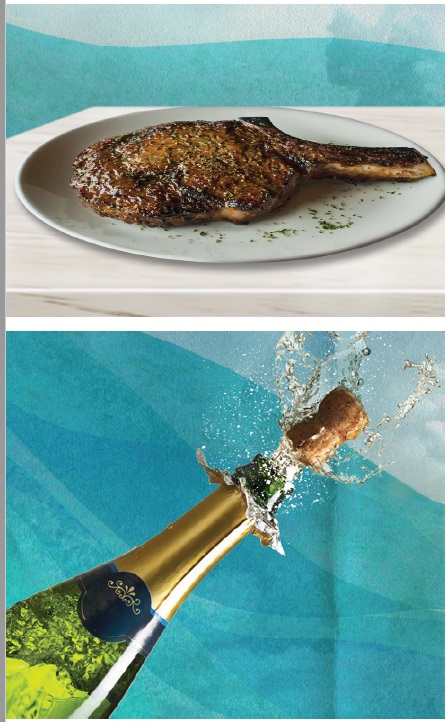 How has the response from Sacramento been?
CG: The property's been performing above our expectations. We had three different projections and we're well above all of them. In fact, we've exceeded them greatly. A lot of what went into this is how do we communicate with the city, being the only Sacramento County-based tribe? We had a lot that we reached out to, whether charitable or in the government or in the local community, to make sure that we're not just another company, to make sure that we have a face and a name behind it, and we're always there to help out and to be part of what's going on in the community. People really are enjoying the property and you were to look at the number of people signing up for our loyalty program, which is about three times what we expected, it's going over really well. There's a lot of great acceptance because of the property, the way it looks, where it sits and also some of the advantages we get with our new technology. It's a very food-facing property. You have a casino with 2,000 slot machines and 80 table games but you also have 17 bars and restaurants.
Could you elaborate on that?
CG: Sure. Right now we have a venue called 32 Brews Street. It is basically where all the action is. It has a full patio, so there's an interior and exterior. There's more TV screens than I could tell you and a video wall that's the size of most tractor-trailers. SR Prime is a very high-quality steakhouse featuring all-prime cuts of meat and that is just knocking people over. Then we have The Market at Sky River, which has 11 different venues, a couple that are really well known in Sacramento and San Francisco. We have Koi Palace. We have Fukuru by KRU, a really well-known name in Sacramento for sushi. Then we have Roli Roti, which is well-known in San Francisco. They own that market there. Then an array of other products, like Java, which serves Pete's Coffee. We have a hot-chicken concept, a dessert concept, a taqueria, pizza – two massive, gold pizza ovens that are outside the casino floor.
What's the best – not the worst – the best problem you've had to deal with so far?
CG: The best and worst is probably the same thing. It's the number of people. When we opened the doors, obviously we did it on purpose but we opened up when people least expected it. Immediately after that, within two hours, the place was just jammed. Three o'clock in the morning, it was like Saturday night. The best that happened was the instant acceptance by the local and regional guests. The toughest part was when you have 7,000 people descend on the building all at the same time you have parking issues, food issues, lines, etc. We had this great plan for parking. We did not want to get stuck in the traps some of our competitors did, which was backing up the traffic for miles and miles, things of that nature. So we had a really great plan that was put together with the Elk Grove Police Department and California Highway Patrol, and that lasted about six hours. We realized that we had to fix it again because it just wasn't working. So we literally went out, stopped traffic and rerouted everybody and, since that point, we've been busy but the traffic is moving around a lot easier. We also took another 1,200 parking spaces on adjacent land and started utilizing that for this property as well. At this point we have 6,000 parking spaces so it's a lot better now.
How was Boyd able to finish Sky River early?
CG: Our initial projection when we broke ground was October 22. We were able to open on August 15 at night. It was really good planning and that became a reality, because you can plan a lot of things that don't happen. So we started out with 100 percent of plans, which is unheard-of in construction. Usually you start with 50, 60 percent of your plans and you're suffering a lot of change orders. In this case, we had 100 percent of plans approved and inspected, so when we first dug in we knew exactly what everybody was doing. We read the tea leaves better than some and saw that the supply chain issue was not something that was going to be a fleeting issue. We committed a lot of money to ordering the long-lead-time items: the electronics, the steel, the air-conditioning units, the kitchen equipment. Some of that we ordered two years out. Things that were supposed to have a 90-day delivery time took two years to get here. So we were lucky. We planned it out where we had all the long-lead items sitting out on the land. We just had to come up and erect them. Even today the docks are a nightmare. We chose to spend more money and air-freight things in, as opposed to having them delivered through the seas. We bought as many things as we could locally. Again, we had a good set of plans. We had no adverse effects with Covid, no adverse effects with the normal things that happen: floods, famine, locusts, whatever.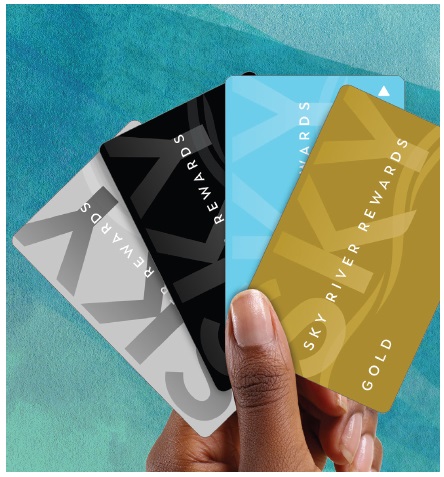 JT: Chris won't toot the horn too much but, for us, it's the years of experience that you have in a partner like Boyd. When you look at the company from the top down, CEO Keith Smith is an amazing man. When Boyd engages in any projects you get an amazing team with a lot of experience. It was pretty easy for us to be on the other side of the table. It was an effort together but a lot of that credit should go to Boyd and the construction team because their experience spoke for itself How did Boyd and the Rancheria arrive at the decision to open at midnight and publicize it through social media?
CG: It was not something that was haphazard. It was planned. We've opened up many other properties. When you announce an exact date and time when you're opening you end up with traffic being backed up and people waiting for you to open the doors. When you open the doors, you get a flood of people that you can't service. So the plan was always to open when we were ready, not based on the timeline provided to outside entities. In fact, in July and August we started feeling pretty good that we were going to be able to open up early. Still no decisions. So when we got to the first week of August we thought we would be able to open by the beginning of September, not in October. So we put out a press release saying we were going to open up in early September. By plan, that was the last time we put out anything other than "September." At that point, the chairman and I sat around and said, "Are you ready?" "Yeah, we're ready." We double-checked everybody and literally that evening [August 15], we said, "OK, let's open the doors." We had already invited various media people prior to that, so they would have B-roll. Then we came up with the clever idea of the text which said, "Pssst! You awake? We're open." And that was it. At 11:30 at night the road just lit up. It was like wildfire. We had people running down the street trying to get in this building. It was a lot of fun. But if you look at the whole process, it was all done intentionally to make sure that we didn't have a lot of long lines If you announce you're opening at one o'clock in the afternoon, they're all standing there and if you couldn't open until three o'clock, you have people sitting there in 110-degree heat. A lot of bad things could happen. This way, we weren't worried about the initial recipe. We wanted to make sure we opened the right way.
JT: It was a beautiful day. They were still working 'til 12:27 to get things done.
CG: The chairman and I were the lucky ones. We were able to get up on the loudspeaker to everyone – we had full staff for three weeks; everyone was still training – so the people sitting on the table games training had no idea we were opening. So when we went on the loudspeaker and said, "Congratulations, Sky River, we're now open," the cheer inside the place was louder than the cheer outside. It was a really good night and it's been a great ride ever since.
Will viral marketing be an important part of your future?
CG: Oh, absolutely. It's another one of the channels that everybody has at their fingertips. We have a traditional market and also a big Asian clientele. If you go from here all the way through San Jose, there's towns in there that are 60 percent Asian descent. Not only do we have the normal marketing with an agency like everybody has, we have dedicated social-media teams. Viral marketing and social media are definitely big parts of our plan and always have been. We've been using social media since Day One and the nice part is we also get a lot of people that do that job for us. There's one young guy that lives across the street, he's probably 18 now, he runs a drone over the top of the property every week and he's just the greatest cheerleader of all time. It's been fun to watch the community embrace this property. One of the better comments was that the folks in the area are calling the property "Sac Vegas." The other thing that's cool is that people that live across the street, even 100 yards away, are more positive about the property than negative – and that's even when people try to park in their neighborhoods.
*** This exclusive interview was originally published in Casino Life Issue 153 October 2022 ***