How is the first year of the courses proceeding?
We have accomplished a great deal in one year. I consider myself very fortunate to be part of this program at Drexel and working with an outstanding academic team.  Being in a position where you can both initiate and facilitate positive educational change is rewarding.
My goal for several years has been to establish myself academically in a university setting such as Drexel and instruct gaming and hospitality.
The Center for Hospitality & Sport Management became a separate school in September 2013. We have been in a transition year. Casino courses have been taught in the past but we are raising the bar; updating courses, writing new ones and developing a specialized hotel/casino classroom environment for our students enrolled in the Hospitality/Casino Management Program.
The new casino training lab will officially be dedicated October 6th as the Dennis Gomes Memorial Casino Training Lab. This must be both moving and special. (Gomes, who died in 2012, was well known in the gaming industry, serving in top executive positions in Las Vegas and Atlantic City. He also was a previous investigator for the Nevada Gaming Commission.)
Yes. It is very special.
Dennis Gomes was a very hands-on executive and spirited gaming industry visionary. He had a strong commitment to education and was a mentor to many people who are now industry executives. It was a great experience having known him and to have worked for him. Once I received approval from the Gomes family to dedicate the lab in his honour; we haven't looked back. We have been overwhelmed by the support of the industry that sees Drexel students as both their future customers and workforce.
Having worked with Gomes, have you one particular stand out anecdote you would like to share with readers. I have many but this one comes to mind.
I remember one time he came into my office laughing.
"What is so funny," I asked?
"I was just reading this article in one of the trade magazines on educating new employees.
I thought it was pretty good," he said. "I came in to show it to you and realized you wrote it."
"Well I'm glad you appreciate quality writing!" I responded.
During the time I spent on the road with the Indiana project we spent a lot of time together. You learn a lot about people when you travel with them. Dennis gave me an opportunity to challenge myself and take my career to the next level. I will not forget him for that.
What has the reception been from Casino manufacturers to the establishment of this dedicated Casino Management programme?
Everyone has been very positive. Dennis touched so many people. When I was talking about it to different people at G2E last year; so many people shared a Dennis Gomes story. Dennis was always involved with employees. He did a great deal for people that most will never know. I witnessed some of that giving. And I think that is why the response has been so open from the industry.
There is also a genuine appreciation from industry people toward our efforts to educate the next generation of industry professionals. I am constantly receiving requests from executives to come and visit and speak to our classes.
The donation of Slot machines by Bally Technology was a very generous and welcome contribution to the University and students; one which you all must be delighted to have accepted. What are the main advantages gained by the University & students?
In most university casino class programs the students learn theory, application through text, experience various media documentation about gaming and maybe have an opportunity to visit a casino with the class to observe. 
The learning goal of the Dennis Gomes Memorial Casino Resort Classroom model is for students to be engaged in active learning.  They will become active participants in the roles of front-line employees, managers and customers within a live casino operation environment. With hands on participation applied to the instruction, the students will become participants in the learning process.
Bally got the ball rolling for us. We are now looking to expand the slot machine inventory from other manufactures. I have also requested permission from the Gaming Board to offer training in Black Jack. Tropicana, Atlantic City donated 2 tables earlier this year.
What is the history behind the setting up of the dedicated Casino Management Training Programme and why Drexel University.
Drexel has offered a bachelor's degree in hospitality management with a concentration in gaming and casino operations since 2009. Hospitality and Sport Management is a collaborative school founded by my Director Jonathan Deutsch PhD. It is because of his vision and openness along with the Drexel administrative community that have brought us to the point of the Gomes Casino Training Lab.
Drexel has always been a university specializing in experiential learning through co-operative education experiences. When our students graduate they have a working resume and on-the-job experience that will place them directly into positions. Many graduate the program with jobs having already entered the working environment through the co-op program.
We develop relationships with industry. As in the case of the casino and hospitality industry we are on the ground networking on behalf of the students. Many members of our instructional staff have industry experience. Whether it's gaming, hotel ops or culinary, we bring that network to the school in the forms of property visits, guest lectures, job fairs and internships.
As far as the training lab goes it was almost a year to the day from concept to installation of the first slot machines.
The PA Gaming Board has been outstanding this past year in assisting us in the process.  I petitioned the state and met before the board last October to respond to the proposal.  The machines do not accept currency and are subject to all regulations that apply to casinos, including 24-hour surveillance and are locked down when not in use.
Participation of gaming stakeholders is clearly vital to a training management programme. In recent years several states have opened up casinos. What message would you like to communicate to both the State Governments that regulate casino operations and their stakeholders that operate a casino as to the opportunities gained by partnering with a casino management training programme?
It is a "win" for all parties. It gives the state regulators a chance to directly see and even participate in the educational process.  The PA Gaming Boards Director of Communication, Douglas Harbach, has already been to campus as part of my Spring Lecture series to discuss Gaming not only in Pennsylvania but on a global scale. His presentation was recorded and is now also used in in an online graduate course I instruct on Gaming. We have also been invited to bring the classes to the state gaming lab for tours.
These students are the future of gaming. What better way to have them see how serious the business of casino operation is than from those that govern the industry.
What would you say are some of the main benefits that manufacturers and operators gain from partnering with this university program?
Our casino and hospitality partners see that giving goes both ways. Through their donations to the program they receive an on-going relationship with our faculty and students that assist them in many ways with their operation. Everybody wins.
They are leveraging their bets on the future of the industry. The future belongs to the next generation of gaming and hospitality executives that are graduating today. It is good business. Our partners have employed our students for internships and full time jobs after they graduate. It gives the industry participants a chance to not only see our student's skill sets but also play a role in developing them.
Casino operators such as Borgata and Resorts in Atlantic City, Dover Downs Hotel and Casino in Delaware and Sugar House in Pennsylvania have been outstanding partners for internships, tours and providing executive guest speakers; just to name a few.
The continued popularity of slot machines and their ever increasing content and functions, is great from a player enjoyment perspective however from a technical support aspect it means training of technicians, is becoming more and more complex. Is there the possibility of a correspondent version of the course given technology such as skype conferencing can provide & that could involve support from Gaming Operators located many miles away?
Here at Drexel we have an amazing on-line degree program. I have written and instruct both undergrad and graduate programs for it.  What better way for industry people to upgrade their education and receive a Masters in Hospitality with a concentration in Gaming completely on line. http://www.drexel.edu/hsm/academics/Hospitality-and-Tourism/MS-in-Hospitality-Management/
I have students from all over the globe. Both in and out of the casino industry. And those currently involved in gaming add so much to the class discussion each week. We incorporate a great deal of current events through industry publications such as Casino Life to the weekly educational units. There is access to videos and live events such as our lectures series. A student has access to view the lectures live or at their convenience. This is a great enhancement to on-going education for industry people that just can't be in the classroom every week. We also offer hybrid learning which is a mix of both. We can also provide solutions for customized employee educational needs.
Do you see further courses being added catering for Leisure Resort Casino Developments.
We are already there.  Gaming and hospitality as you know is a very fluid industry.
The casino environment has radically changed in the past decade and continues to spawn new technologies and reinvented business models. At no other time in gaming's history has the casino floor faced such a degree of business challenges while undergoing so many operational changes. The aesthetically designed elements, the technology, the products, the competition and partnerships are evolving every day. As the landscape of gaming management continues changing, it is more important than ever to have educated and effective employees. In the same way it is paramount that there are educators that are on their "game," and can communicate the current messages that the students need to receive.
Educators must be proactive as to where the industry is headed in order to provide the correct educational experience for the student. That means having a group of instructors that are engaged in their industry. With customers it is about the casino experience. With students it is about the educational experience.
With the new term starting shortly for the 2014 2015 year, what have been the highlights for you so far and what excites you most about the year ahead?
Being an academic at this point in my career is the most exciting. Being a part of the creation of the Dennis Gomes Memorial Casino Training Lab is top of the list. I have been headed toward an academic role for some time. The casino industry has been good to me. I learned and contributed in many ways. Educating the future of the industry is a rewarding experience.
In 12 months we built a foundation for a hands on gaming program.  Thanks to industry partners like Association of Gaming Manufactures (AGEM) for their scholarship, Bally Technologies for slots and KGM Gaming for signage and the Tropicana. AC, for tables.
This environment will provide students with a working casino area to learn how a casino floor operates for years to come.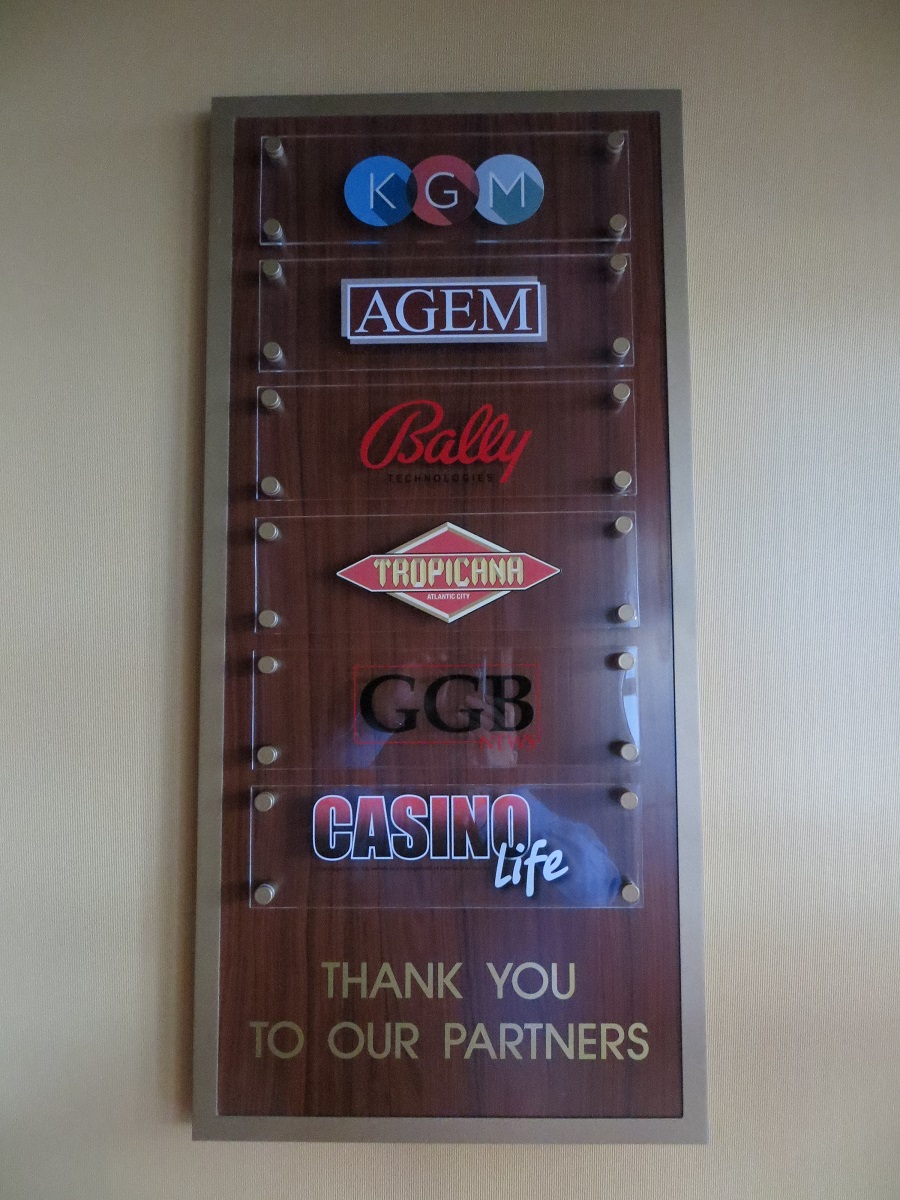 There is no down time for me. I teach 12 months, write constantly, consult and look for new ways to improve what I do. I am constantly in the market place seeking support for our students in the form of scholarships, co-ops and internships, jobs, and learning experiences.
In every course I teach I stress to the students the importance of seeing the big picture. Their focus may be on one segment of hospitality like F&B or gaming but from the customer's perspective it is about the total experience. So if I am instructing them in casino management, I want them to understand that their casino customer will be dining in their property restaurants, attending shows and events on property and staying at their hotel.  They need to understand how each segment of hospitality (and gaming is part of that experience) is connected.
Going forward we are looking to build new partnerships on the casino side and also add the hotel component of a front desk, lobby and property management system.  By adding the final piece of an operational front desk with the gaming floor component and the Academic Bistro we will have a central hospitality, hands on experience; creating a live environment for students participating in "real-time" learning. This center already hosts industry speakers and will continue to reflect an enthusiasm for participative learning and best-practice mentoring philosophies.
We are always looking to collaborate with industry members who share an interest in education, mentoring and supporting future leaders in the culinary, hospitality, gaming and sport industries.
A thank you to our current industry partners and to our future partners, welcome.