Embracing and Entertaining Humanity. Jyoti Chopra, Chief People, Inclusion and Sustainability Officer, MGM Resorts International. By: Damien Connelly
This Casino Life article, based on a keynote presentation by Jyoti Chopra at G2E, has been edited for brevity and clarity. Any misrepresentation is my mistake.
Jyoti Chopra is a resounding role model emphasizing that MGM Resorts 'walks the walk' when it comes to its people, talent, and diversity and inclusion strategy. In the spirit of sharing and learning, MGM Resorts and Jyoti were kind enough to publicly preview this strategy with us for the first time during G2E.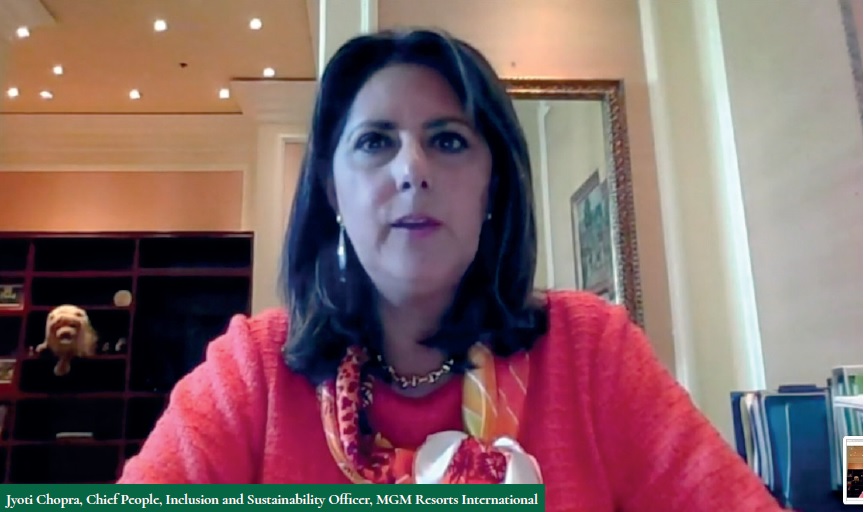 "One of the important dimensions of a diversity strategy is to have clarity around terminology and nomenclature. It is really important to define what you mean in the context of your corporate environment words like 'Diversity.' 'Inclusion,' 'Belonging' and 'Equity"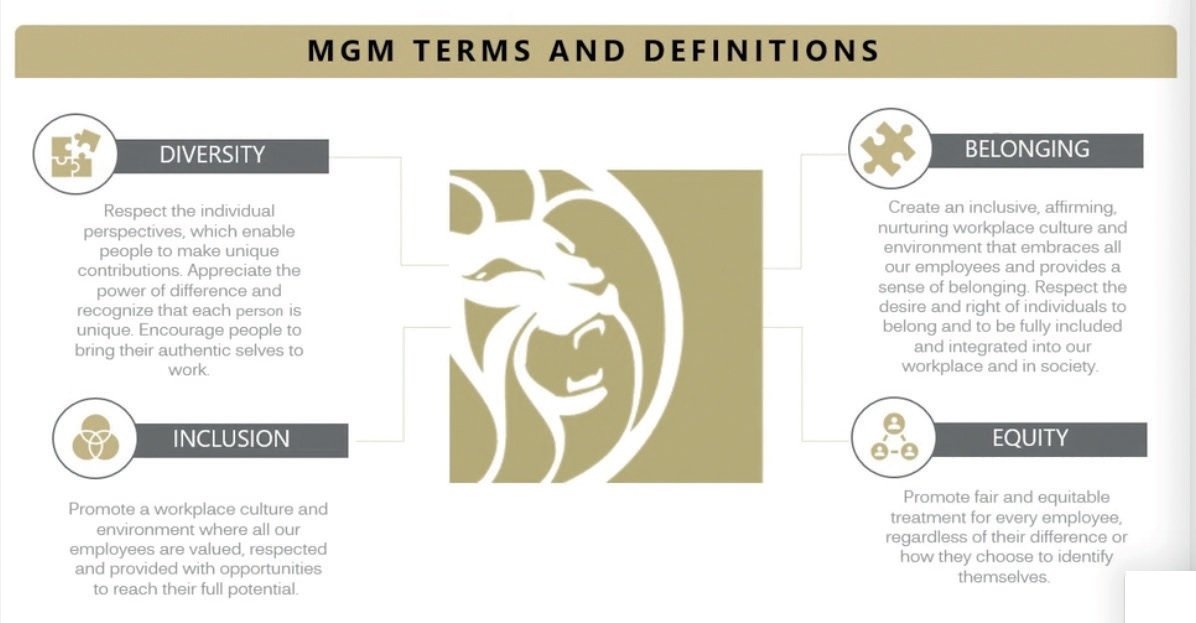 As Jyoti noted, "over 70% of MGM Resorts' workforce is diverse. We have very strong representation at some of the management level ranks. Where we need to focus and improve is in the senior most levels of management of our company."
"The starting point for us at MGM Resorts as we were thinking about our new people, talent, and diversity and inclusion strategy was to understand the macro landscape and what was going on in the world around us. There are a set of themes and observations that are disrupting in many ways both labour markets and the ability for companies to tap into their workforce and meet needs."
"There is a heightened emphasis on diversity and inclusion across the workforce and the workplace. This is being fuelled by the surge in public advocacy and movements, and the rise in legislation and regulation in this area. We are also seeing several trends around the rise of contingent workers and agile staffing models."
"One of the key tenets of (our people philosophy) is putting our people on par with how we look at and value financial capital. We recognise that human capital is indeed a strategic asset on the balance sheet. We firmly believe that by growing, developing, and putting all our talented people into roles where they can unlock their full potential, MGM Resorts will maximise value creation for our shareholders."
"At the centre of (our people philosophy) is driving an environment and culture which is about caring for one another and having an engaged and diverse workforce. And being able to harness the potential of that to deliver our guest experience, our community engagement, and meet our financial goals. For our people, it's about creating and cultivating a high performance culture and organisation, because our people are the ones that drive our results and really enable our business activities and business actions."
People and Talent
"There are four very clear priorities that are the underpinning of our people strategy at MGM Resorts. More importantly, it's also about connecting individual purpose to our organisation's impact, and the kind of impact that we aspire to. It's about adding more purpose to work – therein lies a much more motivated and engaged workforce."
"Having a robust talent model and talent framework is essential for any kind of people strategy or human capital to work. What's important is it is holistic, it is enterprise-wide, and it is underpinned by our values of: excellence; inclusion; integrity; and teamwork. It is intended very purposefully to support our business model and our growth strategies.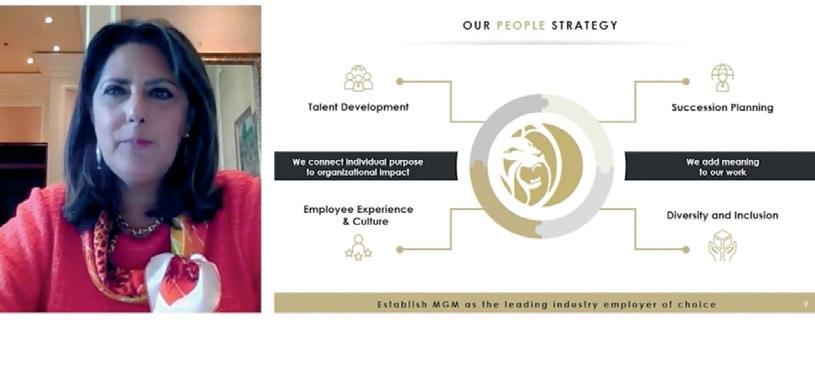 "Let me touch on metrics because this is an important part of any human capital function, and people and talent strategy. What you see here are the key performance indicators and success factors that we are using at MGM Resorts. What's notable is they are both quantitative and qualitative."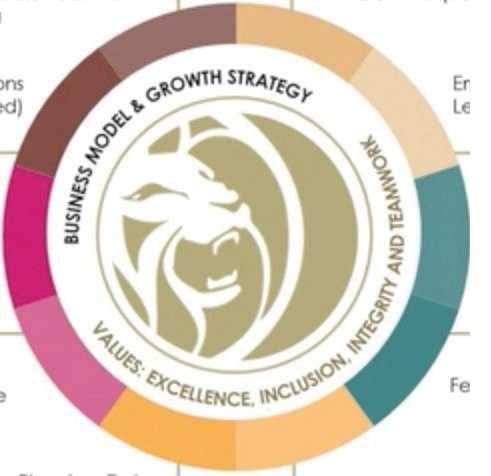 Diversity and Inclusion
"I have articulated here at a more granular level the four pillars of our diversity and inclusion strategy. We have shown the mappings to each of the United Nations' Sustainable Development Goals. We have made a firm commitment to align our work in this area with the UN SDGs. The three Goals we have chosen to focus on are: goal number 5 around Gender Equity; goal number 10 around Reduced Inequalities; and goal number 8 around Decent Work and Economic Growth.
"What each of these pillars represent, in the area of Investing in People, for example, we are focused on increasing our employment of military veterans, in addition to increasing our recruitment efforts around a diverse talent pool. And supporting the diversity of talent, both by gender and by racial and ethnic diversity, at our management levels. It's also about supporting the development of business skills, and of growing the capacity of minority business owners. It is about expanding our Supplier Diversity Mentorship Program."
On the point of supplier diversity, Jyoti notes this is a topic discussed in "curated sessions that we call 'Courageous Conversations' with diverse cohorts at our company. These have been initiated and led by our CEO and President, Bill Hornbuckle, supported by our Board of Directors. We've had candid, heartfelt conversations to understand and get underneath what is at the top of mind of our people, and what are some areas where we can do better as a company; do better as a management team."
Hornbuckle, recently noted that "MGM has long sought to increase the number of Black-owned vendors with whom we work. But, while our goals are appropriately placed, the cohort identified a lack of buy-in from many department leads, who don't always understand the importance of achieving these goals when establishing relationships with outside vendors. As a result, methods to establish greater accountability around these goals will be pursued.
"These areas of focus and the work to address them are not set in stone. Teams have been assigned to develop action plans, and the courageous conversation cohort will continually monitor and manage their progress. Adjustments may be necessary to ensure real and meaningful impact is pursued and achieved.
"This is a period of major systemic change...We must reflect about the world we envision for future generations. As the CEO and President of MGM Resorts, I'm committed to our company's role in creating a better and brighter future that embraces humanity.
To reinforce the importance of people, talent, and diversity and inclusion at MGM Resorts, Mr. Hornbuckle also noted that "I am committed to making people a core pillar of our business strategy and advancing progress on diversity and inclusion as a key priority. And, with the leadership of our Chief People, Inclusion, and Sustainability Officer, Jyoti Chopra, we intend to build on the current moment to ensure that real and lasting change is achieved."
"From the sustained pressure being generated by ongoing protests, to the growing expectations on the part of activist shareholders that companies address systemic racism and provide more to communities than just profits, it is clear that the focus on social issues is urgent, and we will act to catalyze meaningful change."