Peter White chats to Glenda Nelson Chairperson of Enterprise Rancheria Tribe and Mark Birtha President of Hard Rock Hotel & Casino Sacramento at Fire Mountain
Interview Originally Published Casino Life September 2019
It's not often that one Native American tribe looks to another to manage its gaming operations. But when the Enterprise Rancheria Tribe wanted to build a new casino, they turned to Hard Rock International, a Seminole-owned company with arguably the most potent brand equity in the casino business. Now Hard Rock Sacramento at Fire Mountain is ready to open. Tribal Chairwoman Glenda Nelson and Casino President Mark Birtha give us a virtual tour of the Tribal Showpiece.
What is your role and how long have you been working here?
MB: I have been with Hard Rock International for over five years. I was most recently the president of Hard Rock Rocksino Northfield Park in Ohio and I had the opportunity to review the plans for Hard Rock Hotel & Casino Sacramento at Fire Mountain back in January of 2018. I actually had the Tribal Council who represent the ownership within Enterprise Rancheria visit my property in Ohio to get a sense of what their property was going to look like as they were building it here in Sacramento. My relationship started pretty early with them. The MGM company bought the Rocksino property and it turned over earlier this year, so in November of 2018 I had the opportunity to join the Sacramento development as the president of that property. In my role here, I've had the responsibility to oversee the development and the operational side, and to put together a great team of people to help open and then operate this property. At the same time, I had the opportunity to manage the tribal relationship between the Enterprise Rancheria Tribe and the Seminole Gaming Organization, the Seminole Tribe of Florida, that owns Hard Rock International. I've been focused on building that relationship and driving the overall investment for the collective partnership and it has been a great role thus far.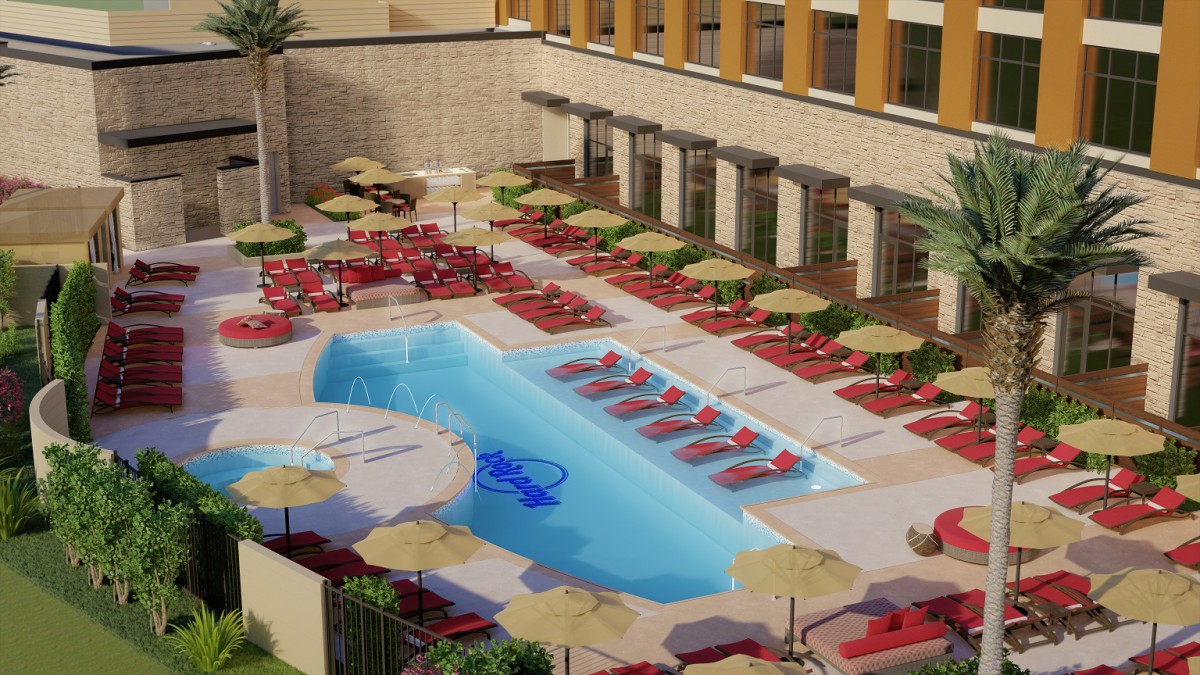 What do you think Hard Rock International is particularly well known for?
MB: Where do I even begin? First and foremost Hard Rock is an iconic brand. We're coming up on 50 years and we're in as many countries as Starbucks around the world so the brand is highly powerful, very visible, and definitely stands for a number of principles. Without question, the vision of our leadership (Jim Allen, Jon Lucas, and of course the Seminole Tribe of Florida) has been ensuring the quality of the experience. We don't deliver just a commodity and we're not necessarily interested in just doing transactions. We really believe in the power and the value of creating an experience – we call them "authentic experiences that rock". In our industry, which is hospitality, we are very focused on creating an experience, and that has a number of critical pieces. The service that we provide is centered around the people that we hire. We've been named a Forbes Top Employer, a great workplace for women, and those awards all translate into what we recently received – an award from J.D. Power as a Leader in the Upper Upscale Hotel and Hospitality segment. So again, I think our first focus is on hiring the best people with the right attitudes and passion for what they do, and really focusing on taking care of people.
That translates then into our secondary focus which is absolutely our product quality. Given our origins as a Cafe company, we do millions of interactions with guests a year; as part of that experience, we like to focus on having the best products and service available. Even just looking at the burgers that we create every single day around the world – the highest quality ingredients and the best of product excellence – we do that in every facet of our business. So I think having a focus on ensuring that we deliver great products is paramount in that overall guest experience as well.

You combine that with creating some of the most amazing buildings – we call them "monuments". From the guitar hotel that we're building in Southern Florida in Hollywood, to the vibe and the energy that we'll be creating here in Sacramento, to all the different destinations around the world, we truly create buildings that represent the highest level of design and detail, and create an energy and an environment for people to really have fun and enjoy.
We live in a world that has a lot of black and white guidelines which often turns our days gray for all of us. I believe that the music and vibe of Hard Rock brings the color back into our lives from the vibrancy of our spaces, people, products and amenities. This creates a very exciting, value driven, and rewarding experience for our guests each and every day around the world.
You will be recruiting and employing well over 1,000 personnel. How many of those are drawn from other Hard Rock International Operations? How are you going about finding those employees whom will convey to guests the unique excitement that has made the brand world famous?
MB: We've had around 2,000 construction workers on site since day one, and at full employment here when we open our doors we'll have approximately 1,300 employees. Interestingly enough, a good number of those people have come from our own internal cafe, hotel, and casino divisions. We've been fortunate enough to recruit people from many of our properties including Seminole Hard Rock in Tampa and Hollywood, our prior Hard Rock Rocksino in Ohio, our hotels in San Diego, and various other locations, as well as alumni – people who had actually left the company and waited for Hard Rock to reemerge again in this part of the country. Those alumni, the minute that they heard we were building a Hard Rock Hotel & Casino here, reached out to rejoin the team.
We've been very fortunate to be able to secure a large number of people within the company, from the executive level all the way to our front-line employees and team members, so it's been very rewarding. At the same time, we've had a commitment to hire locally and we've been fortunate – as this article comes out around the time that we open, we'll have received over 25,000 applications for roughly 1,300 positions here on the property. It goes to show you the power of the brand! We've had the opportunity to select from the best of the best and really focus on hiring team members here for the property locally and that's a commitment we made to the Yuba-Sutter county we reside in. I think the numbers that we'll come out with in terms of percentage of local hiring will be clearly astounding, not only in the market, but without question in the entire industry.
Our third element is our Tribal employment. We're very focused on hiring members of Enterprise Rancheria – creating long term opportunities for employment and development and career growth – and that will allow us to further our investment locally and our commitment to our ownership. At the end of the day, the brand is truly a beacon. Northern California has a great quality of life and is a huge hospitality marketplace between Tahoe and Reno, all the way to Napa Valley and the Bay Area, and everywhere in between. To be well-situated right in the middle of all of that creates a real strong hiring environment to bring on a great team of people.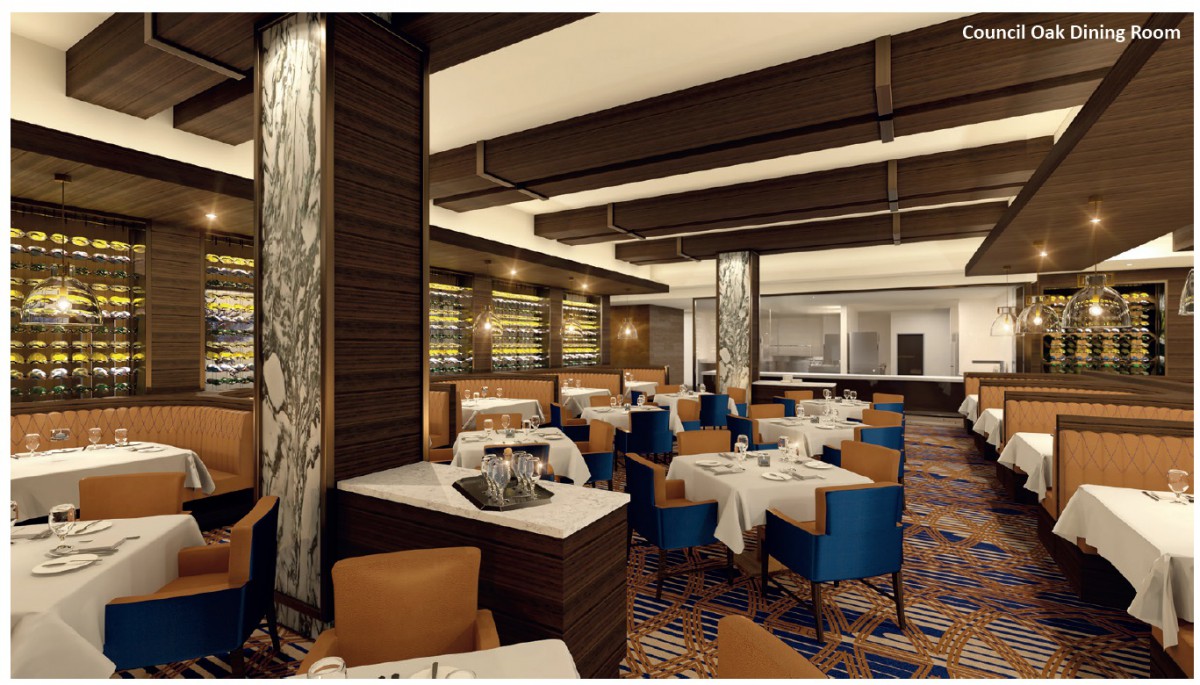 What have been some of the challenges you have faced in this role and how did you overcome them?
MB: I think we look at the challenges as opportunities to learn, and in many cases raise the bar, for what was expected or what we wanted to deliver here. As with every development, there have been things that have opened our eyes and been an opportunity for us to reevaluate how we do our business and how we work in various markets. I think opening a hotel and casino in the California marketplace is different than many other jurisdictions, so we've been focused on working with our gaming commission here, the State of California, and the NIGC, to put together the requirements that have been necessary to operate successfully in this marketplace. That created an opportunity for us to learn and tweak the way we do business.
It's been a very tight labor market. It's been very competitive and there is low unemployment, and it really challenged us to find new ways to reach potential team members to get the word out there, and to create new resources, and even technology applications to reach a deeper pool of people. I think that's resulted in the tremendous applicant pool we've had, so that's been a learning lesson for us.
Also, the construction market. There's a lot of construction going on in this region of the country, and clearly that creates different opportunities for us to work much closer with our contractors. Our design groups focus on not only achieving the goals that we've set here, but more importantly, having the right people to build this property and develop it correctly. We've worked very closely with our partners in those spaces to be thinking ten steps ahead in order to ensure that we have the best building and product we can bring to the market.
Then, without question, we are in a marketplace with some very strong and very established competitors. We've been able to learn from them in many cases – about how to be successful, how to be innovative – and in many ways, they've challenged us by their status in the market to focus on raising the bar, to find new and differentiated ways to deliver a product and a service and package of amenities that will stand out in the market and be attractive to our clientele that, in many cases, have enjoyed these experiences for years at nearby hotel casinos in the greater Sacramento region.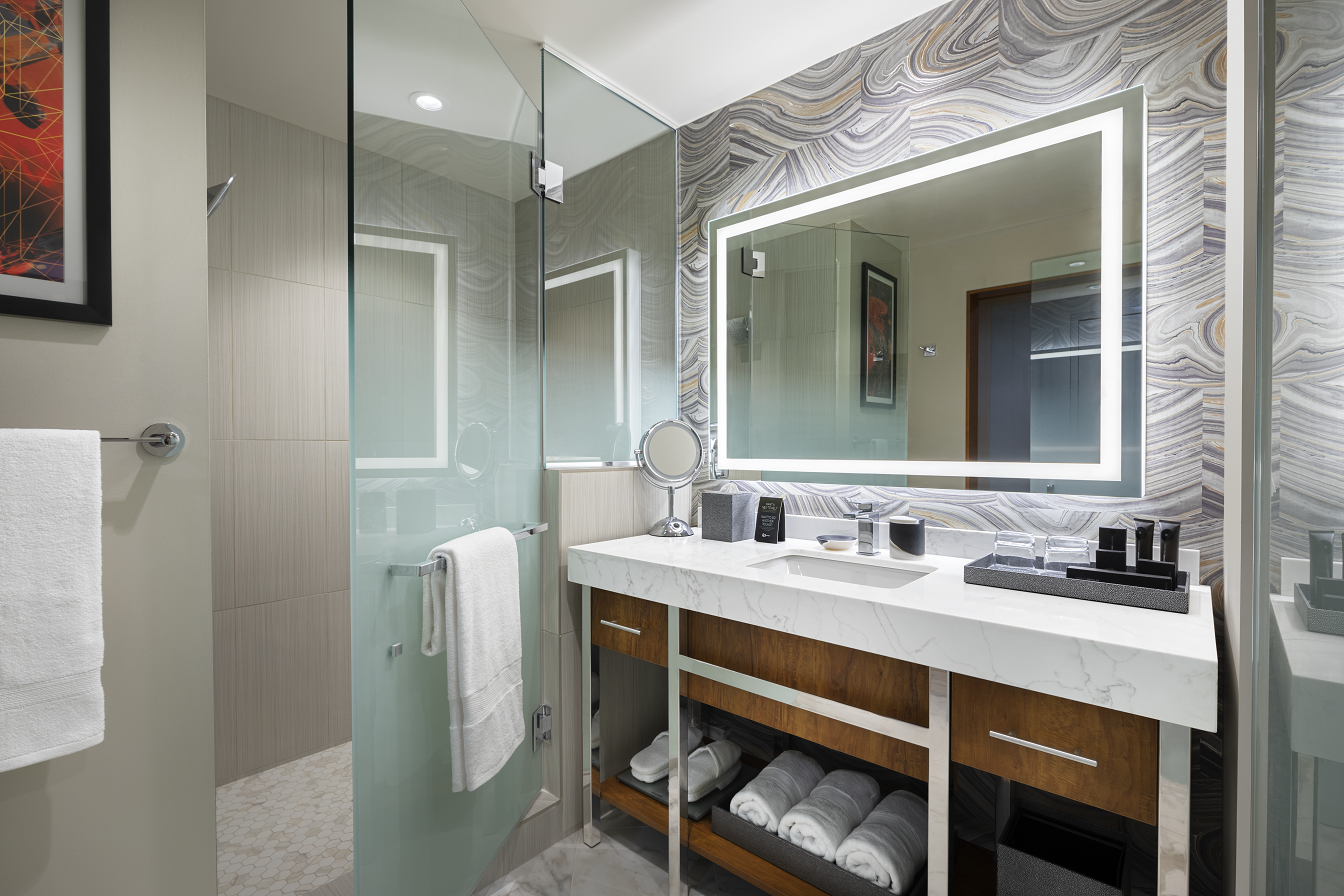 How has the collaboration with one of the world's most established and famous entertainment brands been for you and Enterprise Rancheria?
GN: It's made all the difference in the world. It's a match made in heaven. It could not get any better than Tribes working with and supporting each other. We have had a wonderful relationship with the Seminole Tribal Council and with each and every Hard Rock employee, from Jim Allen, all the way down.
What has the experience for Hard Rock International working with Enterprise Rancheria on this joint venture been like?
MB: Our relationship has been fantastic. I had the opportunity to meet the Enterprise Rancheria Tribal Council back in the beginning of 2018, even before the construction began on this project. As they toured our property, I could sense by the initial meeting, not only that the Tribal Council had great vision and passion for what we were creating here, but they had a strong level of gaming experience and a focus that was truly rooted in hospitality. They bring to the table a very high level of stability and a very long focus on creating something special here as they've been working close to 20 years on bringing this development to life in their backyard.
Working with them has been amazing because we've been able to learn the marketplace very quickly. We've been able to learn more about what works and doesn't work in this environment and what the nuances are of the customer base in this part of the country. We've learned a tremendous amount and they've been a part of everything we've done from day one – from the design, to the financing, to every element including our hiring – and they've been a partner.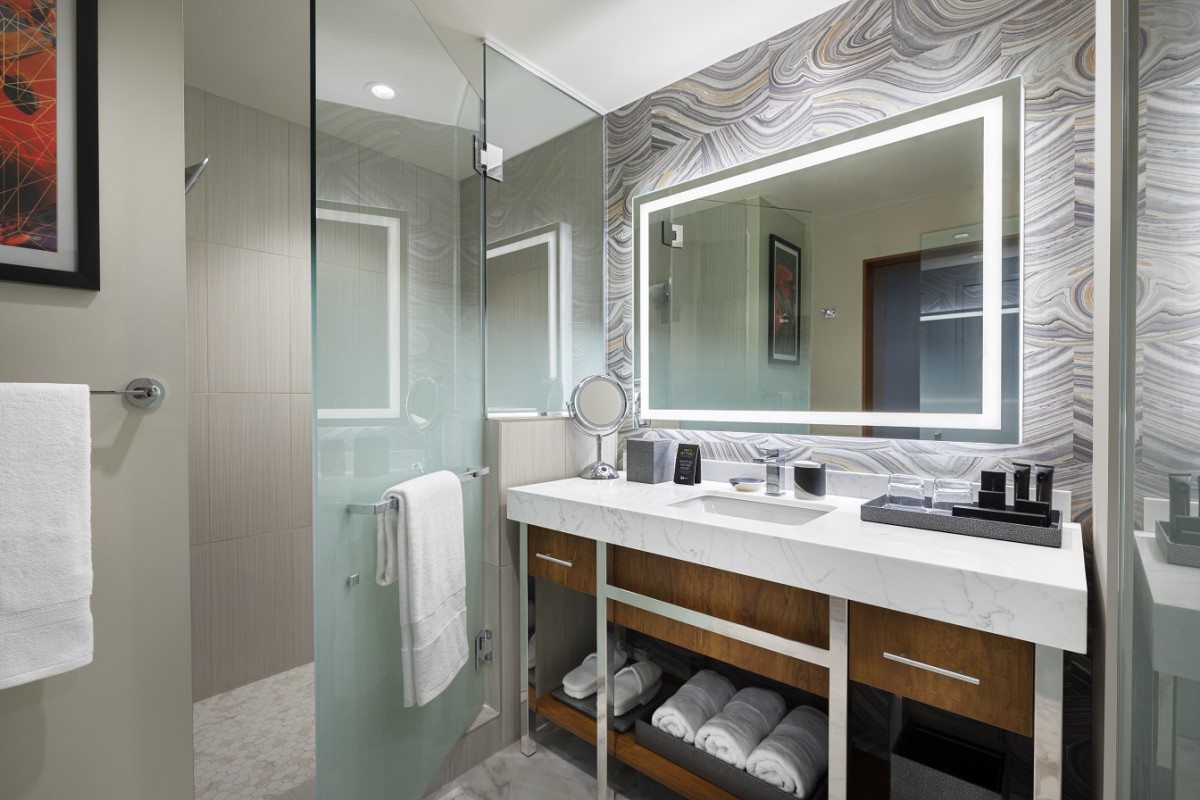 I think you mirror that with the integrity, the honesty, and their values that they have, which are very similar to the Seminole Tribe of Florida and Hard Rock International, and it creates a very strong relationship that has proven to be a great resource for us to consistently turn to when we need additional support and guidance in the marketplace. They have a very similar history with the Seminole Tribe of Florida so I think both entities have been very excited about this East-West relationship and one of the first significant partnerships of two tribal entities in the United States. I think this is only the beginning of a very long relationship and a lot of success to come in the future.
Can you explain the various aspects of this new resort – from its luxurious hotel rooms to superb restaurants, bars, and spas, along with entertainment, and of course, casinos and sports book – along with an insight into the resort's design and structural layout?
MB: There are a lot of elements to this development and hopefully more to come in the future as it expands. But for me personally – I've had the opportunity to work in Las Vegas, and Macau, and many regions around the country here in the U.S. and I've been a part of many iconic integrated resort destinations all around the world – what I feel like we're creating here is another one of those destinations in this Northern California marketplace.
First and foremost, it truly is an amazing design filled with so many "wow" experiences. I articulated earlier about the products and services and the amenities and offerings – all of those things combine to create something that's truly dynamic in the package that we are establishing here as part of Hard Rock Hotel & Casino Sacramento at Fire Mountain. The first thing that guests will enjoy as they approach the property is an amazing marquee out front that has a beautiful digital display board and a very large Hard Rock guitar. That is the first expression of "wow" as you drive up to the property and see this amazing backdrop to the entrance. With the Hard Rock Hotel & Casino guitar out front, it's a photo op moment and it just really welcomes you in a positive manner.
The minute you walk into the building there is this exploding guitar feature on the ceiling that just has an energy and a vibrancy that really opens your eyes and welcomes you into the property. I think that's the sort of drama and entertainment that we create as part of our design here and the Hard Rock brand. Many components of the property are probably not unique (to Hard Rock) but they are definitely going to stand out here in our marketplace. There are 169 hotel rooms, and almost 20 percent of those rooms are suites. Many of those suites are up on the higher level floors with the sweeping views of the mountains and the landscape here in Northern California – the foothills. It's just really a very peaceful and beautiful landscape that surrounds our building. The rooms have an edgy design that is also sophisticated yet intimate in product delivery. There are some hidden brand "wow" moments in the room that I think our guests will be excited to uncover as they visit. We have pool terrace rooms that sit on the outdoor area that joins the pool that they can walk in and out of. The room component is something we really believe will stand out in the market from a design and features perspective.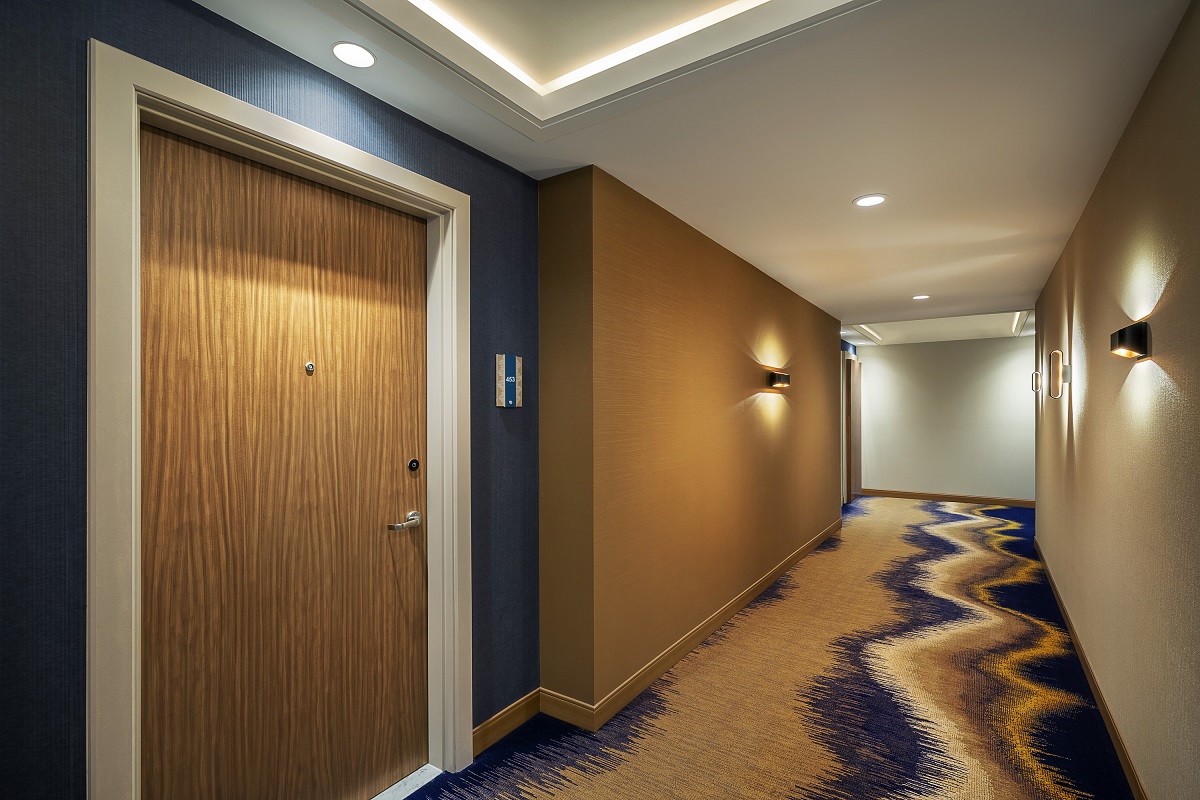 From there we have the pool, of course – the very well-landscaped, highly functional pool area with a big, beautiful Hard Rock design, a jacuzzi and day beds, and cabanas. It will be a wonderful outdoor leisure experience as well as a meetings and event space for us to host receptions, parties, and even small shows. It creates a really wonderful resort experience that accompanies and compliments our hotel. We're going to have 1,587 slot machines on our gaming floor, and in many cases we're going to be the first to market with our unique product offerings. This is a tribute to our executive team – really focusing on the tried-and-true gaming standards on our floor but working very closely with our partners and our vendors to bring different gaming products and experiences to the marketplace that we think our customer-base will find to be very enjoyable. Accompanying the slot machines, we'll have 57 table games and we look to offer a very unique program of offerings in terms of different game types, denomination levels, and products and services to our table game players. We've got some amazingly beautiful felts, cards and chips – cheques as we call them – that I think will be very unique, will stand out here in the marketplace, and will allow us to create a very high level of quality service and experience in our table game program. That, of course, will also allow us to feature an Asian high limit chip and high limit areas as well. So there will be some very unique product offerings and service offerings in those various spaces.
As we move on to the food and beverage program, we have six restaurants and those include our unique Council Oak Steaks & Seafood brand. This venue is a high-quality specialty restaurant here on the property that features a great menu of steaks and seafood; but more importantly, sources local products and vendors to bring some truly unique food and beverage programming to the menu. And wine – we're going to have an amazing wine list. We have a wine locker that will be able to house over 2,500 bottles of wine, some really unique, and some well-known brands from the Napa-Sonoma region. As we move into our Fresh Harvest buffet, we'll have 288 seats indoors, as well as another 50 seats outdoors and a lounge, terrace patio area for dining. We'll offer over 80 items on our buffet menu and we'll have live-action cooking stations all in a really wonderful, beautifully designed space. We also bring the natural outside environment around us in to the building with our iconic "trees", that have these beautiful leaves – just amazing design features around the room and the periphery of the buffet. The interior design and the really sophisticated and comfortable spaces are mirrored with the fresh-cooked product for lunch and dinner daily. Our buffet will be a very sought after destination in the building.
Constant Grind is our branded 24/7 grab-and-go venue. It offers fresh food in terms of sandwiches, soups and salads, and coffee menus, and other signature items that will be available in that space 24 hours a day. Many of these offerings are baked fresh daily by our inhouse pastry chef. We have a number of Asian restaurants that we think will really resonate with the marketplace and offer an authentic experience in that space. We've been fortunate to hire an individual named Richard Chen as our executive sous chef. He will oversee our Asian restaurants. He's a Michelin star winner and has created some truly unique menus and destinations in Las Vegas, Vancouver, Macau and around the world that feature a very unique Asian program. Our Song restaurant, which is our Asian themed venue, will offer Chinese cuisine as well as other features including some Vietnamese, Filipino, and Korean dishes. And then we have YOUYU, which is our 15-seat noodle bar that will be a highly trafficked, quick, in-and-out noodle bar experience that we think will resonate really well.
Then, of course, we have our Hard Rock Cafe. If you've been to a Cafe around the world, it brings that energy and that great vibe as well as some amazing burgers and cafe fare that we know will be a new landmark destination here in this marketplace. We will feature live music on the weekends with local artists from the Greater Sacramento region. On top of that, on the food and beverage side, we've been focused very clearly on sourcing local foods – wine, nuts, fruits and vegetables. We sit in the epicenter of the agricultural world in Northern California that allows us to really offer some unique and innovative food and wine products that we are excited to offer as part of our food and beverage program.
In addition to that, we have our Rock Shop which will offer our most iconic swag, as we like to call it – from hats and shirts, to the cult followed pins, and other Hard Rock sundries and merchandise that I think will be a destination here in this property. We'll have a full meetings program. We have an 8,600 square foot ballroom, another 2,000 square feet of pre-function area, and a hospitality suite which will allow us to entertain meetings, concerts, and other social and local programming that will be truly unique in this marketplace.
And then of course, you round that out with over 100 pieces of memorabilia in the hotel and casino and the restaurants, featuring Johnny Cash who has spent some time up here in Folsom, and many other iconic artists. So when you put all of that together and you then also feature a partnership with Live Nation at the 18,000 seat Toyota Amphitheatre next door for our entertainment venue, and you wrap in a little bit of innovative technology, you have a recipe for fun. I could probably go on and on and on. This project will not only raise the bar in the marketplace in terms of design, focus, and layout, but more importantly, the products, services, and people, will be very successful in delivering those authentic experiences that rock in each and every venue in our building. So it's pretty exciting!
What has been you and your colleagues' experience of the various construction stages since the Ground Breaking Ceremony back in April 2016?
GN: It has always been our goal to identify a strategic plan and work diligently to move forward and we worked hand-in-hand with all of the individuals involved. We've worked with the Architect's, Project Managers, Construction crews and managers to design and build this project on time and on budget.
How has the collaboration in the look of the resort been a collaboration between both parties? For example, will guests be able to see paintings or carvings that depict the Enterprise Rancheria Tribe?
MB: Our Tribal Council has been involved in every step of this development, from the vision with Hard Rock, to all the design elements, they've been a part of every single thing that we've done – including the financing and the road shows and really a vision and a focus on bringing this product to life. They have, without question, found a smart way to weave in the fabric of their cultural and social history into our building. They've done it in a very smart way that doesn't come across as a solicitation or an advertisement but more of a wonderful interface and collaboration. You'll see a lot of that represented in our meeting space area. The names of our meeting space area, and the names of our meeting rooms all have Enterprise Rancheria names and meanings. Inside that space we'll have a wonderful wall of cultural elements including some of the baskets and agricultural goods that they've had, as well as the games that they've played – some visibility on many of the elders and the history of the Enterprise Rancheria and how they got to where we are today. So I think this is a very appropriate and tasteful way to infuse some of their history and some of their culture and vision into the Hard Rock building, which really just elevates the experience to another level that's a totally different expression of those elements inside of our Hard Rock building.
GN: Our Tribal culture is represented but we wanted it represented in a fashion that our tribal members would recognize, but the general public wouldn't realize what it actually was. We're mainly looking at this as a business and it is a casino, not a place for a lot of cultural artifacts. Although, we have shared our culture's gaming activity. Tribes have been gambling for thousands of years. We've shared what we call the "Hemeni", which is a grass game and an example of how we gamble and how we kept track of scores, along with the native terms for different words that were used while gambling. That is the aspect that we decided, as a Tribe, to share with the public.
Vice Chairman, Greg Borene stated: There are definitely some subtle items that our members will recognize. There's a small area that we're going to have that has some of our history and artifacts, but a lot of our culture is sacred so a lot of the things that we want to share here had to be done in a tasteful way.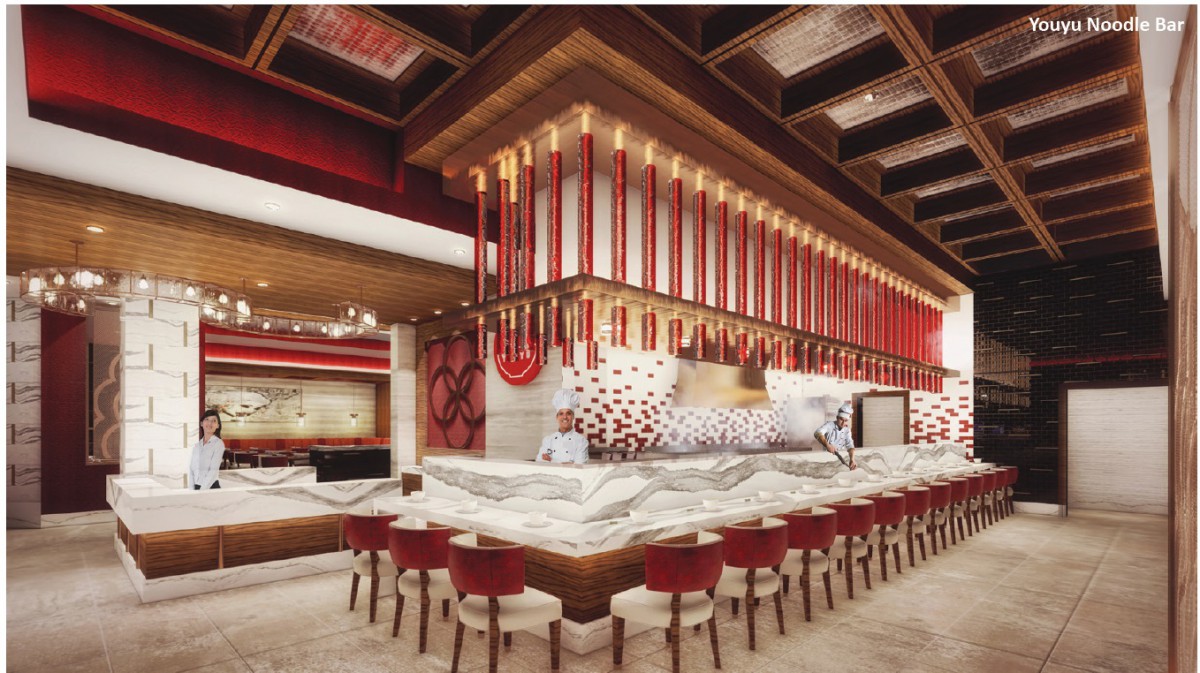 How is this resort going to make a difference in the lives of the people in the district?
GN: It has been a great struggle for our membership, but in California, gaming is one of the businesses that can generate enough revenue to actually help with housing, medical care, elder's care, education, childcare, and all of the things that we, as a people, need. The major difference is going to be the increased opportunity for jobs, careers, and self-esteem it will give our members and the surrounding community.
Tribal Council Treasurer, Thomas Lozano stated: It's an opportunity to make us self-sufficient so we can help support ourselves to run these programs that will benefit all of our Tribal Members and the surrounding community greatly.
Given the scale of this project and the demands it must bring, when was the last time you laughed so hard you cried?
MB: Ironically enough it almost seems to happen every day. It's a great project and from my perspective, I really try to instill my passion for what we do here, and my creativity. So many of us have the opportunity to put our fingerprint on this development and build a legacy here. So we've been so focused and driven on raising the bar and creating these wow factors in the design, in the services and amenities that we're going to bring to the table. Every day we're challenging each other, and sometimes that comes with a little laughter, and that may lead to a tear here and there, but it's all in a good way. At the end of the day, things have been eye opening. We're learning the nuances of the market, particularly in the food and beverage space, and with our vendors, and the rules and regulations in California. We've been learning all of this and working closely with our gaming commission, and I think we've been focused on looking at the competition and what it means to compete effectively here, and some of the things that we've seen as successes, and potentially misses, allow us to learn from what we see every day in this market. It's a different marketplace. Every region has different clientele, different expectations, different competition, different rules and regulations, and sometimes we work so hard that we put so much energy and effort into all that we do that – I don't want to say it's exhausting but you take a step back and you kind of laugh and smile. We've built a great team of people here that I think collectively push each other to bring out the best in what we do. As a deliverer of these experiences, we work so hard that sometimes you just take a step back and you laugh and it even makes it that much more special. Every day is something new here.
Like everything in life, some things make you laugh, some things make you cry. We recently had our "Walk This Way", our management orientation program, and there were moments where we were laughing as a team. There were probably about 80 or 90 of us in the room – managers and directors and VPs and above – and there were times we were laughing and there were times we were hearing stories from our ownership, and from others in the audience that brought us to tears. The level of conviction, passion, energy and enthusiasm brings you to that edge, and it's a good thing. It keeps us human, it keeps us alive. That laughter and those tears sometimes really just embolden and empower all of us to bring out the best in what we do and it's been a tremendous experience and we haven't even opened our doors yet.
GN: There have been a couple of times. One of them was when the federal government finalized putting our land in trust in Yuba County for gaming. The other time is when we finalized our Agreement with the Seminole Tribe to be in partnership with them to build this great facility. We are very fortunate to be one of the few tribes in America that has the privilege and honor to work with another tribe to accomplish great things for both tribes.
What does your role in the Hard Rock Sacramento project involve and once complete, will you transition back to a more familiar role of running a resort?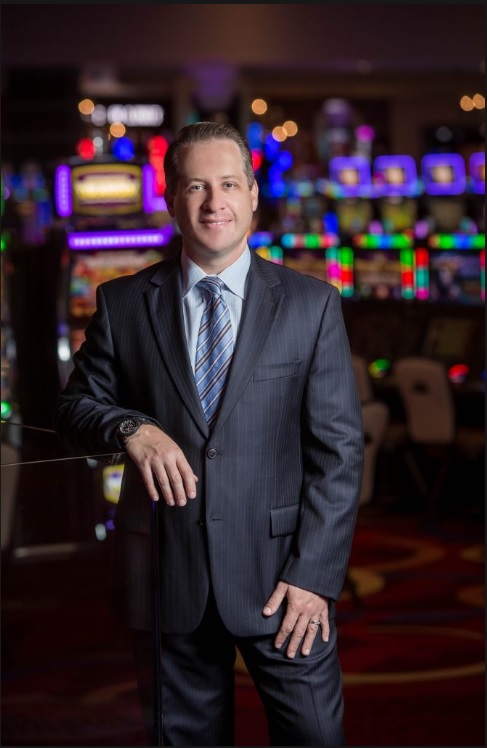 MB: I've been fortunate. This represents two of my loves in this industry. I love operations and clearly that's been a large portion of my career. I've worked in so many different disciplines within these operations that it's given me a great fabric, and experience level, to work from. The other thing I'm very passionate about is development. I've had the fortune that over the past year now, I've been working on this from the time we were breaking ground to the topping off to literally where we are today. We're moving furniture, fixtures, and equipment in, we're hiring hundreds of team members, we're bringing the story to life and clearly when we open this Fall, this will translate into more of an operational role and will bring all of the challenges and nuances of being competitive and delivering great guest experiences and catering to millions of guests on an annual basis. That has a whole different level of expectation and opportunity.
For me, my role will continue to evolve both in development and operations. I think we're clearly focused on bringing this building to life and making it successful and then looking at additional phases of development in the future, as hopefully this property will look to expand over the years to come to be a very large destination resort in the Northern California marketplace. At the same time, it's a very unique situation and I've had the responsibility of focusing on the fact that this is our first hotel and casino West of the Mississippi since we've acquired our rights back to the brand from Brookfield a couple of years ago. This really will become our flagship property on the West Coast which will allow us to focus on more development for hotels and casinos, managing the relationship between the Seminole Tribe of Florida and the Enterprise Rancheria and what that means from a business perspective, and expanding our philanthropy and goodwill opportunity as well.
Mark Birtha President of Hard Rock Hotel & Casino Sacramento
And then we sit on what is called the "sports and entertainment zone" here in the greater Sacramento region. We sit in a city called Wheatland and there's 900 acres here that have been positioned as a development zone. That allows us the opportunity to not only increase the scale and scope of what we're creating here as an integrated destination resort, but also focus on that relationship that we have and the further investment in that sports and entertainment zone. Having a piece of the vision and the opportunity to work with all of our team on the development and operations is very exciting. Its the entrepreneurialism that allows us to continue to be partners in developing this master plan. I just think it's a tremendous opportunity to do so many things all at the same time from development to operations, relationship building, local philanthropy, and hiring. All of these things come to life and will be an ongoing role and responsibility that I absolutely savor in my career.
Where has the Enterprise Rancheria Tribe drawn their collective inspiration for this significant venture from?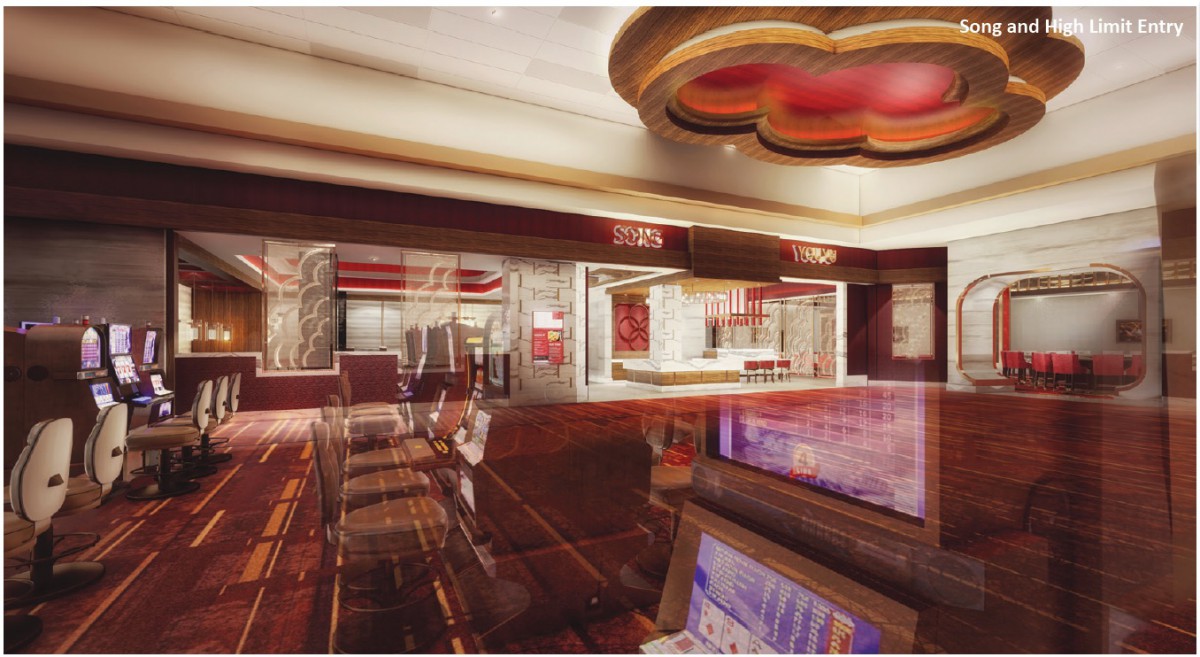 GN: For the Tribal Council, it is their destiny. It's always been part of who each individual member of Tribal Council is. They are elected from the tribe's General Membership. Every individual on Tribal Council was taught, since the time that they could walk, how important their Tribe, their family, and what they do, is. It's just something that you're born with. It's within you and we've had the privilege of seeing it come to fruition.
The Opening Night Party will be a wonderful and memorable event for all of those involved, and will be the culmination of a lot of hard work by all involved. Can you provide details of what guests can expect?
MB: They can expect to be blown away of course with an amazing opening weekend.
Guests can expect to have that Hard Rock experience, that energy, that vibe, that ground breaking raising- of-the-bar. We do that right at the beginning with our guitar smash. All of our executives and ownership will be here to christen this property with a one-of-a-kind rock 'n roll guitar smash grand opening ceremony. We are having our marquee entertainment act, Rock and Roll Hall of Famers Def Leppard, play at the Toyota Amphitheatre next door to us. That'll be on our grand opening weekend.
There will be a big party with VIPs and celebrities and others here in the marketplace. This allows us that opportunity to not only have a lot of fun and celebrate all the hard work that our construction teams have put into this building, and our executive teams have created with the hiring and the storytelling that we're going to be doing, but it will be the opportunity for us to first provide that great representation of food and beverage – from farm to fork, which is very popular here in the Sacramento, Northern California marketplace – to unique gaming experiences, and retail, and beautiful hotel rooms, and just the pinnacle of hospitality and entertainment as we begin to usher in this new destination as an iconic landmark in the Northern California market. It really is an opportunity for others to enjoy the Hard Rock brand here in this region of the U.S. and I think it will become a beacon for guests to not only come here from the local and the regional market, but literally from all around the United States and Canada and around the world. It will draw and grow the marketplace here and I think guests will be excited to see some of these iconic pieces I spoke about earlier in the design and in the product offerings that I think aren't going to be mirrored anywhere else in our industry.
GN: They can expect great hospitality and will be totally amazed with the facility that we have worked so hard to put together and the amenities within.
Tribal Council Treasurer, Thomas Lozano stated: They're also going to experience the Hard Rock experience. It's not just about the gaming, as our Chairwoman, Glenda Nelson mentioned, it's also about the hospitality and the experience of being in a Hard Rock venue. The customer service that they're going to get is going to be top-notch.
Once the Hard Rock Sacramento is open, what will be involved in your role?
GN: Our role will be to oversee and make sure that the policies and procedures that we have established as a tribe are being achieved. We will continue to do strategic plans. We will continue to grow and we will continue to succeed in everything that we try to accomplish.
Vice Chairman, Greg Borene stated: In this process with Hard Rock and the Seminole Tribe, Hard Rock has actually said to us that they can't believe how involved we are at every level on this project. This project is extremely important to the improvement of our tribal members lives, they have put their trust and confidence in Tribal Council to remain involved when we open. There's a lot of work that needs to be done. We meet on a weekly basis, and often have telephone calls daily with the crews. We've been involved the entire time and will continue to do so in the future.