Pascal Camia, Executive Vice President of Gaming Activity, Monte-Carlo Société des Bains de Mer talks to Casino Life's Peter White and David McKee
Say the word "casino" and your mind probably conjures up visions of the Casino de Monte-Carlo, established in 1863 and still probably the world's most famous. Some 150 years after its creation, the Monte-Carlo Société des Bains de Mer Group is one of the main operators in the European gambling sector, as well as a leader in luxury hospitality and tourism. Having created the legend of Monte-Carlo, synonymous with glamour, sophisticated chic and creation, the Group has also become a reference for luxury and for its knowhow in hosting and delighting
its guests, whether they are rich and famous, trendsetters, leisure or business tourists. Today, the casino – in which James Bond would feel right at home – is the crown jewel of Monte Carlo Société des Bains de Mer, a company whose holdings extend to a trio of casinos – Casino de Monte-Carlo, Casino Café de Paris and Sun Casino; four hotels – Hotel de Paris Monte-Carlo, Hotel Hermitage Monte-Carlo, Monte-Carlo Bay Hotel & Resort and Monte-Carlo Beach, the Thermes Marins Monte-Carlo and two spas, 30 restaurants and bars, four of which are Michelin starred, Le Louis XV Alain Ducasse à l'Hotel de Paris, ELSA, Blue Bay and Le Vistamar, as well as exclusive after-dark hangouts La Rascasse and Jimmy'z Monte-Carlo Nightclub.
Clearly, The Casino de Monte-Carlo has come a long way since it was founded by Prince Charles III of Monaco over a century and half ago. Prince Charles' prophetic vision was of a great city centered upon the casino. Where other men would have seen bare land filled with olive, citrus and orange trees, the prince saw gaming-based prosperity. "Around the Casino, beautiful hotels will be built that will have nothing to fear from comparisons with those in Paris, London and New York," he wrote. François Blanc was summoned from Homburg to repeat the transformation he had worked at that German spa town. So solid was Blanc's workmanship that his Hôtel de Paris Monte- Carlo and Café de Paris Monte-Carlo stand to this day.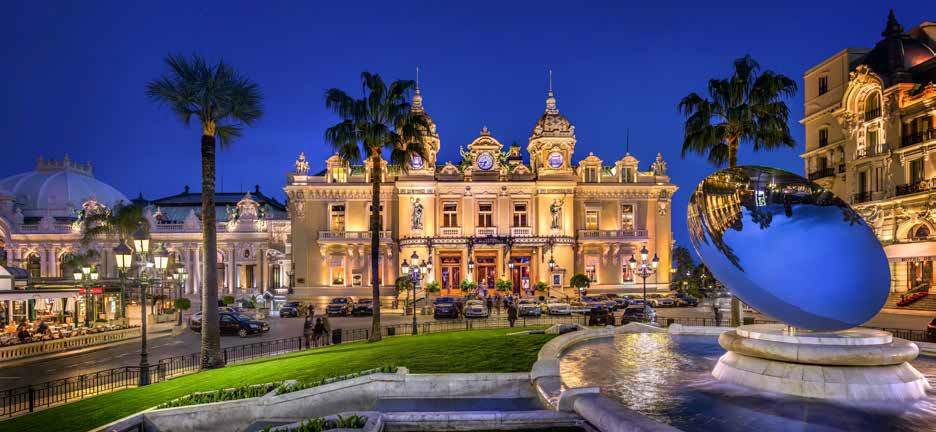 Image: Casino de Monte-Carlo Square
By 1869, Monaco had become a tourist magnet. It was a popular wintering spot for European royalty, as well as for composer Jacques Offenbach and writer Alexandre Dumas. Sarah Bernhardt inaugurated the Opera House. Meanwhile, a new casino had replaced Blanc's original and was in such demand that it had to be expanded again and again. By the turn of the century the city also became synonymous with automotive and nautical races. The arrival of Serge Diaghelev and his Ballets Russes de Monte-Carlo brought cultural ferment to Monaco, as Diaghelev's troupe employed many of the top talents in opera and ballet.
To this day, Monaco draws a who's-who of celebrities, extending a lineage that has included Winston Churchill and Lloyd George, Aga Khan, Rita Hayworth and Cary Grant. Nor would any accounting of Monte Carlo's fame be complete without mention of Rainier's storybook wedding to Hollywood's Grace Kelly in April 1956. Ever evolving, the casinos added slot machines in 1962. The principality continues to add hotels and luxury retail, ensuring that its glamour will never fade.
The Group is traditionally associated with all prestigious events in the Principality of Monaco, notably through its partnership with AS Monaco Football Club, contribution to the Automobile Club de Monaco or its involvement in the Monte- Carlo Rolex Masters tennis competition. It also spearheads global charity events, notably the Rose Ball and the Monaco Red Cross Gala.
Monte-Carlo Société des Bains de Mer will reveal in December 2018 the splendid renovation of Hôtel de Paris Monte-Carlo. The Group is also taking the lead on creating a new One Monte-Carlo district, which will be completed in 2019 with 7 new buildings for residences, offices, conference rooms, restaurants and shops.
The largest employer in Monaco, Monte-Carlo Société des Bains de Mer is not merely an important part of the principality's economy, it is that economy. Over the past decade it has diversified into real estate, specializing in residential properties with high-end hotel services. It's also keeping up with cyber-gaming, owning half of BEG, one of Europe's top Internet-gaming providers. Its holdings include popular online sports-betting service Betclic.
Despite having so many irons in the fire, Monte- Carlo Société des Bains de Mer Vice President of Gaming Activity Pascal Camia found time to sit down with Casino Life. What follows is some of that conversation.
How much revenue is derived from, respectively, gaming, dining, nightclubs and spas?
Our business model is different from Las Vegas, where the non-gaming represents 70 percent of the total revenue. For Monte-Carlo Société des Bains de Mer the revenue is distributed as follows: 45 percent non-gaming, 45 percent gaming and 10 percent we call real estate, For more information on the company figures please visit our corporate website at : https://www.montecarlosbm-corporate.com/finance-2/annual-reports/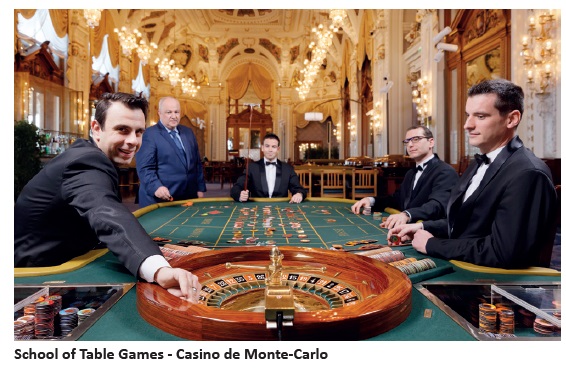 How do you define your role at Monte-Carlo Société des Bains de Mer?
Leading one of the sectors with 45 % of the company's revenue is something where you need to be dependable. This is a very interesting challenge in this period where the gaming activity is under pressure due to the changing nature of the industry, the important changes in the consumers' expectations and habits and all the normal regulations. We have to think out of the box all the time and find solutions in order to increase revenue or at least make the revenue stable.
We want to change the nature of gaming in Monaco. The motto of our strategy is "The Great Art of Gaming." Monaco Casinos and The Casino de Monte-Carlo are mainly very luxurious ground and we want our clients to feel this during their gambling experience. So our strategy is to change the nature of gaming in Monaco and to make more efforts to give our clients more unique opportunities to come to see us. That's why we organize prestigious and ephemeral events like the Surreal Dinners. We organize boxing fights, big-time poker or roulette tournaments, and we always give gamblers new opportunities to come to see us. For instance, during the Monte-Carlo Rally, the world rally championship which happens in January, we had the opportunity with the Automobile Club de Monaco to propose to some of our clients a private test drive in the mountains. They were seated next to the driver and lived the experience as if at a real championship. It was a great event for them.
If you had to describe your mission, what would it be?
My mission is to make Monaco Casinos and The Casino de Monte-Carlo the best-run gaming grounds in the world. When we ask our clients, 'what are the main gaming destinations in the world?', they always say Macao, Las Vegas and Monte-Carlo, and Monte-Carlo represents only 0.3 percent of the global gaming revenue. So having only 0.3 percent of global gaming revenue and benefiting from awareness, is something that we have to focus on and mainly to strengthen Give us a little background to your career. What are your roots and how did you get involved with the Gaming industry?
I am a Monaco native. I got a Master of Economics in Nice and went to Switzerland at Glion Institute to improve my knowledge and skills in the industry. Glion is in the top five worldwide institutions for hospitality management where you learn the art of hospitality. Then I went to Rome, London and Paris, and worked in several luxury hotels. I went back to Monaco and took several positions in the company: Food and Beverage Director at Hotel de Paris Monte-Carlo, Deputy General Manager at the Monte-Carlo Bay Hotel & Resort and then General Manager at Hotel Hermitage. And then in December 2015, the Chairman of the Board and Chief Executive Officer asked me to take the position of Head of Gaming. This move was prompted by the company's conviction that the casino activity needed someone who could bring a fresh approach to customer relations and how this might be delivered to Monaco's casino clientele.
What would you describe as the pillars of your casino's strategy?
We have four key assets. First, the Brand. It's very important but it's not enough. That's why we always give our customers the opportunity to come see us. The product: We have a land-based casino built in 1863 and two other casinos, more contemporary, near the casino square. The architecture of the main casino is phenomenal and gambling in this kind of product is great. The third asset is "the knowhow". We have been operating gaming since 1863 — 155 years now — so our dealers and maintenance men (because we are building our own roulette tables and they have this knowhow) have to share this knowhow during the gaming experience. And the fourth asset is our resort. Monte-Carlo Société des Bains de Mer is an incredible resort, with four hotels: Hotel de Paris Monte-Carlo, Hotel Hermitage, Monte-Carlo Bay Hotel & Resort, Monte- Carlo Beach – mainly palaces, with four casinos, up to 30 restaurants and bars, the famous night-club Jimmy'z, les Thermes Marins Monte-Carlo, the largest spa in Europe, and unique entertainment and shopping offers...We have a lot of experiences to give our clients through the resort.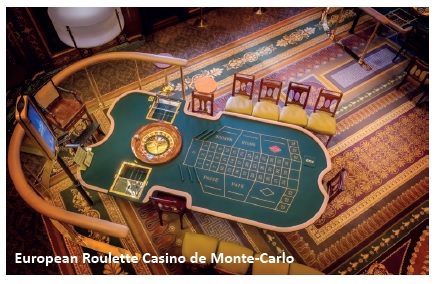 The second axis of my strategy is excellence in welcoming and service. We have to adapt our management to the new customers, the new strategy of motivating our associates and also innovation. Innovation obviously is also based on new technologies but not only that. Our innovation is mainly focused on changing the image, as I said previously. Management has to change the way we see our clients in particular because we have just launched a new loyalty program which delivers new services. Previously, and it's true everywhere in the world, gaming was only considering the table games or the slot machines. But they were not considering globalization, marketing, online gaming, virtual games and also communication with the clients, which is very important. Because we had a strong knowledge in gaming we were very good, and we are still very good, organizing the tables and dealing with the clients at the table. But now we need to be very keen in communicating with the clients, offering them a wide new range of products, mainly our new loyalty program, in order to increase retention.
The management also has to change the relationship with the clients. Everybody has to be a "marketing person" in the casino. If I want to sum up all I said, we need our top managers and manager-supervisors to be very marketing-oriented and customer-oriented.
How do you keep the Monte-Carlo Société des Bains de Mer brand fresh and at the forefront of the industry?
Our innovation strategy is changing the nature of Monaco's casinos and the Casino de Monte-Carlo, focusing on the gaming experience our clients can enjoy here, which is the Great Art of Gaming. For that, we organise events like the two Surreal Dinners, something very special that you can only find in Monaco. The plan we have, from a branded-marketing standpoint, represents a significant change in how operations have been promoted in the past. Positioning the Casino de Monte-Carlo and Monaco's casinos, as places where you can have the most wonderful gaming experience in Europe and maybe in the world is the goal.
Can we expect a greater use of social media in the marketing mix of Monte-Carlo Société des Bains de Mer?
You're right, we can always improve. To be honest, social media were not really used before I was nominated. We decided to really push the social-media side because it's using the assets of the brand. So we decided to relaunch all the social accounts on Facebook and Instagram. We are now using them to promote 'What is the experience for customers?' We are betting on User-Generated Content. We are also using social media to share what we are delivering. If you see the two movies we have shared on the Surreal Dinner, we have reached out to millions of people across the world, which is quite impressive. Since we are using social media for what they are, we are not following all the trends. We want to keep the brand upscale, so we need to be careful and to focus on creating inspirational contents.
To follow us:
Instagram: casinosmontecarlo / montecarlosbm
Facebook: Casino Monte-Carlo / Monte-Carlo SBM
What sort of loyalty programs do you offer?
We just have a new program. We launched it on the eighth of January. Our loyalty program is called "My Monte-Carlo". We have four tiers. We also have a fifth one that is not a tier you can reach by points or by your expenses. It's by invitation only and called "Privé Monte-Carlo". It's a membership program exclusively created by the management of the company and offered to high rollers during their stay. It's something very exclusive and they can have private tables, they can stay in exclusive suites of the Hotel de Paris Monte- Carlo, they can dine at the very private tables of Louis XV – Alain Ducasse our 3 michelin stars restaurant or in any of our restaurants in the resort or book special services. So they can have a very special experience. The new loyalty program only concerns the casino side this year but in 2019 we will extend it to the entire resort and all activities. That means if you are not a gambler you still will be registered in this program.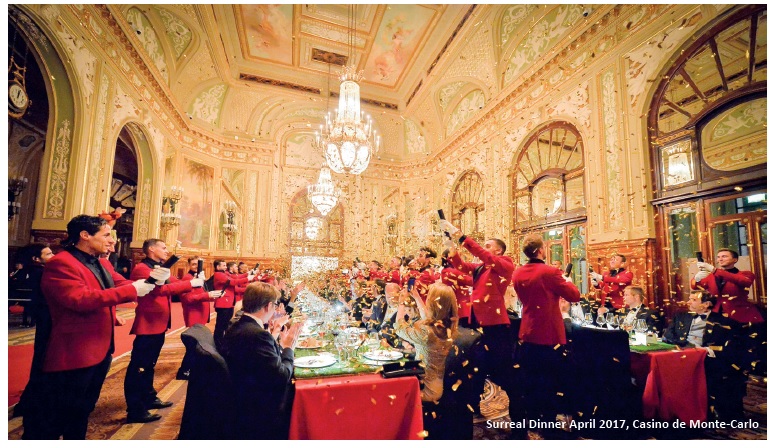 How do you track frequent players better?
We track the gaming of the clients, also their expenses in the resort. Obviously, this data is confidential. We try, with this data, to personalize what our customers like to do, what they would like to eat and what they would like to find in their rooms. Of course, we have to follow all the European regulations regarding data and privacy. It's quite impressive. Thanks to the loyalty program, we try to cross information between different activities. If the customer likes the casino, he might also like the wellness or the entertainment and we try to make a personalized offer by marketing, e-mail and so on. The idea is not to be invasive or too pushy but to send to the customer a very personalized offer at the right moment in his or her journey.
Do you see the Monte-Carlo market changing – especially with the rise of Millennials – and how?
Obviously, we are following the trends. We are facing some difficulty in recruiting Millennials because Millennials are much more attracted by virtual games or community games on the Web than by entering the land-based casinos. That's also why we want to change the image of our main casino, still having the James Bond image but we will also have several rooms dedicated to non- and fun-players. We want our customers to enjoy the 'James Bond Experience' and also a place where they can sit, have a glass of champagne or a cocktail, hear some music and — if they want — they can gamble on the very fast games like Blackjack and English Roulette. It's also changing some of our thinking. We have to be more contemporary in our management and that's why one of my pillars is management. I also want to push our managers in order to have more fun for players than only gaming in certain rooms of the casino. That's why we are changing the atmosphere and that's why we are featuring an art installation in the atrium in order to attract them into the casino to enjoy the experience and share it with their friends on social media.
What is your global strategy, particularly in the Persian Gulf? Where do you see the Monaco casinos being in 2020?
The Middle Eastern clientele is perhaps the most important to us. They are still playing French Roulette, which is our DNA, and we have a dedicated team. We have two people living over there, in our marketing team, to welcome these customers and make them come to Monaco. Monaco, in summertime, is already a Middle East destination. Monaco is becoming, little by little, a more interesting destination for those specific markets, mainly due to the personalized welcoming and service we are delivering.
How do you position your casinos in the market? Which ones do you aim at the mass market, as opposed to VIP play?
It was one of the initiatives that Mr. Biamonti, the Chairman of the Board and Chief Executive Officer of the company gave me. It's managing three casinos with three GMs, because before my arrival the gaming activity was led by gaming. Like in Vegas, you had the VP table games, the VP slot machines and then we changed it. We decided to divide the management of the three casinos between three GMs. So we have three casinos with three atmospheres, three ways of gaming. Mainly the Casino de Monte-Carlo is the one for the high rollers and also, as I said previously, certain rooms dedicated for the fun players. Casino Café de Paris is much more based on technology, because it has 85 percent of revenue coming from the slot machines and 15 percent from the table games.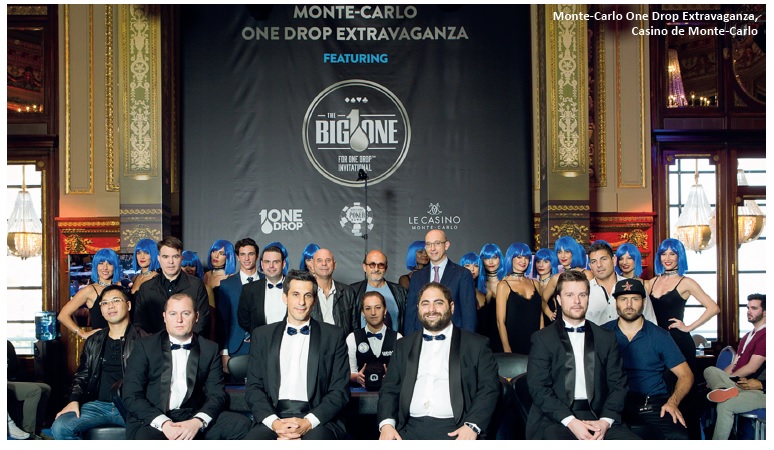 It's a technological casino with a contemporary atmosphere. The third casino, The Sun Casino, is much more American style. Eighty-five percent is coming from the gaming tables and 15 from the slot machines. So we have these three casinos with three atmospheres and obviously the local people, fun players and the tourists are much more dedicated to these two other casinos, Casino Café de Paris and Sun Casino, but we still have tourists visiting our main casino in the summertime.
In terms of innovation, it's important for me to say that in the strategy of changing our image, we were talking about Millennials. It's not so easy for us to make them enter a land-based casino. That's why, with the Sun Casino, we decided — and our gaming authority allowed us to do that — to make the gaming go outside of the casino, in order to be placed where the customers are during the season. For instance, on the swimming pool of the Fairmont Hotel, where the Sun Casino is based, we had in summertime the famous Nikki Beach with a lot of young people and music. It's from three o'clock in the afternoon until one o'clock in the night. We are going to position three tables close to the swimming pool, in order to attract the younger generation towards the table games during summertime.
Do you have a typical customer profile?
No. It's from the non-player to the VIP and we work on each tier very carefully. It's very important to give a proposal to each tier. For instance, for the non-player – and it's important to strengthen that – last summer we had, and we will do it again this summer, a new boutique in the atrium with all our products, all the merchandising of the Casino de Monte-Carlo and it got us an incredible live feedback and exposure on social media.
How would I be made to feel welcome at a Monte- Carlo Société des Bains de Mer casino and what kind of luxury service could I expect?
In the end of '16, we hired a Director of Public Relations for the premium clientele and her goal was to build a customer journey. So we had specialized teams who worked daily with each tier of customers. The VIPs are offered a customer journey from their home if they want, because we have a door-to-door service. From their home we convey them via a limousine to the airport. They fly to Nice Airport and in Nice they are greeted by marketing associates and are driven or flown by helicopter to Monaco. Then the customer journey starts, from the hotel to the casino, back to the hotel. All the guest-relations services are involved in these VIP customer journeys. We curate the other tiers very carefully. Previously we had a guest-relations manager in each casino and in each hotel, and the goal was to make all the communications between all these guest-relations staff smoother.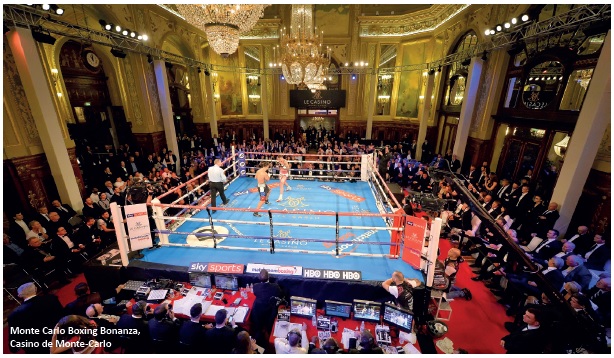 For the non-European player, what would they find at a Monte-Carlo Société des Bains de Mer casino that would provide them with a novel or unique experience?
In our hotels we have a lot of services for Russian, Middle Eastern and Asian customers, from the breakfast to the amenities they can find in the room. In the casino we are working on that. There are two things that we will improve. One is our gaming service and we are thinking about having 24-hour service at the table, because now the casino closes at six and reopens at two, and we know that Asian people expect 24 hours service. So we are working on this and we are also working on Chinese food, a Chinese restaurant and a Lebanese restaurant. We have to bring our customers to other restaurants, and our goal is to keep them here in the casino.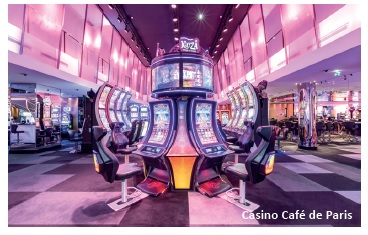 What are the main innovations and areas of investment in the Monte-Carlo Société des Bains de Mer casinos?
Yes, we have to keep in mind that our main innovation is changing the image. Changing the image, first of all, is to have a room for the fun players and we have to keep this main room "Salle Europe" very attractive. It is where the James Bond films were shot. But we need to maintain a cosy area, a great lounge with music, in order to attract the fun players. The gamblers want to be at the tables, they want to be seen at the tables. So it's not a matter for the gamblers or the VIPs. Our next investment will be on furniture and layout of the first room, in order to attract these fun players, mainly the younger generation. Secondly, we will create our very private club in the last room in our casino. This Club will offer private rooms where our customers can eat, sit, watch TV with large screens – and gamble. We will also launch in the coming months, a casino suite in the new Hotel de Paris Monte-Carlo. We want to be very discreet. We want to keep them in the hotel and customers will be able to go from their suite in the hotel to the casino suite without going outside.
What special events do you offer?
As I said, the two Surreal Dinners were important. The two art installations we had in the atrium were essential. We created a popup Jimmy'z Monte-Carlo during three days over the New Year period last year. These special events contribute to changing the image, making more opportunities to come to see us. The Surreal Dinners were based on gaming. The first was 'The Art of Gaming' and the second was the 'The Art of Gaming and Love.'
Technology plays such an important role in our lives. How has it affected Monte-Carlo Société des Bains de Mer from a player perspective?
Obviously, if you are talking about virtual games or online gaming, it affects our industry a lot. That's why we want to use CasinodeMonteCarlo.com for online gaming. Our most important thing is to change the image of gaming. We do this in two ways: using technology to be more contemporary but also changing the image of gaming to bring more people to the land-based casino.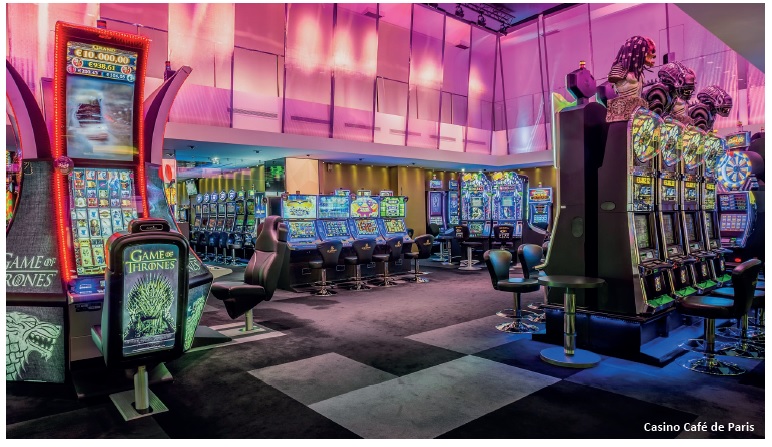 How are you changing your gaming floors to take into account the popularity of electronic table games as well as the latest slot machines?
Here we are talking mainly about the Casino Café de Paris. Maybe I will have electronic roulette in the main casino but it's not done yet. We are basing our electronic table games in the Casino Café de Paris and the Sun Casino, and we will choose the ones we will put in the main casino. We have in our two casinos, two major showrooms: IGT in the Casino Café de Paris and EGT in the Sun
Casino. In these two showrooms they position all their brand-new slot machines and electronic table games. We did it with them because they were interested in being present on our floor using a little bit of our Brand for their marketing strategy. It's a win-win situation and we're very happy to work with them. But as you can see, Monaco is a very important spot for our partners. We have Aristocrats in the Monte-Carlo Bay Casino too. We work with all the brands.
What innovations do you feel you have accomplished?
For me the main innovation is to have pushed our industry a bit in Monaco with this strategy. This strategy is interesting because we have just joined the European Casino Association (ECA) in July and I am on the board since February, and it's very important to exchange with our colleagues from other casinos and get to know what they do. Our innovation was to change the image of Monte-Carlo Société des Bains de Mer and the Casino de Monte- Carlo to a new gaming experience. Our experience is part luxury but maybe our partners in ECA can have a new experience. That's why I want to share that with my colleagues. The reason for joining the ECA was sharing experience, showing what we have done in our casino, talking about responsible gambling and talking also about how online gambling, affects our industry. These are all the matters we want to discuss.
Where does the Opéra fit into your business plan?
It's a part of the building. I don't run the Opéra, it's another management, but we work very closely on several projects and we try to increase the cross promotion. For instance, we had Prince two years ago in the Opera House and our customers were there, so these exclusive events can also be part of our strategy.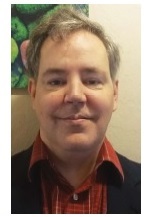 Left; David McKee has covered the casino industry for almost 20 years and his day-to-day thoughts can be found in "Stiffs & Georges" at LasVegasAdvisor.com. For Casino Life, he has written several profiles of suppliers and operators. Other publications in which his gaming-relating writes have been found include Las Vegas CityLife, Desert Companion, Las Vegas Weekly, Casino Executive Magazine and several others. He lives in Augusta, Georgia, with his wife Jennifer and their three cats.
Right:  Peter White  founded Outsource Digital Media Ltd in 2005. Prior to that he was International Sales and Marketing Director for Global Gaming Business LLC, the leading North American, B2B gaming industry monthly publication from March 2003 until July 2006. In addition to his role as Managing Director of Outsource Digital Media, Peter has held over the years consultancy roles with publishing companies developing their publications' databases and social media, and assisting with their digital transformation from analogue to digital media, that included companies such as Screentrade, London Sport and High Point Media. During Peter's 20+ years in the casino and gaming industries, he has been a guest at casinos from Manila, Singapore, Macau, Moscow, Buenos Aires, Las Vegas, Monte Carlo, Punta Cana, Biloxi, to Kyiv. Peter is married with 3 children and lives in the countryside near Tunbridge                                                                                                                                            Wells.