Interview with David Strow, Vice President of Corporate Communications for Boyd Gaming by Victor H. Royer
Casino Life Magazine and Outsource Digital Media recently had the opportunity to interview David Strow, vice president of corporate communications for Boyd Gaming, one of the United States' largest and most respected casino operators. In his role at Boyd Gaming, David oversees the company's strategic communications functions, including media relations, public relations and publicity, internal communications, financial communications, crisis communications, and ESG reporting. David is also a member of the Boyd Gaming Charitable Giving Committee and oversees the company's philanthropic budget.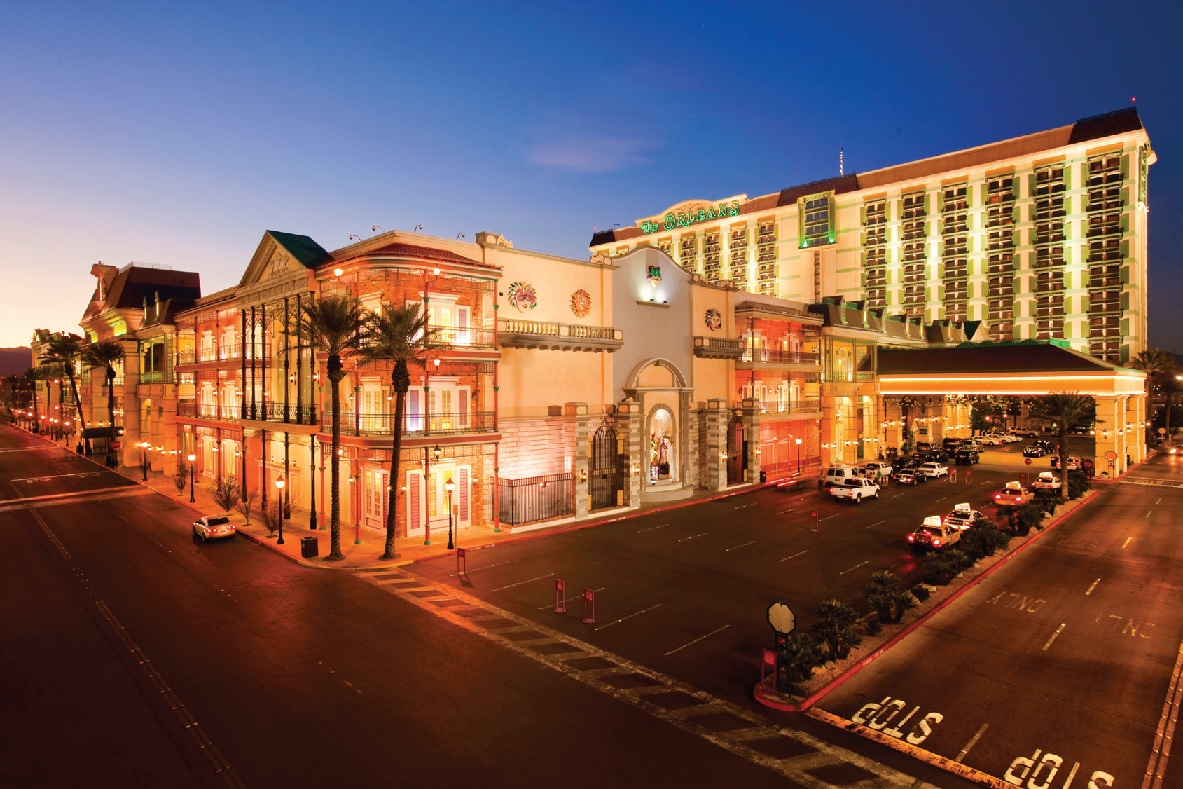 Image: The Orleans Casino Resort in Las Vegas
A 20-year veteran of the gaming industry, David joined Boyd Gaming in 2007 as director of corporate communications, serving nine years in that role before being named to his current position. Prior to joining Boyd Gaming, Strow served as deputy director of communications for Harrah's Entertainment and, before beginning his gaming career, David was an award-winning business journalist at the Las Vegas Sun from 1999 to 2002.
David serves on the Board of Directors of Opportunity Village, a Las Vegas-based nonprofit serving southern Nevada residents with intellectual disabilities. He served as chairman of Opportunity Village's board of directors from 2020 to 2021 and is currently a member of the board's executive committee. Strow is a graduate of Arizona State University, where he received a bachelor's degree in journalism.
David, first I want to thank you for taking the time to speak with me. Please tell our readers a little more about yourself and your role at Boyd Gaming.
Thank you, Victor, I'm glad to share this journey with you and your readers. After graduating with a journalism degree in the 1990s, I began what I thought would be a long and successful career as a newspaper reporter. That career brought me to Las Vegas in 1999, when I had the opportunity to report on the most incredible growth period in Las Vegas' history. Over the span of just a couple of years, I had the opportunity to report on the opening of Paris-Las Vegas, the Palms, Aladdin, Rampart [then The Resort at Summerlin–Ed.] and Green Valley Ranch. I was new to the industry and to Las Vegas, so I thought that crazy experience of grand opening after grand opening was completely normal at the time. I don't ever think we'll see a period of industry expansion and growth quite like that again, and it was exciting to be able to help tell the story of that remarkable period in Las Vegas history.
My time at Boyd Gaming has been quite an interesting growth adventure as well. Over the last 12years, we've welcomed 14 new properties to Boyd and more than doubled in size. Having the chance to help tell that growth story – and to welcome so many new team members to this company over the years – has been an exciting professional opportunity for me.
Image: Aliante Resort pool and recreation deck
My role at Boyd is to communicate on behalf of the company to a variety of our key stakeholders, including the news media, customers, team members, investors and community partners. When you're a spokesperson, your job is much easier when you have the opportunity to represent a company that you really believe in. I'm fortunate that is the case at Boyd, which is a company that has successfully preserved the culture of a family owned business, even while it has grown into a nationwide company.
The Orleans and Gold Coast casinos are both well-established properties in the Boyd Gaming family, and one of the main reasons why I wanted to speak with you is to learn a little more about them and their operations from the operational perspective.
Like all other Boyd properties, my team's job is to help The Orleans and Gold Coast tell their story to key stakeholders and the community in general. By working through the news media and social media channels, we work to generate excitement about the experience of playing at these properties and convince customers to visit.
Compared to our other Las Vegas properties, The Orleans and Gold Coast have a much larger tourist component to them. They are larger than our other properties, and they have more amenities that appeal to an out-of-town customer, such as meeting and convention facilities, sizable hotels and large entertainment venues.
However, there's one thing that's consistent across all of our properties – the Boyd team's dedication to offering great customer service. Excellent service has always been a calling card of our company and offers us a key competitive advantage over other operators.
Once a customer comes into our doors for the first time, I'm confident that our team members and amenities will convince that customer to keep coming back. My team's job is to convince that prospective customer to make that visit so that our team members can close the deal.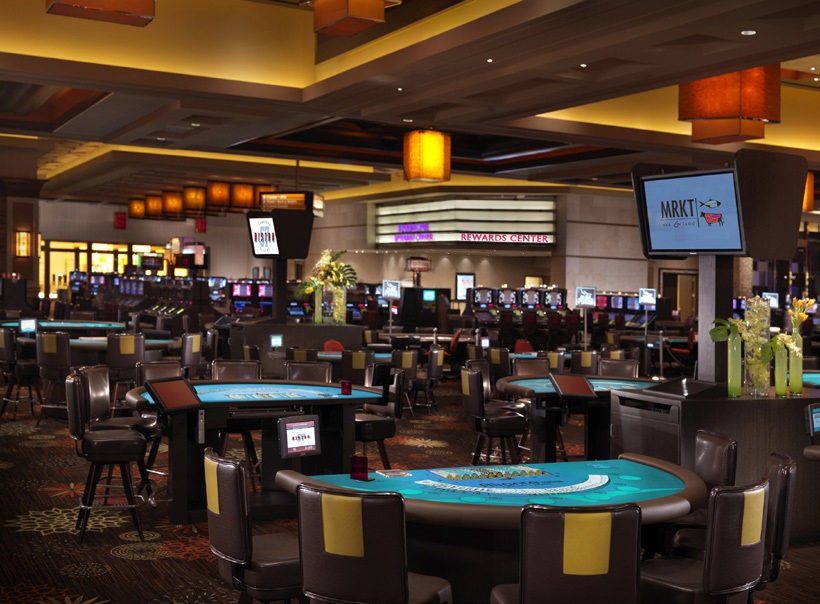 Image: Aliante Resort casino floor
Please tell us about the newest leadership appointments at Boyd Gaming – as well as at other Boyd properties.
We've had several new leaders named at our Las Vegas properties recently. Two of our new general managers had previously served as assistant general managers of their properties, so they know these properties very well: Chris Joy at The Orleans and Rick Goldstein at Suncoast. We also recently named one of our long-time GMs, Tony Taeubel, to head up operations and the Aliante and Cannery in North Las Vegas.
One of the most distinctive things about our company's culture is longevity in our team members' careers. Put simply, we want our team members to build a career with us, and we work hard to create an environment that convinces team members to stay at Boyd and grow with us. That philosophy extends up to our general managers, many of whom are longtime Boyd team members and are committed to our company's culture. That's certainly the case with Chris, Tony and Rick, and we think they're going to do a fantastic job leading these four properties
How do you see Boyd Gaming properties positioned in the current and future gaming market in Las Vegas? And elsewhere?
I think our properties are in outstanding position for the future – probably the strongest they've ever been. We came out of the pandemic with some invaluable lessons on how to market and operate our properties much more efficiently and effectively, and as a result we've been delivering record financial results across the company for several years now.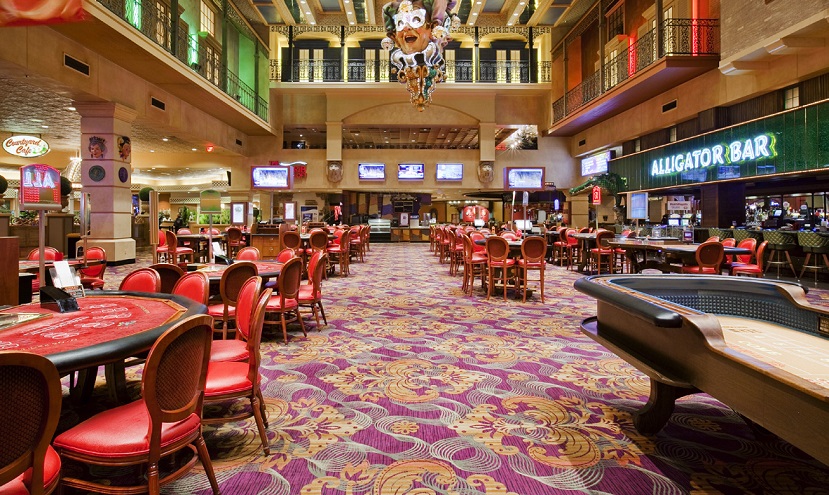 Image: The Orleans Casino Resort main casino floor
And how do you see The Orleans and Gold Coast casinos positioned in the current and future gaming market specifically here in Las Vegas?
The Orleans and Gold Coast are both very well-positioned in the Las Vegas market. These properties have a much larger out-of-town customer base than our other "local" properties due to their large hotel capacity (about 1,900 rooms at the Orleans and 700 at Gold Coast), and they have established a strong reputation among Las Vegas visitors who want to stay close to the Strip without paying Strip-level prices.
Roughly half of our business at these two properties comes from out-of-town visitors, which is a much higher proportion than our other Las Vegas locals properties. But each has a significant local following as well. In addition to its popular gaming selection, The Orleans offers a competitive selection of dining options and live entertainment, anchored by the Orleans Arena. Gold Coast has established a very strong presence in Chinatown, which is adjacent to the property, and offers a wide selection of table games that are quite popular among local Asian customers. With a strong reputation among Las Vegas travelers and well-established local customer bases, both The Orleans and Gold Coast are in excellent position for the future.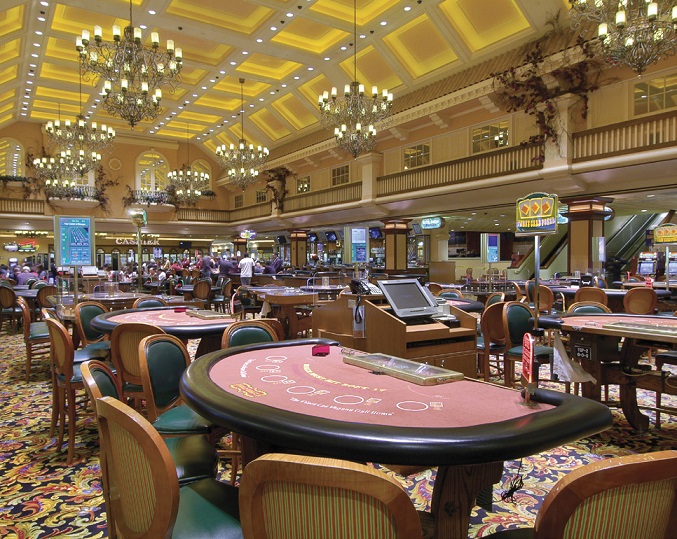 Image: Casino floor at the Gold Coast Hotel & Casino
Please tell us more about other Boyd Gaming properties in Las Vegas – specifically Main Street Station, Aliante, Sam's Town, Cannery, the California Hotel Casino and the Fremont Hotel & Casino.
Our downtown Las Vegas properties – the California, Fremont and Main Street Station – are anchored by our longstanding Hawaiian customer base. Upon opening the California in the mid-1970s, Sam Boyd positioned the California to appeal specifically to Hawaiian customers, and our company's relationship with Hawaiian customers is as strong as ever today. The California is specifically designed to appeal to Hawaiian customers and customers from Hawaii accounted for about 75 percent of the Cal's business last year.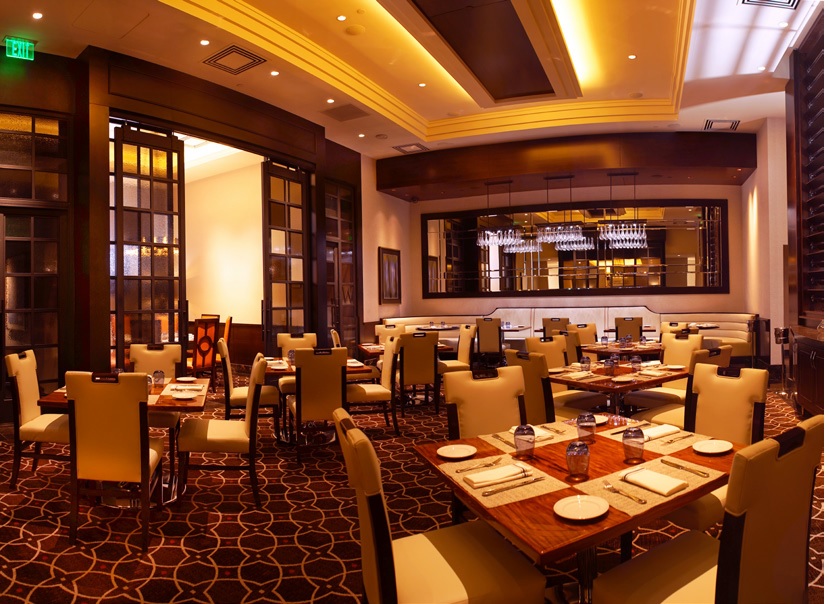 Image: The Alder-Birch dining room at The Orleans Casino Resort
Main Street is also popular among Hawaiian guests, while the Fremont appeals to a broader customer segment given its location in the heart of Fremont Street. By October we will be completing a total remodel of the Fremont's casino floor, so we think we've made this property more appealing than ever to downtown visitors.
Our locals properties – Aliante, Cannery, Sam's Town and Suncoast – are positioned to cater to local residents. They each have smaller hotels and do a fair amount of tourist business, but local residents make up a far greater portion of their visitation than The Orleans, Gold Coast and the downtown properties. That's why you'll see amenities and gaming options at these properties that are more targeted to local residents, like movie theaters, bowling alleys and food courts.
From the corporate perspective, how much of a difference is there between the locals market in Las Vegas and the tourist corridor (ie., the Strip and Downtown Las Vegas).
The locals market is a much different animal than the Las Vegas Strip. Where a Strip property may see a customer only once or twice a year, we see our best players multiple times a week. Our spend-per-visit is lower than a Strip resort but visitation frequency is much higher.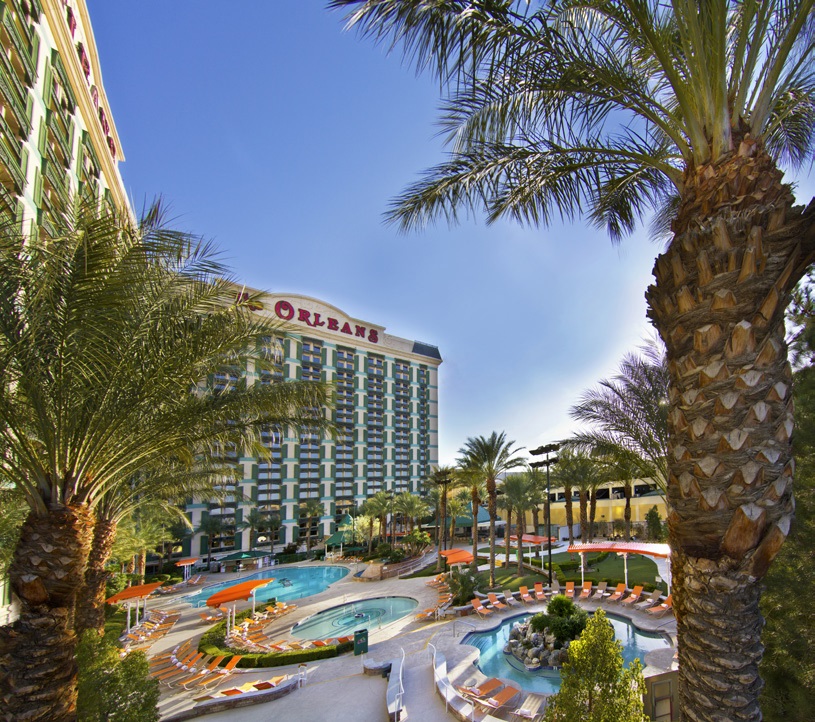 Image: The Orleans Casino Resort pool area
A locals business model is also much more gaming-centric than a Strip resort. Last year, a little over 75 percent of Boyd's nationwide revenues came from casino gaming, compared to well under half for most Strip resorts. So offering a competitive and attractive gaming product is extremely important to our success as a locals operator. That's not to say that tourism isn't an important part of our business model. At some of our locals properties like Orleans and Gold Coast,roughly half of our business comes from out-of-town customers. This is due to their large hotels and wide selection of non-gaming amenities. And in downtown Las Vegas, Hawaiian customers account for the large majority of our business at the California, Fremont and Main Street Station. We have quite a bit of experience at successfully marketing to tourists but local residents will always be the foundation of our success in Las Vegas.
Visitors to Las Vegas – and locals especially – universally dislike the additional daily room charges known as the "Resort Fee" – and well as the much-hated parking fees. Are there any plans to eliminate those fees at Boyd Gaming casinos? At least for the locals?
We've never charged for parking at our Las Vegas locals properties. When your business depends on frequent visitation from local residents, you want to make it as convenient for them as possible to visit – which is why we haven't introduced parking fees at properties like The Orleans or Gold Coast.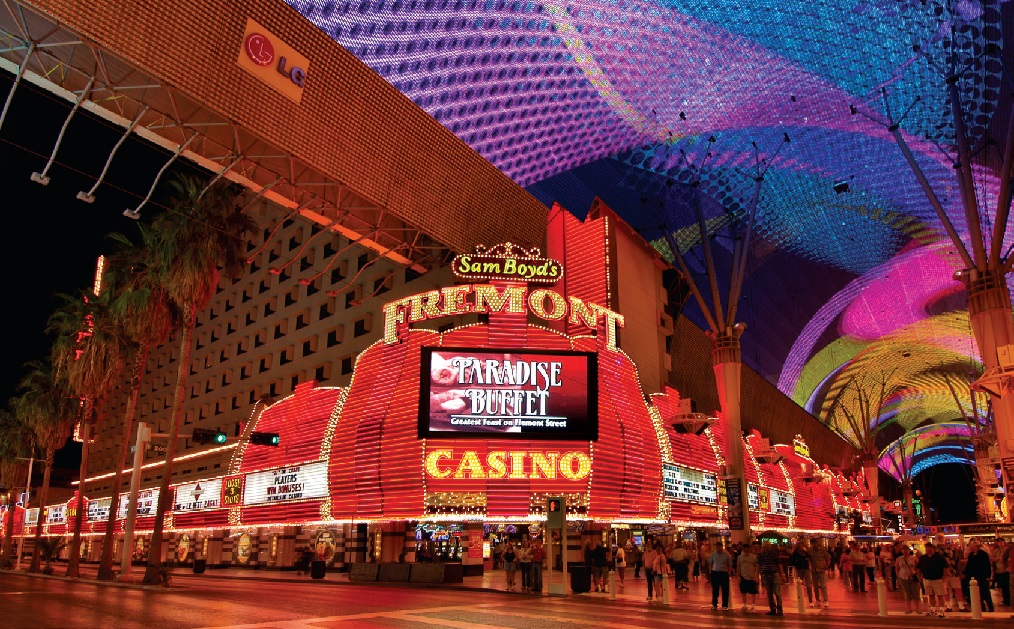 Image: The Fremont Casino in downtown Las Vegas
Have there been any operational-perspective changes – or any significant shifts in casino operations – at your properties since the pandemic? Meaning other than the naturally required changes to general operations?
We learned quite a bit during and after the pandemic, and as a result we are in the strongest position we've ever been as a company. Pre-pandemic, our basic goal was simple – attract as many people as possible to our properties. But that wasn't an option when we were coming out of the pandemic. Health officials placed strict occupancy limits on our properties, so we had to be very selective and strategic in our marketing efforts.
Those days are long gone but the lessons we learned are still being applied every day. Most importantly, we've gotten a lot better at identifying our most loyal customers, tailoring our casino floors and our amenities to them, and making sure they have a fantastic experience with us that they can't get anywhere else. That's given us a strong competitive edge.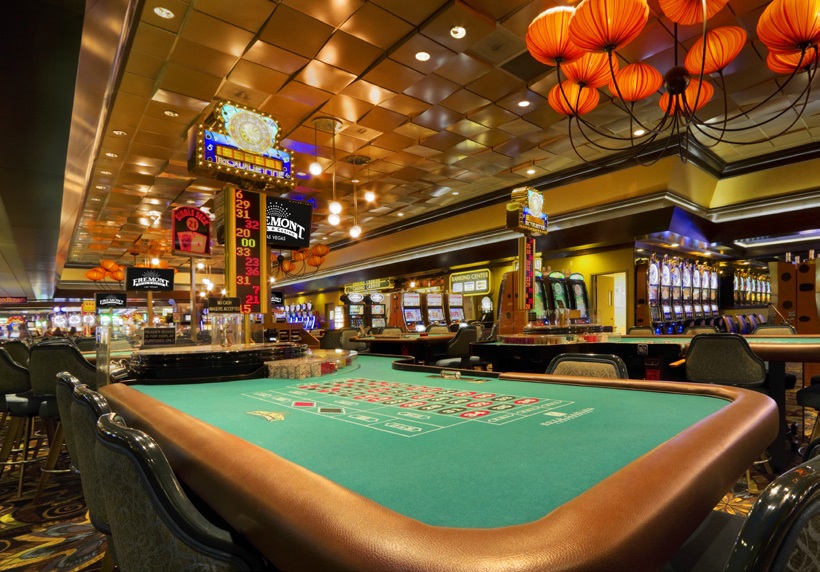 Image: The Fremont Casino floor in downtown Las Vegas
Please tell us more about the Boyd Rewards player's club, how it is structured, and how and where players can earn and use their benefits.
Our player loyalty program, Boyd Rewards, is available at almost every Boyd property across the country. There are five tiers within Boyd Rewards – Ruby, Sapphire, Emerald, Onyx and Titanium – with each offering an increasingly attractive level of benefits. Points earned at one Boyd property can be redeemed at any other participating property across the country.
There's a lot of competition among casino rewards program, so we put a lot of work into giving Boyd Rewards some unique features, especially for our higher-tier players. Once you make it to Emerald level, you'll qualify for a free annual cruise on Holland America, while Onyx players also receive a free luxury gift of their choice. And if you reach Titanium, we'll give you an annual "B Memorable Experience" – a unique sporting or entertainment experience you can't get anywhere else.
And thanks to a unique partnership with Hawaiian Airlines, Boyd Rewards points are 100 percent transferrable to Hawaiian Airlines' frequent-flier program. So the next time you play at a Boyd property, you can play your way to a free flight to Hawaii!
Image: The California Hotel & Casino in downtown Las Vegas
What is new and innovative about Boyd Gaming casinos as of the third quarter 2023?
We have a couple of major property improvements now underway. In downtown Las Vegas, our remodel and expansion of the Fremont Casino is nearing completion. The first stage of this project was the addition of the Fremont Food Hall, a FanDuel Sportsbook and about 10,000 square feet of new casino space in December 2022. This expansion has been incredibly successful so far; the food hall is getting rave reviews, the new casino space has been very busy and more people than ever are coming into Fremont.
We're now at step two – remodeling the Fremont, section by section, so that the entire property matches the new, modern look and feel of the casino expansion we opened in December. Based on the response we've gotten to the initial expansion, we think the all-new Fremont will be a big hit once we complete work this October.
And in Louisiana, work is now underway on the development of a new facility at Treasure Chest Casino near New Orleans. After 30 years as a riverboat casino, Treasure Chest will be moving into a single-level, land-based facility, complete with a broadened selection of gaming and non-gaming amenities, and easily accessible parking. Treasure Chest has always been a very successful property for us but we believe this expansion project will significantly expand Treasure Chest's appeal in the New Orleans community when it opens next spring.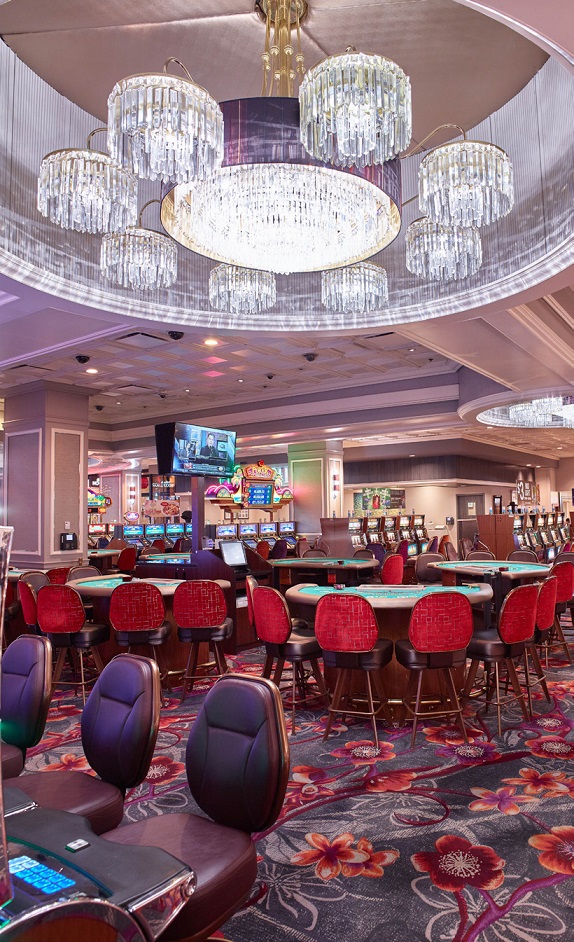 Image: The California Casino & Hotel gaming floor
Does Boyd Gaming have an online casino presence for entertainment – or real-money gaming?
We do have a growing presence in the online world. In both New Jersey and Pennsylvania, we recently launched real-money casino gaming under the Stardust brand. Our recent acquisition of Pala Interactive was critical to this launch, as this acquisition gave us the talent and the technology we needed to operate a best-in-class online casino product.
The extent of real-money online casino gaming is limited today, with only six states currently allowing it, but we are well-positioned for the future as more states consider legalizing iGaming. We have also established a strong presence in social gaming with the Stardust Social Casino, which is available in nearly every state in the country and has established itself as a leader in the social gaming space.
We view online and social gaming as complementary to our nationwide casino operations. With digital gaming products, we can stay engaged with our customers even when they aren't at our properties. And by appealing to younger demographic segments, online and social gaming serve as a powerful customer-acquisition tool for our properties nationwide.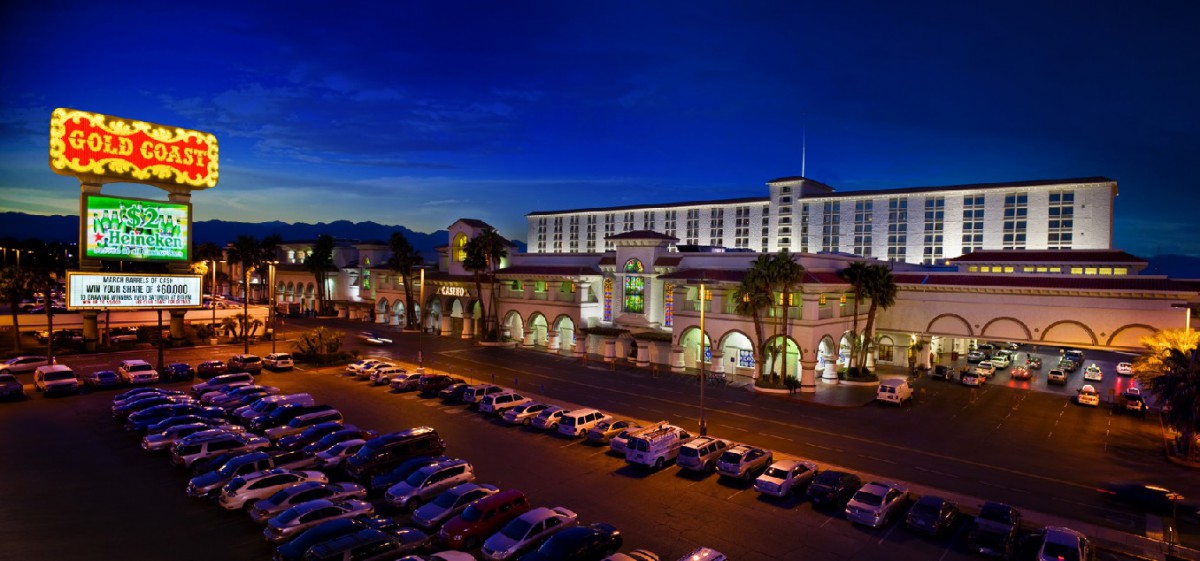 Image: The Gold Coast Hotel & Casino
The Orleans has a very well-known poker room – please tell us more about live poker in Las Vegas. Is it also offered at other Boyd Gaming properties?
The Orleans is Boyd's only poker room in Las Vegas but it is an exceptionally popular (and successful) room. While we offer a broad selection of live games, our poker tournaments are what the Orleans poker room is probably best known for, with three tournaments scheduled every day, Monday through Saturday, with two more on Sunday. With tournament buy-ins as low as $100 (and guaranteed prize pools of $10,000 or more), The Orleans offers tournaments that are affordable and accessible to everyone.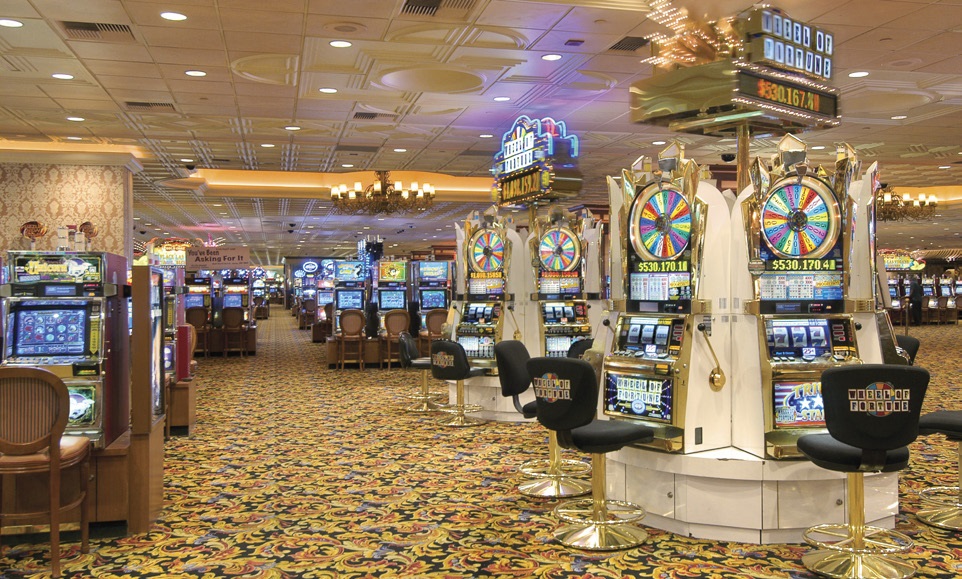 Image: Casino floor at the Gold Coast Hotel & Casino
Finally, in your career in gaming, and with Boyd Gaming, what would you consider to be the highlights?
Being a part of an incredible growth story. Since 2011, I've been able to play a part in six separate acquisitions that brought 14 new properties into our company. One of the most rewarding parts of that process has been the opportunity to welcome thousands of new team members to Boyd Gaming – introducing them to our company and what makes us unique in this industry. At Boyd, acquisitions are about more than adding new properties to our company; they are also an opportunity to add new talent. We've grown stronger over the years thanks to the new team members and executives who joined us with each acquisition, and it's been an honor to be a part of that process.
On behalf of Casino Life Magazine and Outsource Digital Media, I would like to thank you, David, for your time, and for sharing this with us and our readers.
*** This interview was originally published in Casino Life Magazine Issue 160 September 2023 ***