As Atlantic City's Borgata heads toward a milestone anniversary, President Travis Lunn sets a course for the future. By David McKee
Twenty years ago, Atlantic City got a wake-up call. It had evolved – or perhaps devolved – into a sleepy, even stagnant gambling market. Steve Wynn had fled and Donald Trump talked big but did nothing. Then came Borgata, a collaboration between Boyd Gaming and the company then known as MGM Mirage. It opened at 11:50 p.m. on July 2, 2003 with an inaugural roll of the dice on a craps table by actor Stephen Dorff. (Whatever became of him?) Nothing was ever the same. Borgata immediately leapt to the forefront of Atlantic City and grew the market. Over the years, some things have come and gone at the resort, including Boyd's ownership share (which it invested into growth in other cities) but MGM, now MGM Resorts International, has been a constant.
Steady also is Borgata's pride of place amidst the ocean city's casino market. With the exception of a single, post-pandemic month, Borgata has been the top moneymaker in town, month in and month out, for two solid decades, an almost unimaginable achievement in the volatile casino industry. There have been a few scares along the way. When rival Hard Rock Atlantic City was gaining ground on Borgata, MGM shook up the latter's leadership and brought in Travis Lunn as property president. Lunn, a veteran of Beau Rivage and MGM Grand itself, quickly put daylight between Borgata, and newcomers Hard Rock and Ocean Casino Resort.
He's continued to evolve the resort product, whose coffers are further swelled by its first-place ranking among New Jersey's Internet casinos. One worry he has to deal with is the possible overturning of the Garden State's PILOT Program (Payment in Lieu of Taxes), which has lowered the tax burden of Atlantic City's casinos but hasn't been faring well in the courts of late. If PILOT fails, Borgata's profits will suffer from a higher impost.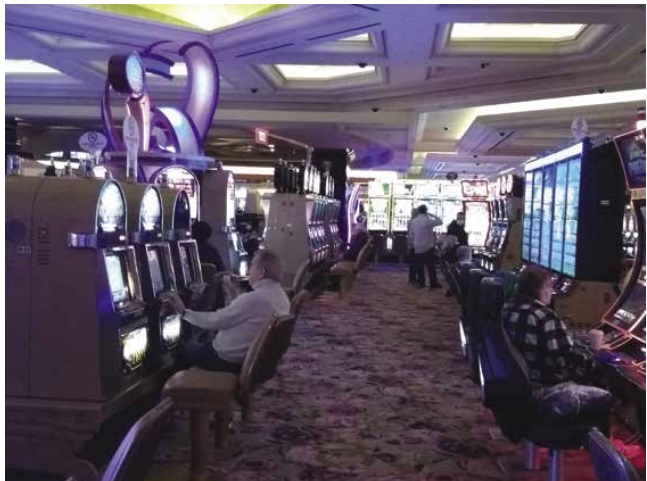 But that remains to be seen. For the time being, Lunn has many other projects on his plate. When we spoke to him just before Christmas, he was on the verge of reopening two major, revamped amenities – which he discusses below – and doing the advance planning for even bigger projects. Atlantic City has had its ups and downs but in Lunn it has a champion of its cause.
Borgata is closing in on 20 years in Atlantic City, two decades in which has consistently been the city's top-earning casino. What's the secret?
Having been here only a year I can only speak to those things which have been consistent over those 20 years. The common denominators are really a couple of things. One is our incredible team members.
We have almost 25 percent of our workforce that has been here since Day One. They really provide an exceptional experience that we think is a differentiator for us, that has enabled us to stay number one. Two, I'd have to give credit to our guests. It's been a pleasure to get to know them over this past year and they've really remained loyal to Borgata and the brand. Thirdly, I'd have to acknowledge the original vision of Borgata in the construction. I've worked in several buildings in Las Vegas and this was really well constructed in terms of access to our amenities.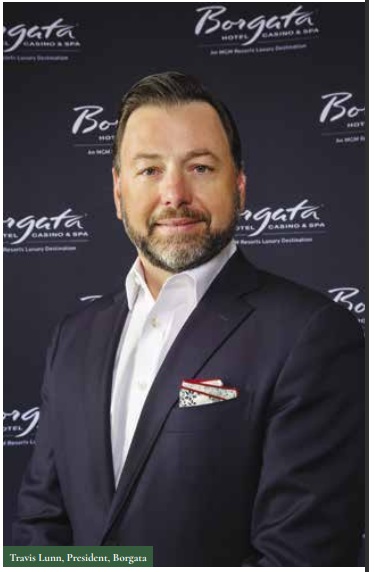 Even just your arrival experience into Borgata. So we have a really good infrastructure base, the bones of the body of Borgata that is really beneficial for us to be successful. So from Day One, all three of those things have been consistent over the 20 years, meaning our team members, our guests and then the building itself have been beneficial to our ability to stay number one. How has new competition affected Borgata or sharpened its competitive edge? I would definitely say the latter, for sure. If you look at the market, which you're probably well aware of, it was declining for a number of years.
We had some new competitors come to the market, two or three years ago, and it does provide you with an opportunity to step back and look at: What are we doing that maybe we could do differently? What are some new ideas that are being presented to the industry, to our guests?
We always take stock of that. Now Borgata has always done that over the years, is always looking to improve our services, improve the experiences. But no doubt, I'm super-competitive. I know this team is competitive, hence the reason we remain number one. But there is no doubt that is a nice opportunity for you to compare yourself and say, 'Are we thinking about our business differently or always looking for opportunities to improve?' New competition can provide a platform for you to be able to do that.
Upon arriving at Borgata as president, what changes did you make, if any?
This is my third property with MGM Resorts and, really, when you first start at a property – even though I was with the company previously – each of our properties are very unique in terms of their experiences and their offerings, who our guests are, who our team members are. So my strategy typically is to come in and be a sponge, and learn the operation, get to know the team members, the guests, the surrounding areas. It's been a number of years since I've lived in the Northeast, so just understanding where our guests come from, what experiences they can find in their backyard. I've spent time in Philadelphia, New York City, all up and down the shore to really understand what are our guests looking for, what can we do to improve, before you go in and make any wide, sweeping changes. I'm excited to say that now I've been here a year you'll probably see more of those changes come in greater frequency.
But for that first several months it really is about observing, learning and building relationships, not only with the team but with our guests, understanding what they want before I make a change. How can I best serve them in this role?
What is your prognosis for the Atlantic City market overall?
For me it's guarded optimism. There is the controllable versus the uncontrollable. There are certain things that you can't control, whether it's the economy or jobs or those macro-concerns. Do we have enough team members to be able to do the jobs? What I can do is focus on what we're able to control and we're very optimistic about Atlantic City, in terms of our investments. To me that really signals optimism. We wouldn't be making material investments into a product or trying to hire a number of team members. We've hired several hundred team members year over year, compared to last year, unless there was reason to do that. But you're always guarded with the complexity of operating around this business, not only in the Atlantic City market but the complexity around gaming operations or hospitality operations are more challenging or volatile than they've ever been. So we're conscious of those things, programming against those things, being hyper-aware of those things. But we are optimistic about where Atlantic City is headed.
How is cooperation between the city's casinos progressing?
We've got a good mix. You've had some leadership that's been here a long time and really understands the market and its history. And you have a lot of new leadership and new ideas being injected into the market. My experience has been very positive. I can't speak to the past, which I've heard some things about. [laughs] But it's been very collaborative in terms of an understanding that, look, we're going to be competitors obviously. But there's an understanding amongst property leaders through the Casino Association of New Jersey and other organizations that there's a rising tide of things that we need to address as a collective to make sure that Atlantic City is a world-class destination market, and it makes sense for us to collaborate on those things and partner. There's a lot of cooperation and they've definitely extended a warm welcome to me. I'm highly participatory in CANJ meetings. I've had several opportunities to meet with other property leadership one-on-one at their properties or had them over here to discuss what are the pressing issues for the Atlantic City market and make sure we're thoughtful on those.
You alluded to new investments at Borgata. What are they?
We are extremely excited. We've got a couple of unveilings in the next couple of weeks. Two cornerstones of our experience here for our guests – the Miralto Lounge, which is our high-limit slot lounge is seeing a complete remodel to the space, and Old Homestead, our premier steakhouse, our flagship restaurant, a complete remodel of that entire space is happening as well. We're excited to unveil those. Construction walls are coming down here within the next week. We're excited to showcase those to our guests. To have both of those opening here is going to be really meaningful to our guests. We're excited about that.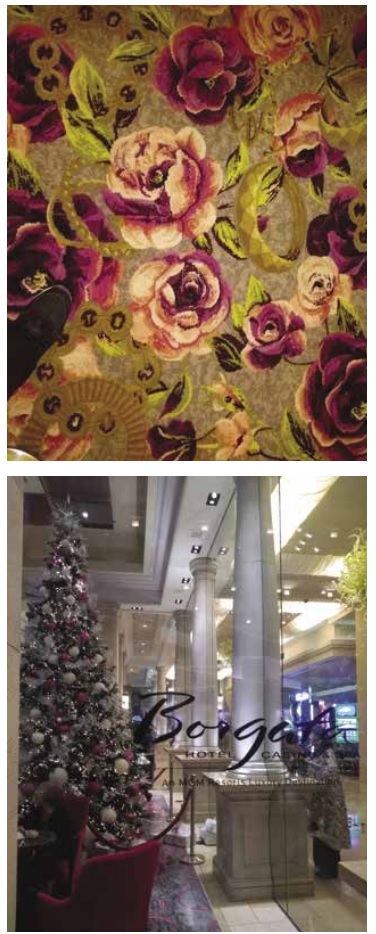 Which non-gaming amenities are your top performers or standouts?
They really love their steak up here in the Northeast. It was really interesting to me when I first arrived here. Most casinos have one steakhouse. I was surprised to see we have two steakhouses. One cornerstone of the amenities that are really high-performing and that our guests enjoy is enjoying a steak dinner here, so much that we have two: Old Homestead, that's seeing a full renovation and we actually recently renovated our second steakhouse, which is B Prime. That's been met with a great reception by our guests, both to the new menu that we introduced and also the new design of it. What's nice is they're both steakhouses but they have different offerings. Old Homestead is definitely more of your traditional steakhouse out of New York City, where the flagship restaurant is. B Prime is more contemporary, so you're going to feel some different moods, some different offerings. The appetizers are shareable. Those two amenities are probably some of our most popular and they complement each other. It's not unusual for guests to dine in one steakhouse one night and one in the other because there's such a variety of offerings and menus. [chuckles] And apparently they love steak up in the Northeast.
What can Borgata offer that its immediate competitors cannot?
We are a fully integrated resort and so we have the full suite of offerings across our campus, whether all the amenities on our casino side or the restaurants, of course. But in addition to that, we have five pools here, a couple indoors, a couple of pools outdoor. We have the full space. We have the entertainment offerings and so you get the full, integrated experience. Gaming is a big part of what we do. But you can come here for a staycation or a getaway and not necessarily have to game to enjoy the amenities. The other piece that is unique to us is we have some competitors where this might be a single entity or a single property. We're tapping into our large organization and the 18 to 20 properties that we have as part of MGM Rewards. So our guests absolutely take advantage. When they come here their loyalty is recognized with opportunities to go to Las Vegas or any of our sister properties regionally. We make it conducive for them to do that, so we leverage our opportunity both with guests visiting us – we definitely want to import that business – but we definitely love extending our guests the opportunity to visit some of our other sister properties as well. That is unique compared to some of the competitors.
What are the highlights of your entertainment program?
When I think of entertainment, I really think of the full scope. You have the gaming floor but there's a couple of different forms of entertainment we have in our main, two showrooms. In our events center and theater, which are sort of our headline entertainment offerings, we really feel like we hold a great, leading position on some of those headline acts that come in. We recently had a very successful run with Sebastian Maniscalco, who's a very popular comedian here in the Northeast. He did a series of 10 show. We recently had Jerry Seinfeld. So we bring in that toptier talent and we've got some great acts coming up in Q1, whether it's Rob Thomas from Matchbox Twenty or Goo Goo Dolls later in the year. We have the comedians, we have those headlines.
Then we program the Music Box, which is a roughly under-800- person theater. Those will be productions of shows and those will be available midweek, not only on the weekends. You'll also have some comedy acts in there. That's one piece of entertainment but the other piece is that we have a ton of live music happening. We've programmed our B Bar, our center-casino bar. That has live music nightly. We've had our lobby bar that is fairly new. It opened roughly a year and a half ago, next to the front desk. That has live music. Now it's sort of a piano bar for us. We have the Long Bar that we activate with DJs from time to time. We have the sports book. So when I think of entertainment, I think of it holistically. You have the headliners but you also have all these things where, if you want to take a break from gaming there's a lot for you to do here besides just game.
What are the key elements of drawing customers to Borgata?
That is definitely a cornerstone for us, the overall entertainment. By 'entertainment' I would say more so the integrated resort. You're going to be hard-pressed to find a casino in this market that has more to offer from the full suite. Entertainment is certainly a piece of that but, again, we have a full-service spa, the pools that I mentioned, some of the most – if not the most – bars. Again, they're fully programmed and activated. I mentioned the two steakhouses but we obviously have several other fine-dining restaurants, several that have recently also gone through renovations, such as American Bar & Grill. It's really when you look at that full complement of all the things that we have to offer, it's really what our marketing and strategy is. Then again, you have the loyalty of our guests and the team-member experience. We would put up that guest experience anyone in terms of coming here, having a good time and making sure you're taken care of, your needs are met. We think we do a fantastic job of that.
Your feeder markets include New York City, where MGM already has a racino. What is going to happen if and when that is upgraded to a full-service casino?
There are two differences between what will happen in New York, at least for our property. As you mentioned, we have a property there already. It may look different from some of the other competitors. We believe there's actually a nice synergy there, a rising tide for both. We're sensitive to the fact that we import here; we're a destination market. Our current operations in New York are more of a high-frequency market, so we think there's an opportunity to do both as that gets stood up to a full resort, to continue to expand what makes guests loyal to the MGM Rewards is that they can visit both. We definitely think there is an interest and we'll continue to gain new members through increasing Empire City's offerings, the same way we invest in Borgata. It may be different for other competitors in the market here but we see it as an opportunity, a rising tide for MGM.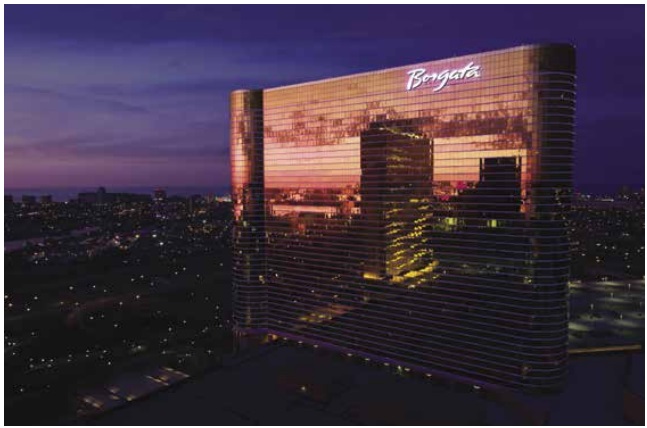 Borgata is dominating New Jersey's Internetgaming market. Why is this and what are the growth prospects for i-gaming beyond the East Coast?
In my purview, I'm less involved in the BetMGM side of our business. That is a little bit separate but we are heavily engaged with BetMGM and we've seen great response. Why we think that brand is so strong is for a couple of reasons. One, we think the Borgata brand is already very strong. Our guests identify with that brand. When BetMGM, through that brand, was able to capitalize on that loyalty that BetMGM did not already have, there was great interest from our existing population. Now, why it's beneficial back to us is we're finding ways to make that a competitive advantage to us from other sort of i-gaming platforms in that we have this beautiful property to leverage. So we are really working closely with BetMGM for ways to create incremental trips and we've found in the data that is beneficial to both sides. When we can introduce them to the Borgata experience if they were exclusive to i-gaming, then it benefits both parties. So BetMGM from the i-gaming side will see a benefit in terms of play and we will in terms of visitation. The brick-and-mortar will see a benefit. They have a world-class platform. They're continuing to grow domestically into markets that we already serve, so guests are going to be familiar with that. And we have a world-class destination resort, so it's a really symbiotic relationship between the two.
You've been at Borgata a year. What are your longterm goals?
One of the things that we really needed to do is we are in a destination market, so when people come and visit they're staying here, in our rooms. So it was really important to ensure that we have a best-in-class room product. I'm really excited that will be one of the first long-term things we start to invest in. Our Water Club tower will see a full renovation of those 700 rooms, starting early in 2023. We already have a model room, it's fantastic and I'm really excited when those rooms come to fruition. Our guests are really going to enjoy that. It's a full update of the room from top to bottom. Not long after that we'll start to move our attention over to the Borgata tower. So you're going to see, 
Thank you Travis. Happy holidays
*** This Interview took place December 2022 and Published in Casino Life Issue 155 January 2023 ***