To mark its first year and the raising of £2m for good causes, Ambassadeurs Group celebrated with a special performance by the world-famous Kingdom Choir Photography by David Loftus
When Ambassadeurs Group (AG) was set up in early 2022, the leadership team had a clear idea about what they wanted to achieve in the first year. They shaped a group around a core purpose of raising standards and giving back, with an overarching aim of building better futures for their people, planet, members, and communities.
In the first 12 months as a group, which includes the iconic Les Ambassadeurs Club in Mayfair, as well as brands in e-commerce, hospitality, travel, and entertainment, it raised £2m for good causes and had started to roll out a model for charitable alliances.
To celebrate, the world-famous Kingdom Choir put on a special performance for staff, friends and representatives of many of the charities that have been supported by the Group.
The anniversary evening was a chance for Kevin McGowen, CEO of AG, to reflect  on the genesis of the Group, and how its corporate philanthropy and community engagement is already making a difference. "We had an opportunity to raise standards and build better futures for everyone," he said. "We are grateful to everyone who is with us on this journey and teaching us the right ways to do it to make an impact."
The money raised is for good causes linked to the four pillars around which activity is based. These are: Safer Gambling; Our Community; Education; Mental Health & Well-Being. "By organizing our efforts in this way, we are able to make a difference – and also have  the flexibility to support other causes on an at-needs basis," explained Tracy Damestani, AG's chief corporate affairs officer. "It has proved to be a winning strategy."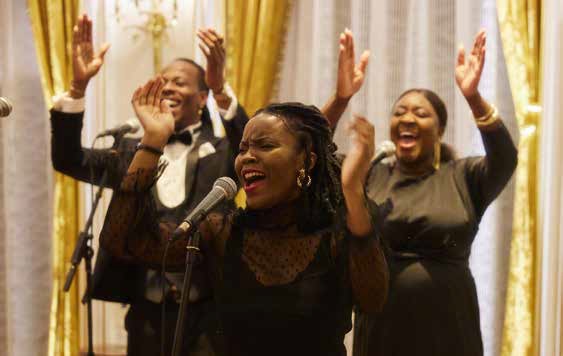 Key highlights of the past year include:
• £500,000 raised during Safer Gambling Week – extended to a month at AG – for research, education and treatment-listed charities
• £300,000 raised through the Summer of Sharing for educational groups
• £110,000 donated to the Disasters Emergency Committee for the Ukraine Humanitarian Appeal and the Pakistan Floods Appeal
• £75,000 donated to Disasters Emergency Committee for the Turkey-Syria Earthquake Appeal
• £10,000 donated to the Royal British Legion's 2022 Poppy Appeal and the Felix Project's Empty Plate Appeal
• £5,000 donated to both The Girls' Network and The Abbey Centre on Equal Pay Day
• £35,000-plus raised for the Prince's Trust RISE
• £35,000 donated to local charities over Christmas 2022
• 250 box-seat tickets to music, sporting events and Disney on Ice donated to community charities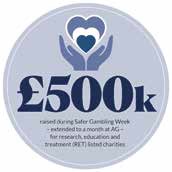 Alliances help develop deep community ties
In addition, three charity alliances totaling £265,000 have already been signed with Cool Earth, The Felix Project and The Playground Theatre – with more being lined up for later in 2023. "The alliances are a key part of our approach," explained Damestani. "They are a way of us mapping against those four pillars of our corporate philanthropy and community engagement. For example, The Playground Theatre is not just about performing arts, it is also embedded in its local community in west London, where it provides outreach projects to support people who have mental health issues."
The word 'alliance' is deliberate because it hints at the mutual benefit to both organizations. For AG, its alliances are carefully chosen and then it is not a case of simply donating money. Each alliance is carefully planned out and there is an active program that AG remains engaged with, whether that is about increasing outreach projects such as those at Playground Theatre, supporting a pilot program in the rainforests for Cool Earth or helping ensure London schoolchildren receive nutritious food through The Felix Project.
Raising standards starts – and continues – with the casino
For a Group that has its heart in the casino industry, the idea of raising standards and supporting good causes was not an entirely new one. Les Ambassadeurs Club, the casino for ultra-high-net-worth individuals in London's Mayfair, had already taken an industry-leading position by committing one percent of its gross gaming yield in 2022 to GambleAware. The contribution was to support research, education and treatment (RET) to help reduce the risk of gambling harms. This contribution, which goes directly to Gamble Aware, has been increased in 2023 to 1.1 percent of gross gaming yield (GGY), with an additional 0.1 percent of GGY earmarked for gaming research, an area where more focus is expected.
For McGowen, this commitment is about more than simple disruption of the industry. It is about championing safer gambling practices and raising standards across the industry to support anyone at risk of gambling harm: "We said that we were determined to go above and beyond the letter, and spirit of the Gambling Commission's licensing guidance in this respect. We were delighted to be able to increase our commitment in a tangible way, and one that we know will make a significant difference to the safer gambling funding body."
It is through the generosity of the casino's customers and members that AG is able to raise money for good causes. McGowen described it as a "win-win" situation; members like to give back and they are now seeing tangible ways in which they are contributing to society through their generosity. "We never forget that we are in the privileged position to be able to give back to good causes because of our members," said McGowen. Some of the ways money is raised are through large campaigns such as the Summer of Sharing, others are more consistent, such as giving through the Jackpot Zone. All of this is possible because of the drive of the leadership team and the enthusiasm of the staff – the WorkFamily.
Good causes start at home
In October 2022, more than one-third of the Group were awarded an earnings increase of up to 25 percent. This increase that primarily impacted the heart-of-house staff – kitchen and hospitality workers – took basic pay to £12 an hour, a new standard for the living wage and internally known as Living Wage PLUS. This is further boosted by the additional benefits that come to all AG WorkFamily through the good-cause campaigns such as the Summer of Sharing. "It always starts with our WorkFamily," said McGowen. "Our heart-of-house team provide the best support to our customer-facing staff. These collective team efforts continuously deliver a world-class experience to our members."
The WorkFamily has also volunteered for some of the alliances such as The Felix Project, as well as organizations such as The Abbey Centre in Westminster and Thrive in Battersea – both of which help with mental health and well-being in their local communities. Some of the WorkFamily joined in the AG anniversary celebration and the Kingdom Choir concert, which was held at the Palace at Hamilton House. The British gospel choir, led by conductor Karen Gibson, is known for its performance at the 2018 royal wedding of Prince Harry and Megan Markle. Founded in 1994, it has been delighting audiences for almost three decades with rousing performances of classic songs such as "Stand By Me," "Respect," and "Something Inside So Strong," as well as their own material including their new release, "Not Giving Up."
What's next for the Group
The choir was an obvious choice to celebrate AG's anniversary and look ahead to the coming year. "We wanted to mark the occasion in a special way and we were really lucky to be able to secure them for this special performance," said Damestani. One of the Group's advisers, Paul Pacifico, introduced the choir to AG – he is a champion of independent musicians and the former CEO of the Association of Independent Music. "Not only was the evening joy-filled and fun, the choir helped amplify so many of our key messages, particularly around community engagement. We are proud that they are London neighbors," said Pacifico.
Looking ahead to the rest of 2023, McGowen said: "We will be growing the number of charitable alliances and continue to raise money for good causes. These donations come from the generosity of Club members, spurred on by the efforts of the AG WorkFamily who get behind AG initiatives."
*** Article first published in March 2023 Casino Life Magazine Issue 157 ***