Laurent Lassiaz, CEO, and Pauline Boyer Martin, Operations and Marketing Director of JOA discuss the Group's latest 'new generation' casino with Damien Connelly.
On Wednesday 19th May, 2021, after 17 months of work, 8.5 million euros of investment, and five long months of waiting linked to the pandemic, JOA Group, the 2nd gaming and leisure operator in France with 33 venues and a sports betting website www.joabet. fr, was finally able to open its new casino in the Jura mountains: in Saint-Laurent-en-Grandvaux.
This 33rd establishment strengthens the Group's presence in the eastern region of France, where seven JOA casinos are already located: Lons-le-Saunier, Bourbonne-les-Bains, Lac du Der, Luxeuil, Gérardmer, Besançon, and Santenay.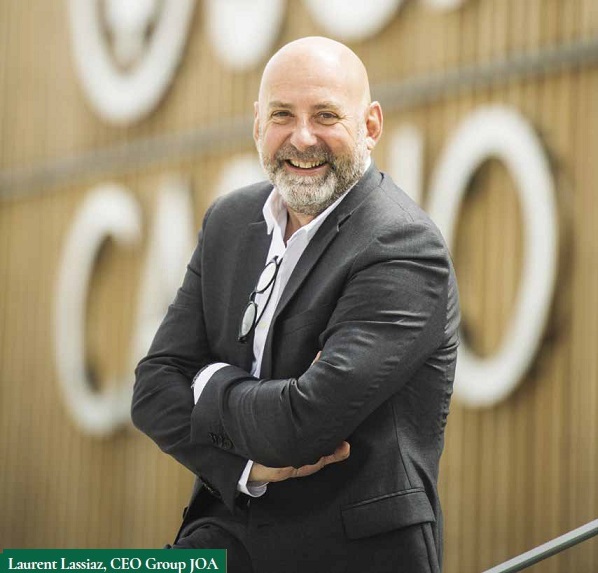 What can you tell us about this "new generation" casino in Saint-Laurent-en-Grandvaux?
This is the 4th JOA casino, after La Seyne-sur-Mer, Montrond-les-Bains, and Le Lac du Der that is built in line with our "new generation" development strategy. It perfectly embodies our brand's ambition to change the way people see the world of casinos and make our venues into true outing destinations.
We thought of it as a real leisure center in the heart of nature. Out of the 2,000m2, 50% is dedicated to non-gaming activities. It brings together, in the same place, gambling, catering, and entertainment. This casino is dedicated to all those looking for an hospitably designed and friendly place to have some good times – either alone or with family and friends – to eat, have a drink on the terrace facing the Jura mountains, dance, entertain, and...why not...play!
What is the uniqueness of this casino?
The first singularity of this casino is its architecture between sky and mountain.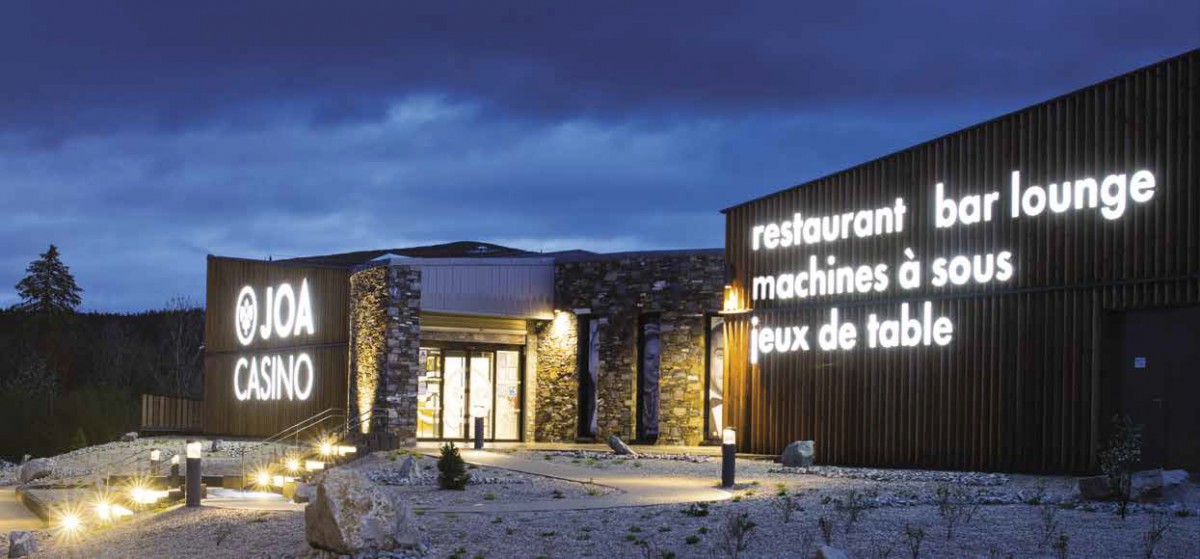 Our ambition for this project was to design a warm place that perfectly fits into the environment of this magnificent region of Jura where nature is everywhere. The architectural bias results in a break in the architectural codes of the sector in favor of a light, bright building, open to the outside.
The mixtures of wood and stone on the exterior facades allow the casino to integrate perfectly into the existing environment. From inside, you can enjoy magical views of the surrounding nature and a huge pine forest.
Thought out like a cocoon, the interior is very cozy. Noble materials and bright colors bring a feeling of comfort and well-being. All spaces have been designed to promote conviviality.
The outdoors and the good Jura fresh air are also in the spotlight thanks to the outdoor terrace of the smoking patio, equipped with slot machines, and the restaurant's huge terrace with fantastic views.
For its construction, we partnered with an architect specialized in mid-mountain projects.
What are the advantages of this casino?
In addition to its modern architecture, the casino's gaming and leisure offer has many strengths.
Each of the spaces has been designed to make the customer feel good: to journey through a unique and friendly experience.
The gaming area has been designed to satisfy all types of players: from beginners to experienced. It offers 75 of the latest generation slot machines, including European exclusives such as the monumental "XXL" slot machine (3 meters high and 1 meter wide), 2 table games and electronic games (English Roulette and Black Jack). It also offers a magnificent outdoor patio for smokers, open to nature, and equipped with slot machines.
The lounge bar, a real place of life and entertainment, is the beating heart of the casino. It is accessible to everyone, players and non-players, without any ID control. It is the ideal place to have a drink and contemplate the panoramic views of the Jura mountains. An elaborate yet 'lite' catering offer is available for hungry customers.
Our "bistronomique" restaurant – Le Comptoir – combines quality cuisine with the conviviality of a bistro. On the menu, you will find 'Signature JOA dishes' that have proven their worth (the famous revisited Caesar salad or the 300g beef tab skewer for meat lovers), as well as daily menus giving pride of place to local products, mainly cheeses and meats: Morbier cromesquis, Cacouyard crisp, chicken fillet with morels and Yellow Wine, small mountain trout with almonds, or Morteau sausage will delight all taste buds! All this at a reasonable price. In a modern, neat and warm setting, regular and passing customers will enjoy panoramic views of the Jura forest. And for lovers of the great outdoors, the terrace can accommodate around 60 people in summer.
As soon as sanitary measures are relaxed, entertainment and dinner shows will be scheduled.
How does the casino position itself in its regional market?
This JOA casino is a place of recreation, dining, and entertainment. As a real tourist attraction for the town, its unprecedented leisure offer in the heart of the Jura – and at an altitude of more than 1,000 meters – will help attract new customers.
We chose the municipality of Saint-Laurent-en-Grandvaux because the attractiveness of the area is strong. We are about an hour's drive from the Swiss cities of Nyon and Geneva. We estimate that this casino will accommodate around 30% of Helvetians. But our first clientele will be local people. Indeed, our ambition is to become the favorite destination for gaming and leisure activities for Jura people and residents of the Geneva basin.
How did you manage the recruitment of the team during this health crisis? How did you live during this exceptional period?
The casino has made it possible to create around fifty positions in a wide variety of professions. The Covid crisis unfortunately forced us to put the new casino staff out of work as soon as they were hired. It was a real challenge in the process of integrating and mobilizing the teams. Especially since we have strongly favored local recruitment, with young teams, mostly from other sectors of activity. We took advantage of this time to do in-depth training for the teams, in particular on JOA culture and values, which is a key point in our strategy.
Casino Life has followed and supported JOA for many years as the Group has developed and built-out its strategy to change consumers' perceptions of casinos: transforming them into leisure and entertainment destinations that also provide options to play. We have had the great fortune to visit many JOA casinos since 2014 – including its "new generation" properties. Both Casino Life and myself look forward to continuing our support of this Operator. As the strapline for the Group notes: Jouer, Oser, s'Amuser.
* This interview was undertaken in August 2021 and origianlly published in Casino Life Issue 145*