Submitted by

admin

on Tue, 21/06/2022 - 16:35
Zitro brings its new GLARE cabinet line to the emblematic Casinos Palace Bingo & Sport Bets, highlighting the premium Altius Glare form-factor, which already shines at the casinos of this important Mexican group.
Altius Glare's visual quality, never seen before in the industry, and its impressive format, which includes a huge 55" screen combined with a 27" Full HD display, that provides a giant real estate for 4K graphics and a smart LED halo, make this new cabinet stand out at the casinos of Palacio de los Números.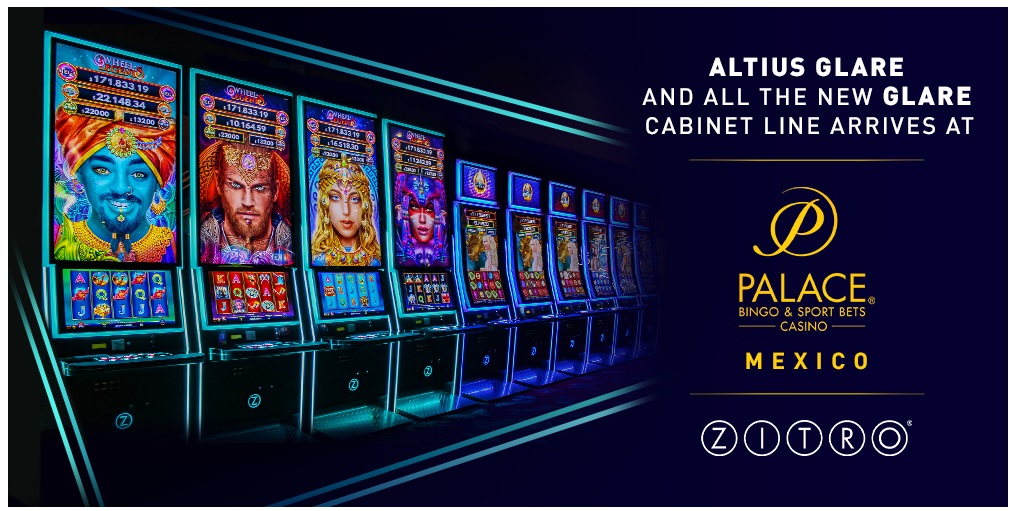 Roberto Cano, Group Operations Manager of Palacio de los Números, welcomes the addition of these new products, "The Altius Glare cabinet and its multi-game Wheel of Legends offer a unique and immersive gaming experience that will reinforce the popularity of Zitro machines among our customers. We are delighted to continue our partnership with Zitro, and to continue to add their products into our casinos".
"The new GLARE Family debuts in the casinos of the country as the new product of the moment. We are very grateful to Palace Bingo & Sport Bets Casinos for the trust they place in us with this new bet, and we will continue to surprise with spectacular products that contribute to players enjoying even more the renewed experience of playing our games", says Johnny Viveiros Ortiz , founder of Zitro.