Submitted by

admin

on Thu, 21/04/2022 - 23:20
LOS ANGELES, CALIF. (April 21, 2022) -- Sports Gambling Podcast Network (SGPN),  the only major independent sports wagering media network that places a premium on entertainment value and free user content, will celebrate its 10th anniversary at the NFL Draft next week, providing picks, props and prognostications for their audiences of millions as a featured podcast on the prominent BlueWire network during the NFL's annual meeting to select newly eligible players in Las Vegas.
Sports Gambling Podcast co-hosts Sean Green and Ryan Kramer will live stream from the state-of-the-art BlueWire Studio at Wynn Las Vegas from 3-5 p.m. PT, just one mile from where the 32 teams will make their selections in front of a live audience.  The NFL Draft was ticketed for Las Vegas in 2020 but was reduced to a video conference because of COVID-19.  Will Blackmon, the former standout NFL kick return specialist and member of the New York Giants 2012 Super Bowl Championship Team, will be among the guests during the podcast, which will stream live on YouTube.
The coveted pre-draft BlueWire studio slot is one of four podcasts that SGPN will produce during NFL Draft week with an additional 10 mock drafts on SportsGamblingPodcastNetwork.com and scores of social media posts to inform and guide its audiences as America's intense interest in the proceedings reaches a fever pitch.  Green estimates that SGPN's NFL Draft coverage will encompass 12 podcasts, 25 articles and 12 hot takes via social media, arguably surpassing the volume of any other comparable media platform in the industry.
In 2012, Green and Kramer were still recording in Green's one car garage amidst Christmas decorations and camping equipment.
"Pretty much unimaginable is the only way to describe our journey from that 2012 NFL Draft to today," offered Green, who won $200,000 in a Draft Kings Fantasy Competition in 2017 to enable SGPN to turn the corner as a profitable, sustainable business. 
With the repeal of the Professional Sports and Amateur Sports Protection Act (PASPA) that following year, SGPN was well positioned to seize the moment and grow the enterprise that now includes 50 contributors, 18 different podcasts and a new state-of-the-art studio plus offices in Los Angeles. One validation of their success came in February when the Los Angeles Business Journal featured SGPN's path to profitability in a 20-paragraph article that appeared in both the online and print editions.
"We've been fortunate timing-wise with the PASPA repeal, for sure," offered Kramer, a data and metrics specialist who spent 10 years in the tech industry for Hulu and other companies. "We've also complemented each other on the business side so that the steady growth has been efficient.  There's plenty more to do but right now we're focused on delivering some winning wager recommendations on all things NFL Draft because our loyal audiences deserve it."
In 2012, the big stories were the amazing skills of Stanford quarterback Andrew Luck and Baylor Heisman Trophy winner Robert Griffin III, who went first and second, respectively, in that draft. "Like everyone else, we believed that both guys would be stars in the league ten years later, but that's how unpredictable our world is," recalled Green in reference to their shortened careers.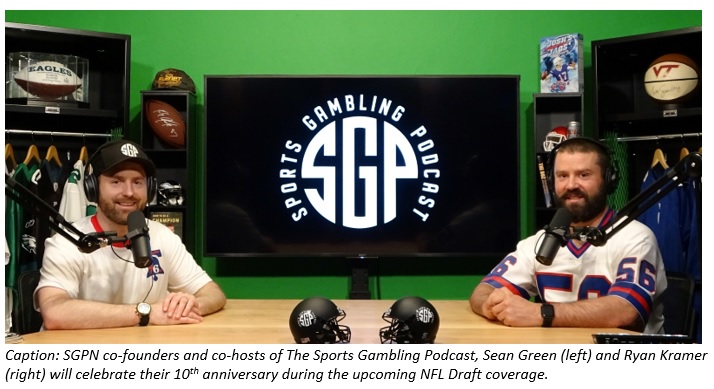 The Sean Green/Ryan Kramer SGPN eye-opening prediction for next week:
Liberty quarterback Malik Willis to go second to the Detroit Lions or another team via trade as the first QB selected. Consensus odds have Willis going around the ninth or tenth selection. "Great players at that position have immense value," offered Kramer."We believe the Lions – or multiple other teams via trade – will pull this trigger."
SGPN clobbered industry growth projections with a 30 percent year-over-year increase in total downloads during the course of 2021 (over 3 million) and is continuing its record growth in 2022. SGPN launched eight new podcast feeds last year and has become a leading authority on the USFL, producing over 10 hours of original content around the draft and continuing that momentum as the season got underway, recording three podcasts per week on the sport.
SGPN content is most readily available on the SGPN App, available on all devices and downloadable at Apple's App Store and Google Play Store or via www.sportsgamblingpodcast.com.
About SGPN
Sports Gambling Podcast Network™ was established in 2011 as one of the first website/digital media platforms to provide consumers with an entertainment experience featuring sophisticated insight and analysis plus definitive wagering recommendations and selections across the full spectrum of legally-available sports. Co-founded by sports and entertainment personalities Sean Green and Ryan Kramer, it is home to the Top 40 All-Time football podcast (per Chartable.com) Sports Gambling Podcast, one of 11 separate podcasts.  The website, www.sportsgamblingpodcast.com, boasts over 45 contributors delivering editorial content and social media postings under the SGPN banner.  The platform generates millions of unique page views and podcast downloads annually and remains a primary destination for the burgeoning population of sports fans across America and around the world. In addition to his stand-up comedy act, Green is an accomplished TV comedy and script writer with credits including MTV's Ridiculousness and Nickelodeon's Crashletes with Rob Gronkowski.  He has also anchored several sports wagering and fantasy sports shows for SiriusXM and ESPN+.  Kramer is a SiriusXM contributor and a sports wagering marketplace influencer who specializes in NFL game prop bet predictions.  He has multiple top finishes in the Fantasy Football Players Championship (FFPC) Main Event. SGPN is a member of the Fantasy Sports Gaming Association (FSGA).