Submitted by

admin

on Mon, 26/04/2021 - 19:02
Notwithstanding its relatively small size, The Republic of Seychelles has never stood back for anyone; particularly in the tourism, leisure, and entertainment sector, where it remains one of the Indian Ocean's most sought-after beach holiday destinations. So, when the global pandemic hit, and lockdowns were enforced in various stages across the globe what did service providers in the island nation do? Plan for re-opening, of course, whilst doing their utmost to ensure that post-lockdown their customer experience was even better – and Gran Kaz was no different.
Earlier this week, almost 4 months after closing their doors due to a second phase lockdown, Gran Kaz re-opened with a Seychelles first: the country's inaugural multi-venue wide-area progressive (WAP) jackpot.
'Our Double Nutty Jackpot™ has always been massively popular', said Gran Kaz Head of Operations Jonathan Paul, '….but we've never had the ability to really leverage that popularity properly across all three of our local properties. The concept is simple, the more people that play the game, the quicker it increments and the more frequently it gets hit, – and who doesn't want more chances to win, not any player I know'.
'What we helped Jonathan do was add and link Double Nutty Jackpot™ to Gran Kaz's Victoria Annex and Bel Ombre casinos', explains DRGT™ Africa MD, Charl Geyser, '….it had always been massively popular at Mercury House, and what our jackpot technology did was to affect a solution that not only took the jackpot experience across all three properties, but also linked them in so doing creating an extremely compelling and defining player offering'.
'
What Charl says is 100% correct: we had the local jackpot, but no way to let it operate across all of our properties as a single compelling Gran Kaz Group-wide offering. What DRGT™s tech enabled us to do was just that: create a WAP on 3rd-Party slots; it really is something special. Add to that the configuration options that this technology affords us, and we really have something special and world-class'
Gran Kaz Promotions Executive Sharon Banane concurred: 'Jackpots are in all likelihood second only to customer service when it comes to driving player satisfaction, and loyalty; ….. we are all too aware of the value of returning customers, so we have to keep innovating, and I believe that with DRGT™'s WAP technology we're doing just that.'
Gran Kaz officially re-opened on Monday 12 April 2021, and during current curfew restrictions operates from 10am to 10pm daily. Should you too be interested in establishing your own WAP on an existing, or new, bank of 3rd party slots contact DRGT™ at info@drgt.com.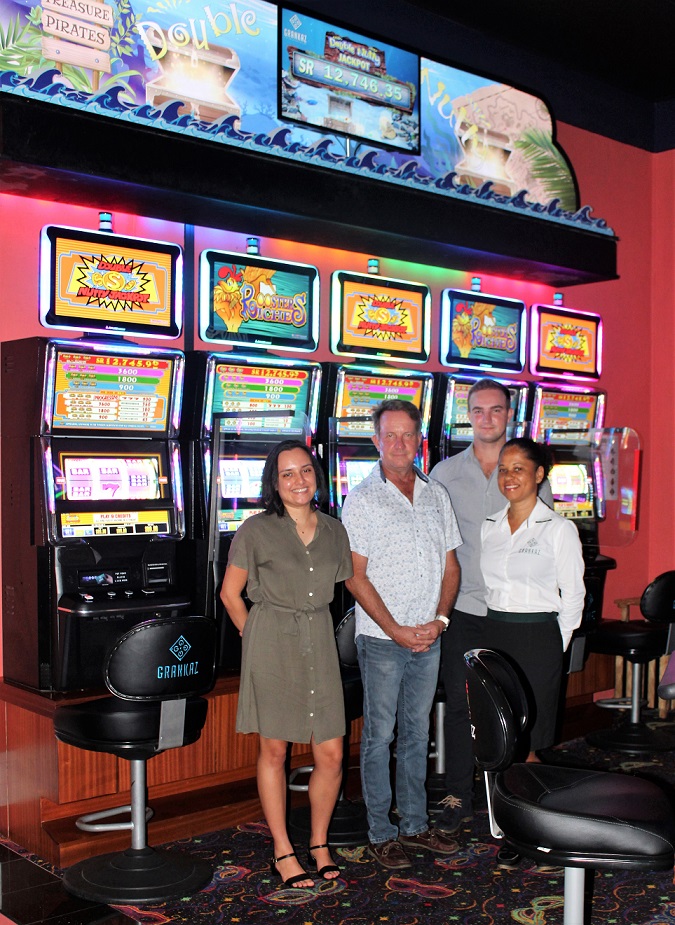 Image: Gran Kaz_L-R  Nikita Savy, Jonathan Paul, Dylan Paul, and Meggy Durpes
​About DR Gaming Technology™
Established in 2005 by CEO Jurgen De Munck and CTO Michiel van Dam, DR Gaming Technology™ (DRGT™) is now the world's fastest growing independent supplier of gaming systems and jackpots.
Its state-of-the-art systems are developed using the latest technology, resulting in the unique ability to operate without a permanent server connection, in so doing greatly simplifying system installation and implementation, and ensuring customers total management control over their entire operation/s.
At present the Company's modular, flexible and cost-effective system and jackpot solutions operate across over 50 different countries, and on in excess of 65,000 gaming devices, boasting some of the most powerful functionality in the world.
In addition to its Head Quarters in Belgium, DRGT™ also has offices in Austria, Malta, Peru, Mexico, Colombia, Uruguay, Paraguay, and South Africa. Web:www.drgt.com