Submitted by

admin

on Thu, 31/08/2023 - 18:25
31 August, 2023: Audible Studios has announced the release of Victoria Coren Mitchell's gripping poker memoir For Richer, For Poorer, available in audio for the first time. The audio version of the book will be narrated by Victoria herself and will be available exclusively on Audible from 14th September.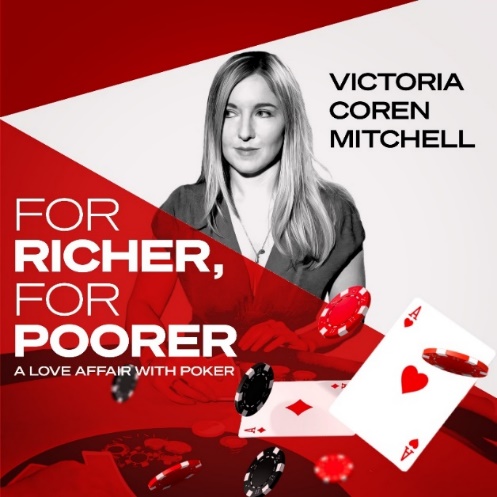 In September 2006, Victoria won a million dollars on the European Poker Tour. She is the first woman to win a title on the European Poker Tour (EPT London, 2006) and the first player of any gender to win two European Poker Tour Main Events (EPT London, 2006 and EPT San Remo, 2014). In her revealing memoir, she tells the story of that victory, but also of a 20-year obsession with the game. It is a record-breaking journey which has taken Victoria from a secret world of illegal cash games to the high-stakes glamour of Las Vegas and Monte Carlo.
For Richer, For Poorer also tells the story of the poker revolution. How did this cult card game, populated by a small community of colourful and eccentric players, move from the back streets to the mainstream in a few short years? With her trademark honesty and unique access, Victoria opens the door to this fascinating world.
Victoria Coren Mitchell is a writer, columnist, broadcaster, and poker player from London. She hosts the highest rated TV show on BBC Two, Only Connect, and Heresy on BBC R4, as well as being a regular guest-host on Have I Got News for You. Her lifetime winnings stand at $2.5 million.
Praise for For Richer, For Poorer:
"A book so rich in detail, so full of laughter, that you feel as if the coolest member of your family has just let you in on a secret so delicious you will savour it for ever."
THE TIMES
"This book is of another order altogether. It is superb."
THE GUARDIAN
"A terrific memoir…engaging, lucid, full of verve and a pleasure to read. This book is also really funny. These pages are crowded with fascinating people. There is also an unexpected resonance and depth. What more can you ask from a read?"
THE OBSERVER
For Richer, For Poorer will be available exclusively from Audible from 14th September 2023. Pre-order is available now: https://www.audible.co.uk/
About Audible
Audible, an Amazon company, is a leading creator and provider of premium audio storytelling, offering customers a new way to enhance and enrich their lives every day.  Audible.co.uk content includes more than 700,000 audiobooks, podcasts, and Audible Originals. Audible has millions of members around the world who subscribe to one of 10 localised services designed for customers in Australia, Canada, France, Germany, India, Italy, Japan, Spain, the UK, and the US. Audible members download nearly 4 billion hours of content annually and listen across a wide range of supported devices.