Submitted by

admin

on Wed, 08/06/2022 - 10:18
New York, NY—Does your heart pump a little faster when you hear the melodic song of slot machines, or the snap of a card as it's dealt from a dealer's shoe? Then get ready to enjoy the first-ever Special Gambling Issue of Cigar Aficionado, on newsstands now.
"Gambling is part of this magazine's DNA, something we've covered from our very first issue. Most of our magazines have a story about betting in one form or another, but for the first time in our nearly 30-year history we've put together a comprehensive cover package that will arm you with everything you need to know about gambling. It's unlike anything we've ever presented to you before," said Marvin R. Shanken, editor and publisher, Cigar Aficionado.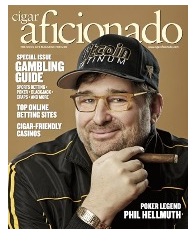 Featured in the issue:  
Poker's Bad Boy: Phil Hellmuth has more championship bracelets than anyone in the game as well as a penchant for outbursts and a savvy eye for business.  
Winning Strategies: A dissection of the best strategies for blackjack, craps, roulette, baccarat and tournament poker. The best odds in the casino are often hidden from plain view—we'll show you where to put your chips for your best chances to win, and tell you the types of bets that should be avoided at all costs. 
Betting Billions on Sports: Legal sports betting is spreading across the United States, and by 2025 it's estimated to account for more than $200 billion per year. PLUS, a look at the very best sports betting apps, which bring the sports book to your cell phone. And many offer special deals for new customers. 
America's Cigar-Friendly Casinos: There are more than 900 casinos across the United States, and most will throw you out if you light a cigar inside. A select few, however, welcome cigar smokers, some in spectacular fashion.
Betting On Film: These films are the odds-on favorites for showing gambling on the big screen, from Casino to The Hustler to Uncut Gems and more.  
If You Win: What to do with all those winnings.  
Also featured in the issue: new cigar reviews; a recap of the 2022 ProCigar Festival; the new release from Romeo y Julieta, one of Cuba's best-known cigar brands; and the favorite cigars of Charles Barkley, David Harbour and Jason Taylor. 
About Cigar Aficionado 
Launched in 1992, Cigar Aficionado is the definitive lifestyle magazine for men. Dubbed "The Good Life Magazine for Men", the print publication and its accompanying website (CigarAficionado.com), focus on luxury lifestyle topics such as golf, travel, alcohol and accessories. Cigar Aficionado also sponsors events such as The Big Smoke, the country's premier event for cigar smokers. Parent company M. Shanken Communications also publishes Wine Spectator, Whisky Advocate, Market Watch, Shanken News Daily and Shanken's Impact Newsletter.