Submitted by

admin

on Tue, 15/02/2022 - 17:11
Zitro's most awaited novelties arrive at PlayCity Casinos in Mexico with 211 slot cabinets of the new GLARE family. This important group of Mexican casinos already has more than 2,300 Zitro cabinets throughout the country, among which the brand new Altius Glare and Megashare Lounge, two of Zitro's latest novelties, stand out.
It is an important display of novelties, with the dazzling and innovative new Zitro cabinet, ALTIUS GLARE, as the star product. The tallest cabinet of Zitro's new GLARE family already has an important presence in PlayCity casinos, with more than 80 units installed. "We are always ready to try the latest innovations in the industry, to ensure a profitable operation and maximum entertainment for our customers. On this occasion we installed Zitro's Altius GLARE cabinet, which is captivating our customers and making a difference in our gaming halls with its high-definition graphics, premium sound effects and impressive format", says José Fernando López, Slots Director of PlayCity Casino.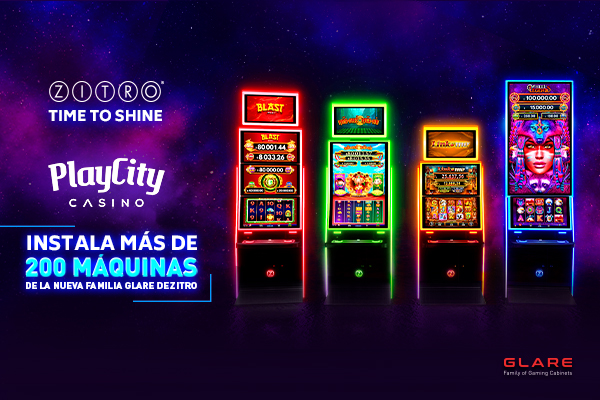 With its impressive 55" touch screen combined with a 27" Full HD display, Altius Glare features a giant real estate for 4K graphics, and an intelligent LED halo. This premium cabinet also includes a next-gen processor, wireless mobile charger, comfort for players and access to the interior for service. Altius Glare showcases Zitro's premium multi-game Wheel of Legends, which offers the best graphics currently available on the market.
In addition to the latest installations of Altius Glare in these gaming halls, PlayCity has included Zitro's Megashare Lounge progressive jackpot functionality that allows all players to win a portion of the accrued jackpot amount when one of them hits the jackpot, sharing the prize and the excitement of a communal gaming experience.
"I am proud to extend our partnership with PlayCity with the addition of our new GLARE cabinet line. The commitment to our most innovative product, the large number of Altius Glare cabinets installed, and our new Megashare Lounge System in their gaming halls makes us share the great enthusiasm that the representatives of this important business group have for offering the best player experience, and we are grateful that each Zitro launch is part of this offer," said Johnny Viveiros Ortiz, founder of Zitro.