Submitted by

admin

on Tue, 21/11/2023 - 17:24
It was a golden opportunity for Nethananda Naidoo when he was drawn, with his only entry ticket, as the grand finale winner of Sibaya Casino's annual Golden Ticket promotion, driving away in brand new wheels.
Only 500 coveted Golden Tickets were up for grabs during the Golden Ticket Promotion, which entails guests winning Golden Tickets through participation in various draws throughout the promotional period.  Punters had to earn five casino points on a four-week rolling period to qualify for the weekly draws from August until October 29, which saw winners sharing a pot of R2,3-million in cash.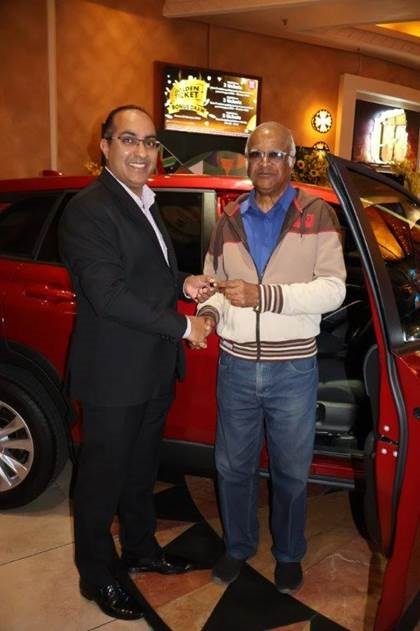 Image: Sibaya General Manager, Virath Gobrie handing over the Toyota Corolla Cross car keys to the Golden Ticket promotion winner, Nethananda Naidoo from Tongaat
Five tickets were drawn at the Golden Ticket Grand Finale on October 29, but it was Tongaat resident Naidoo who emerged victorious and drove away in the grand prize of a Toyota Corolla Cross, with just one entry in the draw. Naidoo, a Sibaya regular, said the vehicle was his first big win and he had been "very excited" when his ticket was drawn as the winner. "I just love the car, the colour, the size – everything. My daughter will be driving it for me as she drives me around." Naidoo's wife and daughter were present to witness the winning moment and celebrate with him.
"We hope all of our punters loved every moment of their time at Sibaya during the promotion, which is one of our most popular. Nethananda's win proves all you need is one ticket to be a winner, so if this was not your lucky day, perhaps our next Golden Ticket promotion will be," said Sibaya General Manager, Virath Gobrie.
Image: Nethananda Naidoo pictured with Raksha Gunpath, Sibaya's Marketing Manager (left) and Virath Gobrie, Sibaya's General Manager (right), with promotional ladies following his recent win