Submitted by

admin

on Thu, 22/12/2022 - 02:00
Some tough international competition hit the online poker tables over the last three weeks as part of Match Poker Online's first World Cup. The series brought together hundreds of the mobile game's best for a battle featuring players from around the world.
Users qualified by playing on the app throughout the year and were grouped with two different categories. The "Ruby '' division was the event's top division and featured the game's best players. The "Ivory" category included the game's second tier and also featured some excellent players betting and bluffing out for bragging rights and some cash prizes as well. When the dust settled, Israel's Shachar "OctopuSZ" Zvang found the winner's circle and secured $625 for his efforts. He was also rewarded with a digital certificate and trophy.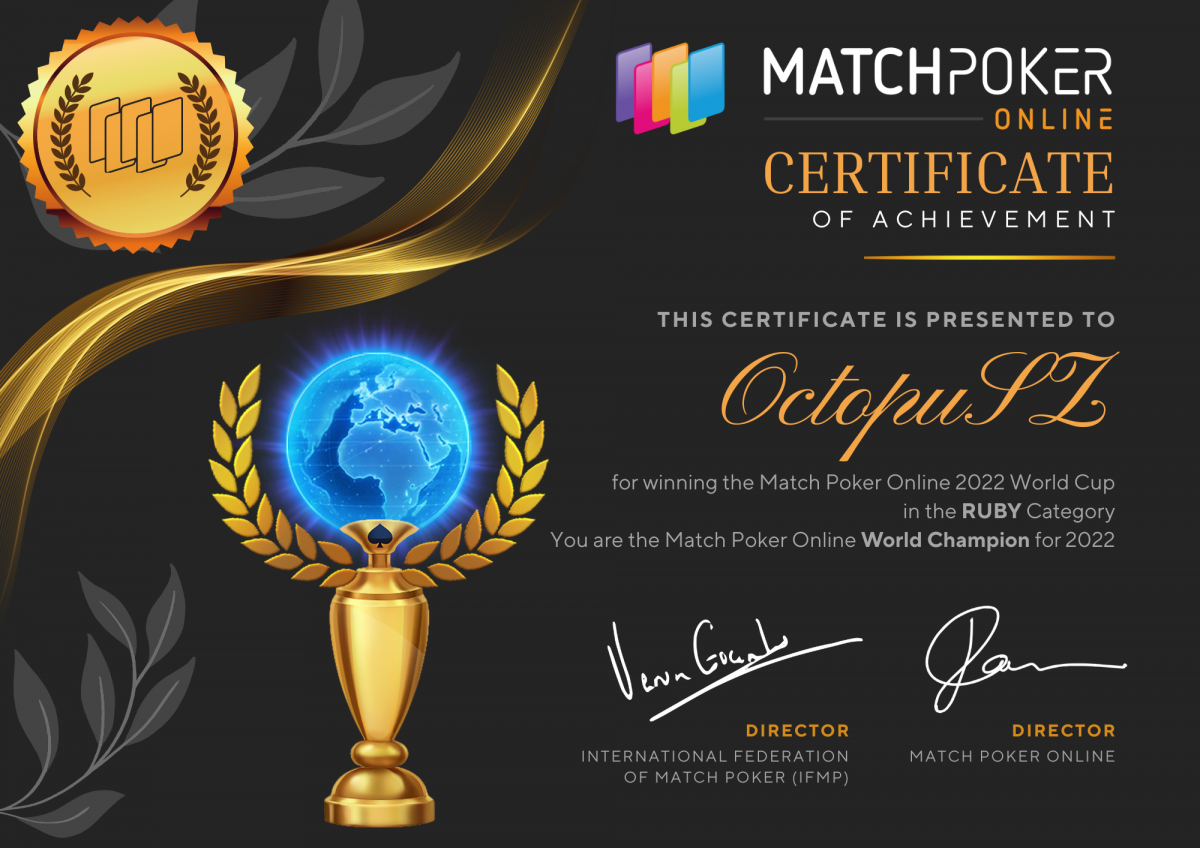 Zvang wasn't the only player to grab some cash. Well-regarded poker player and writer Matt Matros, of the United States, earned $250 for runner-up and German playerDaniel "Zealot" Eylenfeldt found the bronze medal for $125. Eylenfeldt is a regular in live match poker events and his team, Piranhas Hamburg, won the German National Live Match Poker competition. In the Ivory division, another German found a nice finish with "MacHarry" topping the field for $450. A pair of players from Hong Kong grabbed second and third, with "AndyLai" winning $175 and "NutsHK" pocketing $75.
"Thank you for this amazing experience," Zvang posted on Twitter after his big win.
Matros also took to Twitter to share his own World Cup story, noting: "More than a decade ago I competed for the U.S. in a Match Poker team event on the London Eye, so I was really hoping to come full circle and win this World Cup. Alas, I will have to settle for the silver medal!"
A total of 632 players qualified for the Ruby and Ivory competitions. After two weekends of Playoffs, the field was narrowed down to 36 finalists in each category for the Finals, which were held Dec. 17-18.
"We were thrilled with the turnout and good sportsmanship of all involved in the competition – many sending congratulations and expressing how fun and close the final results were," Match Poker Online head of customer relations Jake Colman said. "We've learned a lot about how to make the Cup even better in future years – thanks to the enthusiastic feedback from our players. It seems everyone is on board for a bigger and better 2023 for Match Poker Online!"
How Does Match Poker Online Work?
Those new to the game will find a truly unique experience at Match Poker Online. The app truly gauges where a player stands by having competitors play the same hands across the platform. Players can work on their skills by comparing their own play and decisions to others around the world who have played exactly the same hand.
Image: Shachar "OctopuSZ" Zvang
The app is packed with features, statistics, excellent graphics, and exciting gameplay. You can even compare your own play against friends in a fantasy sports-style competition. There's no longer a need for arguing or debate on which players are better based on conjecture and insufficient data. With Match Poker, all that data is available for players to check out.
When playing, you're not just competing against the players at your table, but against players seated at other tables in the same seat you are. All players in that seat are dealt the same two "hole" cards and see the same flop, turn, and river. It's a unique twist on traditional poker. Even more statistical options and game features are in the works for 2023.
*** Match Poker Online is available in the App Store and Google Play Store. Players can also simply click here to take them right to the download option.  For more details on the Match Poker Online World Cup, click here.
*** Editors, for more information or to test drive the new Match Poker Online app, please don't hesitate to reach out. We're also happy to provide more information and answer any questions regarding the World Cup and new features. Please find relevant links and contact information below.