Submitted by

admin

on Tue, 21/02/2023 - 12:40
SINGAPORE (16 February 2023) – Marina Bay Sands has been certified to the Global Sustainable Tourism Council (GSTC) Industry Criteria for Hotels and Accommodations, becoming the largest hotel in Singapore to earn the accolade. It also sees Marina Bay Sands join a leading group of hotels globally to achieve this certification.
The conferment of the certification bears testament to the integrated resort's continued efforts in implementing innovative sustainable solutions that effectively marry world-class hospitality with sustainability.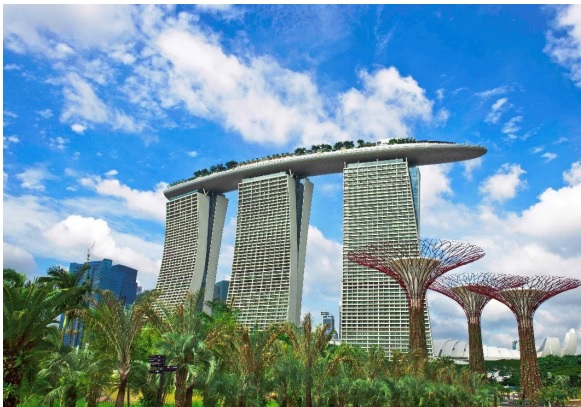 The GSTC Industry Criteria for Hotels aims to promote the best sustainable tourism practices around four main themes: effective sustainability management, minimising environmental impact, maximising social and economic benefits for the local community, and enhancing cultural heritage. Marina Bay Sands' achievement of the GSTC certification is in line with the Singapore Tourism Board (STB) and Singapore Hotel Association's (SHA) announcement of the Hotel Sustainability Roadmap in March 2022. The roadmap aims for 60 per cent of the hotel room stock in Singapore to attain internationally recognised hotel sustainability certification by 2025.
Ms Jeannie Lim, Assistant Chief Executive, Policy and Planning Group, Singapore Tourism Board, said: "We congratulate Marina Bay Sands on this significant achievement. Their efforts support our goal to become one of the world's most sustainable urban destinations, guided by the Singapore Green Plan 2030. We also hope that their example will inspire other hotels to strive toward similar goals in line with the Hotel Sustainability Roadmap. STB will continue to support hotels on their sustainability journey, working together to reduce impact on the environment, maximise the social and economic benefits of tourism, while enhancing cultural heritage and meeting the needs of travellers."
Having reduced its carbon footprint by over 50 per cent since 2012, Marina Bay Sands also surpasses the roadmap's ambition for hotels in Singapore to commence tracking of emissions by 2023 and reduce emissions by 2030. "The GSTC certification is a testament to Marina Bay Sands' ongoing commitment to minimise our environmental impact while providing our guests with a luxurious experience.
Being the largest hotel in Singapore to be GSTC-certified shows our commitment in raising the bar for the industry and inspiring other players to adopt more sustainable practices," said Meridith Beaujean, Executive Director of Sustainability, Marina Bay Sands. "Congratulations to the team at Marina Bay Sands on becoming certified to the GSTC Industry Criteria. We commend their continued efforts in reducing carbon emissions and environmental impact, prioritising sustainable management, and for their overall commitment to innovative sustainable solutions," said Randy Durband, CEO of GSTC.
With the goal of creating and overseeing international standards for environmentally friendly travel and tourism, the GSTC is an independent organisation that manages global sustainable standards (the GSTC Criteria) and represents a diverse and global membership, including governments, leading travel companies, hotels, tour operators, non-governmental organisations (NGOs), and communities.
The GSTC certification comes in succession to Marina Bay Sands' Special Award for Sustainability at the Singapore Tourism Board's annual Singapore Tourism Awards (STA) in 2022. The integrated resort is focused on annual performance goals in Energy, Waste, Water, Resource Management, Sustainable Procurement, Biodiversity and has an ambitious global commitment to the Science Based Targets Initiative (SBTi), pledging to reduce Las Vegas Sands Corp's greenhouse gas emissions 17.5 per cent by 2025.
Effective sustainability management
• A strong governance structure is in place, with top leadership actively driving the company's sustainability programme.
• A comprehensive learning and development framework guides activities designed to deepen the sustainability knowledge of Marina Bay Sands' over 10,000-strong workforce. • Strategic partnerships with non-profit organisations help amplify the integrated resort's outreach efforts. They include WWF Singapore to shape the future of responsible seafood in Asia Pacific and Conservation International Singapore to empower local youths to protect the environment.
Minimising environmental impact
• Marina Bay Sands has decoupled its environmental impact from business growth, reducing its carbon footprint and water consumption by over 50 per cent and 13 per cent* respectively from 2012.
• Since 2012, the integrated resort has saved over 9.5 million kWh of energy annually through investments in an intelligent Building Management System, building artificial intelligence data analytics, and other carbon-tech efficiency measures.
• Marina Bay Sands uses several technologies including tracking solutions to help chefs measure, monitor, and reduce food waste. In addition to its five aerobic digesters, the integrated resort is piloting a fully circular processing technology converting food waste into a high-calorific substrate that may be used as insect feed, while continuing to work with local food charities to donate unserved food to underprivileged communities. Over 1.5 million kgs of food waste was diverted from the landfill in 2022.
• Adoption of the E3R strategy – Eliminate, Reuse, Replace, and Recycle, guides the integrated resort's efforts to reduce its carbon emissions arising from the use of single use disposables.  Operational downturn associated with global pandemic also impacted reduction.
Maximising social and economic benefits for the local community
• Through well-established policies, procedures, hiring and procurement practices, and support systems, the integrated resort promotes and integrates inclusion into every facet of the company and works to remove societal barriers that prevent advancement and opportunity.
• Actively hires and assimilates persons with disabilities into its workforce, providing them with meaningful work opportunities. The integrated resort hired close to 50 persons with disabilities since 2010.
• The Sands for Singapore Charity Festival raised over $4 million in 2022 for the local community, with employees contributing nearly 92,000 volunteer hours towards meaningful causes since 2012.
• Marina Bay Sands supports local businesses and the nation's 30 x 30 food resilience goal by sourcing local produce wherever possible, including locally farmed barramundi, microcress, edible flowers and herbs.
Enhancing cultural heritage
• The IR brings local culture and heritage to life by supporting experiences such as I Light Singapore, paying homage to Singapore's rich and diverse food culture at its restaurants, and providing a platform for local artists to showcase their talent.
About Marina Bay Sands Pte Ltd
Marina Bay Sands is Asia's leading business, leisure and entertainment destination. The integrated resort features Singapore's largest hotel with over 2,200 luxurious rooms and suites, crowned by the spectacular Sands SkyPark and iconic infinity pool. Its stunning architecture and compelling programming, including state-of-the-art convention and exhibition facilities, Asia's best luxury shopping mall, world-class dining and entertainment, as well as cutting-edge exhibitions at Art Science Museum, have transformed the country's skyline and tourism landscape since it opened in 2010.
Marina Bay Sands is dedicated to being a good corporate citizen to serve its people, communities and environment. As one of the largest players in hospitality, it employs more than 10,000 Team Members across the property. It drives social impact through its community engagement programme, Sands Cares, and leads environmental stewardship through its global sustainability programme, Sands ECO360.
For more information, please visit www.marinabaysands.com
About the GSTC
The Global Sustainable Tourism Council (GSTC) establishes and manages global sustainable standards, known as the GSTC Criteria. There are two sets: Destination Criteria for public policy-makers and destination managers, and Industry Criteria for hotels and tour operators. These are the guiding principles and minimum requirements that any tourism business or destination should aspire to reach in order to protect and sustain the world's natural and cultural resources, while ensuring tourism meets its potential as a tool for conservation and poverty alleviation.
The GSTC Criteria form the foundation for Accreditation of Certification Bodies that certify hotels/accommodations, tour operators, and destinations as having sustainable policies and practices in place. GSTC does not directly certify any products or services; but it accredits those that do.
The GSTC is an independent and neutral USA-registered 501(c)3 non-profit organization that represents a diverse and global membership, including national and provincial governments, leading travel companies, hotels, tour operators, NGO's, individuals and communities – all striving to achieve best practices in sustainable tourism.