Submitted by

admin

on Thu, 30/01/2020 - 23:26
Majestic Bingo Limited are delighted to announce the appointment of Simon Shaw as a Non-Executive Director for the holding company that operates their 16-strong group of land-based bingo clubs.
Simon brings with him more than 30 years of experience in the leisure industry, and until December 2018 was Chief Retail Officer of Buzz Bingo Group. Simon has been both an owner and independent operator of Bingo Clubs and AGC's prior to joining Gala/Buzz. He has also held senior positions with other corporate brands such as Mecca and Riva.
"Simon is a seasoned professional in the industry and brings a wealth of knowledge to the table at Majestic," said Mark Jepp, Managing Director. "Having known and worked with Simon on and off for over 25 years, I am delighted he is joining the board and am genuinely excited about his knowledge of the industry and leadership skills he can bring to our business."
In his new role, it is anticipated he will also support the business further grow admissions, as well as undertaking duties as a Non-Executive Director.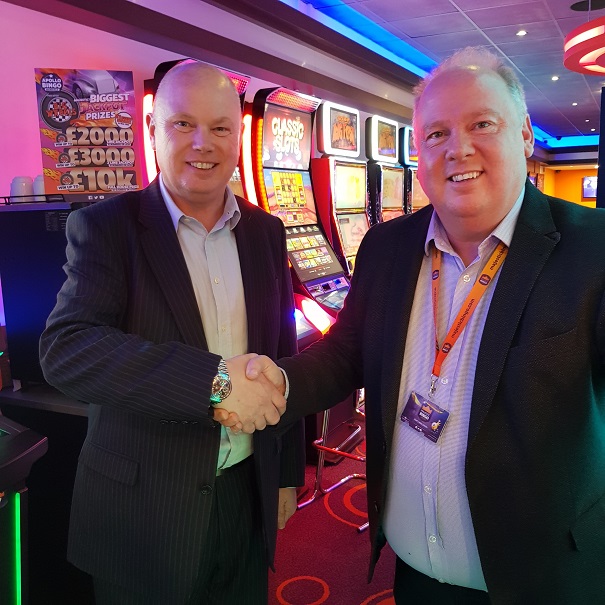 Image: Mark Jepp (R) welcoming Simon Shaw (L) to the team
Speaking of his appointment, Simon commented 'Having met with the senior management on several occasions I am pleased to be joining such a positive team who are keen to grow the business for the long term. Majestic has a great range of clubs across the country and I am excited to be involved in the next stage of the company's development'.
About 
Majestic Bingo is one of the UK's largest operators of retail bingo. The company was formed in 2014 following two acquisitions, creating a portfolio of 15 bingo clubs spanning from the North East to the South West.
Majestic Bingo comprises of seven former bingo clubs owned by Seldis Cooper and a further eight clubs purchased later in 2014 from Top Ten Bingo. In April 2016 it purchased Grand Bingo in Nuneaton, bringing the total to 16.