Submitted by

admin

on Tue, 27/10/2020 - 00:48
A group of visitors patiently waited this weekend to be scanned with a metal detector before entering Encore. It's the type of screening people typically go through to get on an airplane — not to set foot in a casino.
But as an added layer of security after multiple recent shootings and fights on the Strip, Wynn Resorts, which operates Encore, earlier this month started requiring patrons to go through metal detectors to check for weapons before entering the property. Additionally, hand-carried bags are checked.
Since early to mid-September, there have been repeated violent acts on the Strip, including a shooting early Monday near Planet Hollywood.
That's concerning for police and resort executives, who for years have strived to make tourists feel safe on the Strip.
The security changes at Encore are designed to ensure guests enjoy themselves in "a relaxed and safe atmosphere," Marilyn Spiegel, president of Wynn's Las Vegas operations, said in a statement.
The aggressive approach comes after a September melee at Encore.
A man swung a liquor bottle and hit several people, according to a lawsuit filed in Clark County District Court against more than a dozen individuals involved in the incident. Two security guards were also hit by multiple men, the complaint says.
Wynn Resorts will not "sit idly by when anyone engages in mayhem" and will "aggressively pursue all options to hold these individuals accountable even after they flee from Wynn's buildings and away from Nevada borders," the complaint says.
Wynn's enhanced security measures include increasing the number of security personnel — many of whom are former federal or local law enforcement — and employing more uniformed Metro Police officers.
Other properties on the Strip have taken similar action.
The Cosmopolitan partnered with Metro Police starting two weeks ago to station officers at every entrance and assist with resort security.
On Fridays and Saturdays, the Cosmo only grants entry to hotel guests, people with a food or beverage reservation or gamblers with a players card. The resort is also using metal detectors and checking hand-held bags.
"These enhanced procedures are a continuation of our dedicated effort to protect the health and safety of all those who enter the resort," resort officials said in a statement.
While shootings on the Strip have been relatively rare in the past, Metro Police have investigated at least eight since Sept. 20, most of which have started as fights.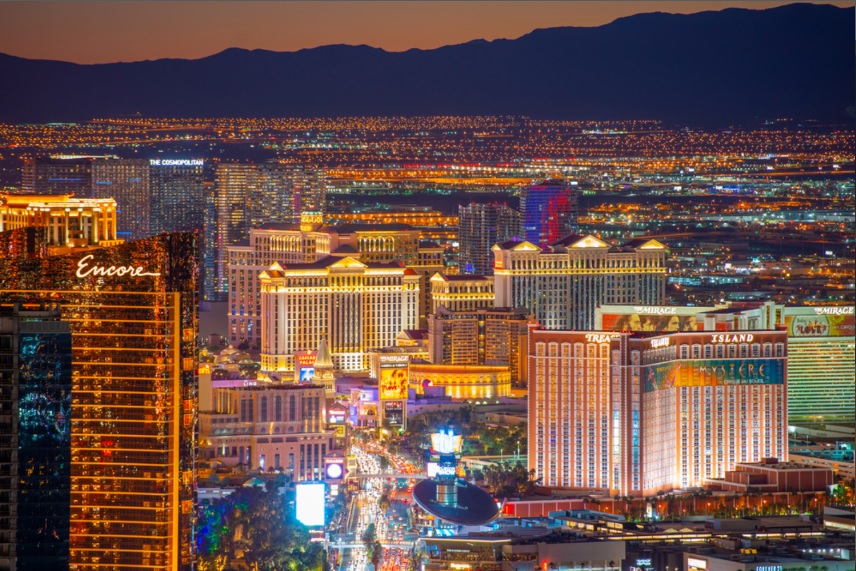 I
Shutterstock
Eight people have been wounded, though none fatally, while at least 11 arrests have been made.
In Monday's shooting, at least two men got into a fight on a pedestrian bridge before one pulled out a gun and fired a single shot, authorities said.
Nobody was injured, but the incident prompted a number of people to flee, Metro Lt. David Gordon said.
The first in the series of shootings occurred Sept. 19 when a man who bumped into a group of people was shot outside Paris Las Vegas, police said. Three men were subsequently arrested.
Three nights later, gunfire at the Aria's valet area grazed a woman's leg as dozens of people gathered for a celebration of rap artist Moneybagg Yo's birthday, authorities said.
Some of the incidents have been captured on video and gone viral on social media platforms.
"I have a trip booked for the Encore but feel the need to cancel due to the violence on the Strip!," a potential visitor posted to the Sun's Instagram. "I don't feel safe to leave the hotel ! @wynn needs to lead in cleaning up Vegas and putting prices back so regulars can return."
Those types of sentiments haven't gone unnoticed by tourism and law enforcement officials, who say they are stepping up security protocols.
Clark County Sheriff Joe Lombardo promised to boost the presence of officers in tourist areas.
Data from the Metro substation covering the Strip show 214 arrests this year for aggravated assaults — shootings, stabbings and beatings. That is an increase of 42% compared to last year.
One suspect, a 19-year-old male, in a recent shooting was captured by California Highway Patrol hours after leaving Las Vegas.
"Even if you're from out of town, we will track you down," said Metro Officer Aden OcampoGomez.
Steve Hill, president and CEO of the Las Vegas Convention and Visitors Authority, said while Las Vegas visitation levels have dropped because of the coronavirus pandemic, he didn't think they had been affected negatively by crime.
"Metro and our resort partners have responded and worked in concert to quickly make adjustments that discourage criminal behavior," Hill said in a statement.
"We're all fiercely protective of our destination and committed to ensuring that Las Vegas continues to be a destination where visitors can come enjoy all we have to offer and feel safe," Hill said.
Caesars Entertainment said it had increased security at its Strip resorts and noted it had thousands of surveillance cameras monitoring activity at all times.
MGM Resorts International issued a statement saying it didn't believe "recent high-profile incidents are reflective of Las Vegas and the safety of our properties on the Strip," though it would continue to evaluate security staffing levels on a weekly basis.
"We work closely with Metro as they work diligently to reduce crime both on the Strip and off, and are constantly evolving our security policies and procedures," the company said.
 By Brian Horwath  Las Vegas Sun The Associated Press contributed to this report.