Submitted by

admin

on Fri, 16/09/2022 - 16:48
LONDON, UNITED KINGDOM (September 16, 2022) – After returning to London for the first time in more than a decade, IAAPA Expo Europe finished at ExCeL London Thursday with 11,474 registered attendees, including 7,510 qualified buyers representing 4,408 buying companies, and 530 exhibiting companies.
"This week was everything we had hoped it would be as the global attractions industry continues to navigate new challenges that have arisen over the last several years," said Peter van der Schans, executive director and vice president for IAAPA Europe, Middle East, and Africa (EMEA). "Bringing together thousands of attendees from around the world is just one aspect of IAAPA, but it's something we do really well. I hope attendees, everyone from exhibitors and buyers to industry veterans and session speakers, left feeling inspired to continue the exceptional work they do at their respective companies."
The leisure industry's premier international event kicked off Monday, Sept. 12. with a program full of educational opportunities and highlights that only IAAPA could offer. Chessington World of Adventures Resort played host to an EDUTour, Safety Day, and Sustainability Day events. The same day, Indoor Entertainment Day attendees visited Immersive Gamebox, Nickelodeon Adventure Lakeside, Orsett Hall Hotel, Puttshack and Wipeout Lakeside.
Tuesday's opening ceremony gave van der Schans the opportunity to formally introduce himself to Expo attendees as he emceed the morning for the first-time ever as the new leader IAAPA's EMEA region. He shared the stage with Hal McEvoy, ICAE, President and CEO IAAPA; Duncan Phillips, Founder and Managing Director of 360 Play, Chairman of BALPPA; Amanda J Thompson O.B.E., CEO from Blackpool Pleasure Beach; and Ken Whiting, ICAE, 2022 IAAPA Chairman of the Board, President, Whiting's Foods at Santa Cruz Beach Boardwalk.
To recognize Blackpool Pleasure Beach's longtime relationship with IAAPA, Thompson was presented with a 75+-year member ribbon to display on her attendee badge all week. This was the first-time ever IAAPA has presented such a ribbon to highlight one of the longest-standing memberships in the Association's history.
With the tradeshow officially open after a ceremonial ribbon cutting, exhibitors and attendees filled more than 15,000sqm of exhibit space at ExCeL London. The next three days focused on discussing critical business needs, education sessions and panels, networking opportunities, and discovering the latest products and innovations.
Attendees at IAAPA Expo Europe represented 94 countries led by the UK, France, Netherlands and Germany.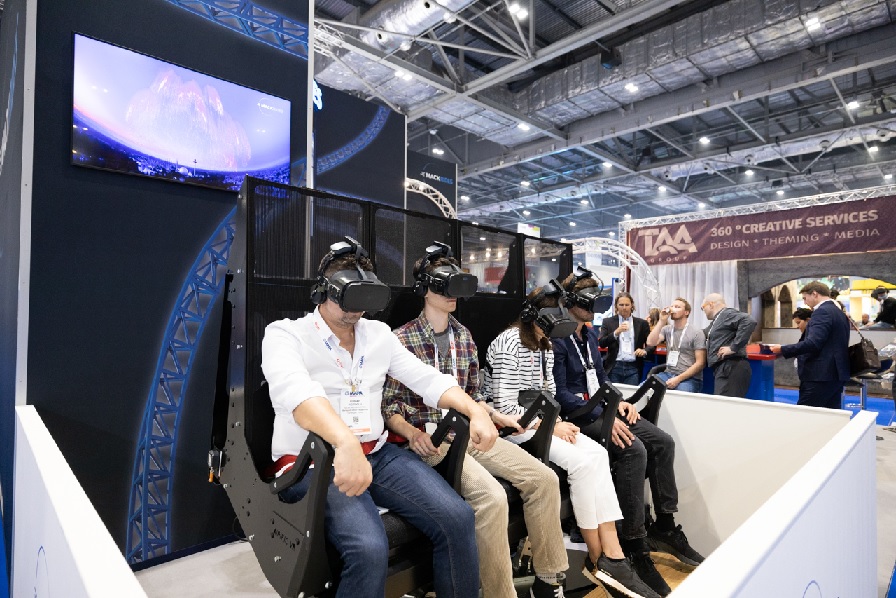 "The excellent learning and networking opportunities at this year's IAAPA Expo Europe are a reminder that the global attractions industry is resilient and is striving to move forward," said Hal McEvoy, IAAPA's president and chief executive officer. "Expo is an event unlike any other where industry leaders get together to share their successes, learn about the next wave of innovation, and see how they can improve their own business operations by talking to others. The professional development opportunities hosted by IAAPA with the help of industry leaders and experts prepare industry team members for career growth in this dynamic industry."
Conference attendees were able to participate in 20 education sessions that featured more than 100 industry speakers and veterans. Attendees that missed a session have 30 days to see it online or in the Connect+ application as an added benefit of their registration.
Although the doors just closed on this year's event, plans for IAAPA Expo Europe 2023 are underway already. IAAPA Expo Europe 2023 will take place in Vienna, Austria Sept. 25-28. Advance exhibit sales are strong with 350 exhibitors reserving 12,452 sqm of contracted booth space so far.
This year's IAAPA Expo Europe sponsors included: accesso, Brogent Technologies Inc., Coca-Cola Freestyle, Cosm, DOF Robotik San. A.S, Gateway Ticketing Systems, Hologate, Interlink, Jack Rouse Associates (JRA), NeumanAqua, Outdoor Factory, Polin Waterparks, ProSlide Technology, Pug2Play, QubicaAMF, Sacoa Cashless System, Simworx Limited, TAIT USA LLC, The Experience Department (TED), Vekoma Rides Manufacturing B.V., and Water Technology Inc.