Submitted by

admin

on Fri, 30/06/2023 - 14:54
WORLDWIDE ACTIVATION, INCLUDING HALSEY IN SACRAMENTO
Hard Rock International continues to put its money where its mouth is, with a $250,000 donation tied to three concerts featuring Halsey with a string ensemble as part of Pride month celebrations.
"It's a worldwide activation, which is really cool," said Randy Maddocks, director of entertainment at the 2,500-capacity Hard Rock Live Sacramento, which is hosting Halsey with live string ensemble July 2. "So it is maybe something different than you'd normally see from Halsey, and it's a huge program to help raise awareness and benefit the community."
The shows are taking place at Hard Rock Live in Hollywood, Florida June 24, Hard Rock Northern Indiana June 30 and Hard Rock Live Sacramento July 2. Two separate shows took place at New Jersey Performing Arts Center June 21-22. The pop star, who released a new album in 2022, has recently toured amphitheaters and headlined large-scale festivals.
For the worldwide part of the activation, a Halsey "Love Out Loud" T-shirt sold throughout the company's Hard Rock Café outposts is raising money benefiting LGBTQIA+ charities such as Outright International and Human Rights Campaign, separately from the $250,000 donation.
"We helped intertwine a completely unique, one-of-a-kind show with an integral part of all storylines," said UTA agent Matt Meyer, who represents Halsey. Meyer credits UTA brand partnerships agent Sara Schoch, Hard Rock Live president of entertainment Keith Sheldon and, of course, Halsey, for putting it all together.
"What transpired was even bigger than what we anticipated," said Meyer. "Yes, we're selling shirts that are generating money for charity. Yes. We've donated over a quarter million dollars. But also the artist has come off stage from this first show and said, 'This is a whole new integral part of who I am as an artist' and was so overly thankful of how deep the curation was, so that it could be organic and true to what they stand for."
Last year, UTA developed its own bookings group with the specific purpose of booking Pride-related performances for its clients. This year saw more than 70 bookings, which agent Zoe Williamson tripled last year's efforts.
"We've essentially tripled the business that we were able to do for our clients in our second year as a Pride group, which is something that we're all really proud of," said UTA music agent Zoe Williamson. Also made up of UTA's Janet Kim (North America), Tessie Lammle (South America, Latin America, Asia, Australia and New Zealand) and Emily Robbins (EK/EU), UTA's Pride-specific group booked more than 70 appearances for clients this year.
"It just takes an extra amount of humanity and relationship building to get that trust and to get that rapport," Williamson adds. "That's something that we dedicate a great deal of time doing, when we pick up the phone and we say, 'Hey, this artist would be phenomenal for your event,' there's a level of trust there and understanding that we're not just trying to get a win for ourselves, we're also trying to get a win for them and for the community that they're looking to service."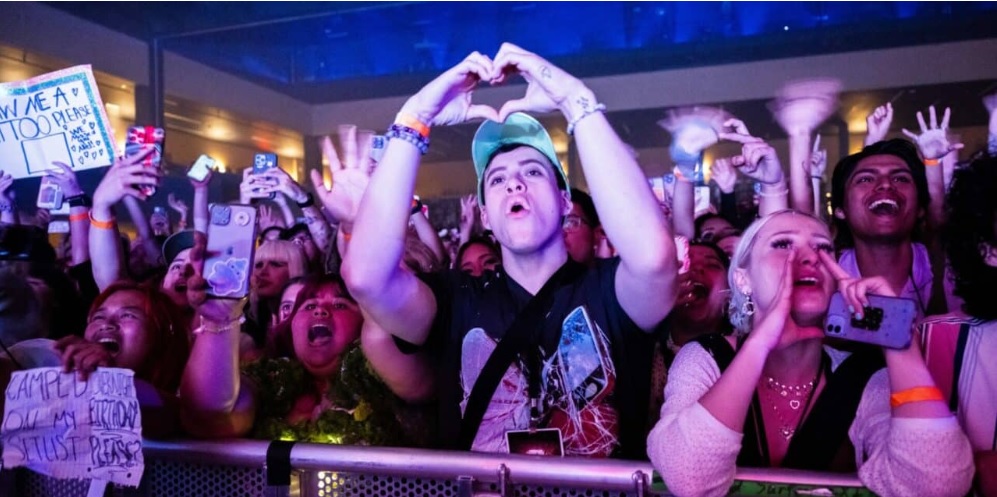 The Pride bookings group is often working to develop relationships with Pride organizations and event producers that may not book touring artists regularly, but also high-profile events with established players. For example, the Paris Hilton DJ event at Central Park SummerStage in New York was in partnership with Jake Resnicow Events and Live Nation. Live Nation was also involved in the Christina Aguilera-headlined Pride Island at Brooklyn Army Terminal.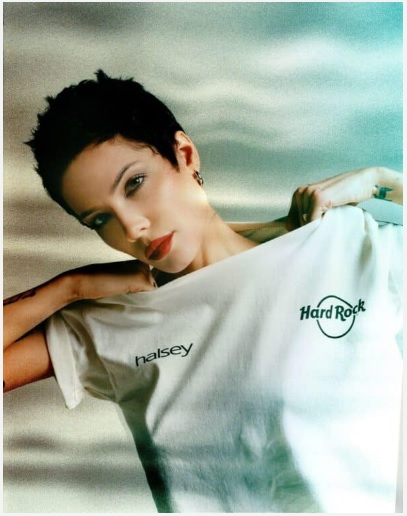 Image: PRIDE ROCK: A Hard Rock International partnership with pop star Halsey includes two T-shirts benefit LGBTQ charities, as well as a $250,000 donation from Hard Rock. (Sam Dameshek)
At Hard Rock Live Sacramento, Maddocks noted other Pride events taking place in June and July, including Diana Ross, RuPaul's Drag Race "Werq The World Tour" and Melanie Martinez, whose sold-out show included Pride flags and shout-outs celebrating Pride month.
"Her fans were diehard, they were here at seven in the morning waiting for the GA line to open up," Maddocks said of the Melanie Martinez performance, noting that the RuPaul Drag Race show is on pace to sell out.
Locally, the venue advertised in LGBTQ focused Outword Magazine and sponsored a table at Sac Pride in the city.
"We believe in diversity and inclusion as a company," Maddocks said. "Internally, our members know Hard Rock is "love all, serve all' — that's part of our mantra, so we're also celebrating diversity for our team members and through a lot of the music that we're hosting on property. So that's really cool."
Source: Venues Now