Submitted by

admin

on Fri, 10/11/2023 - 12:28
Whoever wins the Las Vegas Grand Prix, to be held in mid-November, the loser is already obvious: the average citizen of Las Vegas By: David McKee
Even if the promised economic benefits materialize—which looks doubtful—Formula One racing is so far behind the eight ball with Las Vegans it will never come out ahead. Instead, it is careening full speed toward the biggest public relations debacle since New Year's Eve of 1999.
For those with short memories, short-term greed and Y2K technology fears made that New Year's weekend a signal failure. Except for a spray of confetti from Paris-Las Vegas' Eiffel Tower, there was nothing even faintly resembling fireworks on the Las Vegas Strip … unless you count the utility-pole climber who electrocuted himself.
Instead, guests were herded inside casinos, as the latter tried to desperately make as much money as possible, should the world's microchips shut down as midnight rolled over into the year 2000. Hotel rates, which had been jacked up astronomically, had to be ratcheted way back down when demand failed to match supply. The whole affair left Las Vegas with a bad aftertaste and has never been remotely emulated—until now.
Keep out
"F1 has done a disastrous job of managing the optics for this event," says Vital Vegas author Scott Roeben, who has been keeping a close eye on the Grand Prix. "It's pretty clear nobody understood the impact the race would have. Basically they sold the Strip to be used as a backdrop without much consideration for the unintended consequences."
The ostensible host city finds itself very much on the outside, looking in. Most recently, workers were seen glazing and erecting canopies over Strip pedestrian bridges, to prevent lookie-lous from seeing moments of the race for free. Initially, locals were only to be offered standing-room places, at hundreds of dollars a pop. That has changed, incrementally, one of a number of anecdotal signs that the much-ballyhooed event isn't drawing as well as anticipated.
A 70 percent plunge in room rates for the Grand Prix at Harrah's Las Vegas, discovered by Roeben, was initially dismissed as an outlying economic indicator by race boosters. However, one of those cheering sections, the Las Vegas Review-Journal, recently admitted it was seeing precipitous room-rate declines at other area resorts on race weekend. Wynn Resorts was reported by Las Vegas Advisor to be offering free room nights for race weekend—along with $4,000 race seats.
This panicky repricing hardly befits an event that Wall Street boffins predicted would outdraw Super Bowl 2024, to be held at Vegas' Allegiant Stadium. Clark County leaders were sold on Formula One (including eight-figure infrastructure outlays) by promises of $1.3 billion in economic impact. That doesn't seem to be materializing.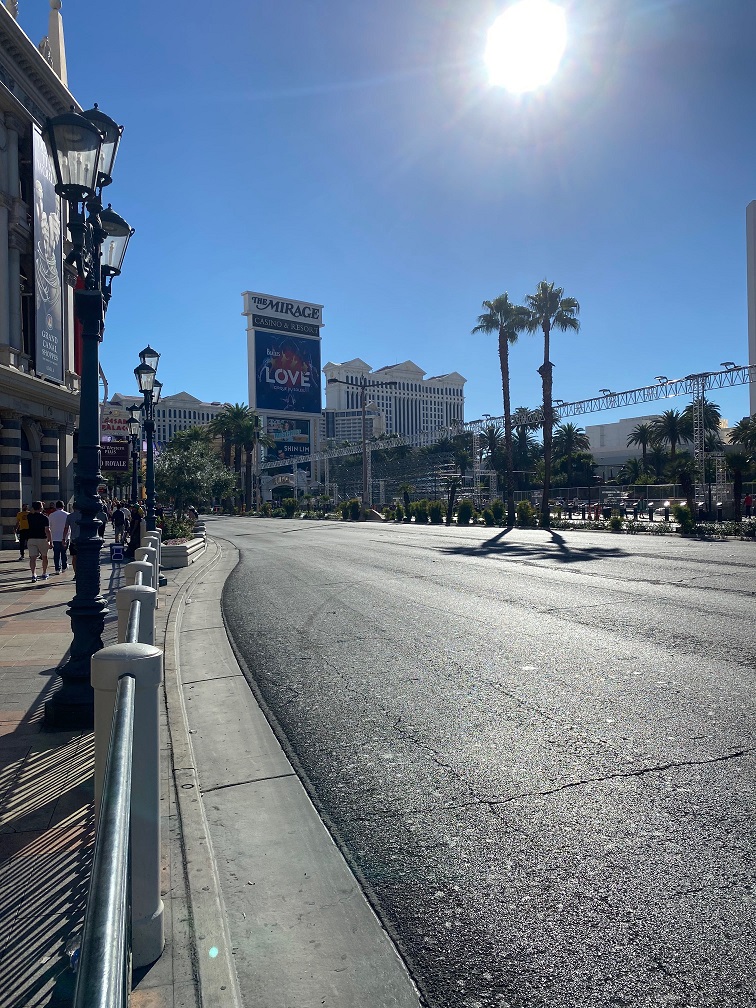 Fuzzy math
Even the $1.3 billion figure is suspect on its face. In Austin, Texas, Formula One's impact it measured at $434 million a year. In Miami, the figure is more like $350 million. The billion-dollar difference between the impact on the two sun-and-fun cities has gone unexplained.
When Las Vegas Advisor queried Applied Analysis, originator of the $1.3 billion projection, it kicked the can to F1 headquarters. No elucidation was received from F1, nor from the similarly tight-lipped Las Vegas Convention & Visitors Authority. For all intents and purposes, the $1.3 billion number was arrived at out of a clear blue sky.
Interestingly, Applied Analysis guru Jeremy Aguero was a veritable Chatty Cathy when Las Vegas' News 3-TV came calling. "You're talking about 150,000 people of some of the most affluent travelers anywhere in the world descending on Las Vegas for what I think will be the single largest event on Planet Earth in 2023," he said. By comparison, the most recent Super Bowl, in Glendale, Arizona, was attended by 72,200.
Wall Street analysts have gloated in print that, even if projections don't pencil out, the supply-demand dynamics look very good for Las Vegas hotels. Or do they? MGM Resorts International, which was supposedly sitting in the catbird seat, released an October 17 offer of two race tickets, three hotel room nights, free food and drink, and (only) $40 of free play—with prime seating in one of the grandstands. But it was also trying to shop Bellagio grandstand tickets for $11,247 a seat.
Resorts World Las Vegas (which i Resorts World Las Vegas (which isn't along the race course) is nonetheless touting The 888 Experience. Your $888,000 buys you "first-class flights, a three-night stay in an exclusive palace suite, four additional deluxe rooms, a private butler, custom tailoring service and an invite to a VIP afterparty at Zouk Nightclub," plus a $20,000 casino credit. (Take note, MGM) There'a $1 million deal at Wynn Las Vegas, while Caesars Entertainment recently rolled out a $5 million Emperor Package "and will place guests in the Nobu Sky Villa at Caesars Palace for five nights, with a 24-hour butler, a driver service, a spa service for six guests, a private dining experience for 12 … and an invite for the package holder and plus one to also attend Weekends with Adele at the Caesars Palace Colosseum," according to GamingAmerica.com.