Submitted by

admin

on Fri, 13/03/2020 - 00:46
Espelkamp/Dublin. Merkur Gaming, the international sales brand of adp Gauselmann GmbH, presented an exclusive selection of the latest "Made in Germany" games and cabinets at the Irish Gaming Show from 3 – 4 March.
The 41st Irish Gaming Show took place at the Red Cow Hotel, Dublin. It is therefore not only one of the oldest and most influential events in the sector, but is also the only trade show aimed specifically at the Irish gaming market.
"The Irish Gaming Show is hugely important for Merkur Gaming, as we can present our extensive product portfolio to current and future customers and it affords us the opportunity to discuss trends and developments in the Irish market. Again this year, we have been very satisfied with the visitor response, which spectacularly reflects our growing success in the Irish gaming market", explains Markus Wessler, Sales Director International at Merkur Gaming.
The premium cabinets Evostar Trio and Avantgarde Trio were among the highlights of the products that were presented. The Avantgarde Trio sets new high standards of integrated design. With its third high-definition screen, it provides the opportunity to display video content and/or embedded jackpot signage for an overall gaming experience. The Evostar Trio demonstrates great gaming fun capabilities in a compact design. The hybrid uniquely combines the ergonomic comfort of a slant top within an upright cabinet and provides additional playing comfort with an integrated USB port.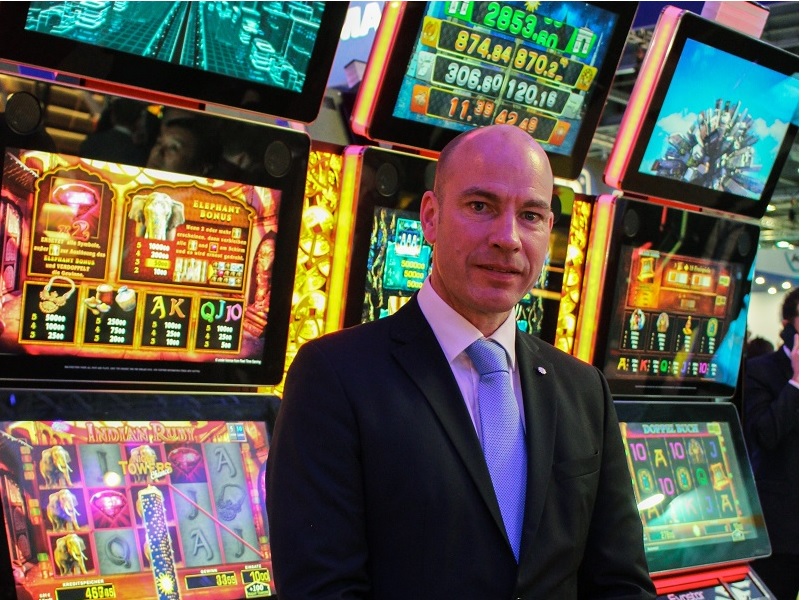 The Treasure Link jackpot system and the Rapid Thunder bonus feature were among the crowd-pullers at the Merkur Gaming stand. Treasure Link is a new type of entertainment concept in which five games that we have developed inhouse each has an individual bonus feature that gives the player the opportunity to win different size jackpots. The non-progressive jackpot Rapid Thunder allows big prizes to be won on five levels and brings the already familiar games Taco Tuesday, Land of Charms, Immortal Emperor, Immortal Princess, Baozang and Amulet of the Pharaoh to an entirely new level.