Submitted by

admin

on Mon, 31/08/2020 - 18:23
LAS VEGAS (Aug. 31, 2020) – Downtown Grand Hotel & Casino has secured its first two artists that will bring their talents to the art program featured throughout the new Gallery Tower and existing areas of the property: multimedia artist Camila Magrane and muralist Josef Kristofoletti.
Contributing to the multiple pieces that will adorn the new hotel tower, including an interactive augmented reality in-room experience, the group of independent artists will help Downtown Grand lead the westward extension of Downtown Las Vegas' art scene. Additional artists and collaborators are to be announced. For more information and to book a stay at Downtown Grand, located steps from Fremont Street in Downtown Las Vegas, visit DowntownGrand.com.
The centerpiece of the Gallery Tower's art program will be an extension of Magrane's "Virtual Mutations" series that will utilize augmented reality to create an interactive experience exclusive to certain rooms. Entitled "Transmigrations," a custom app created by Magrane exclusively for the Downtown Grand, guests will be able to view and interact with the augmented reality features of the artwork just outside of their hotel room window. "Transmigrations" is curated and produced by We All Scream and BUILDING 180.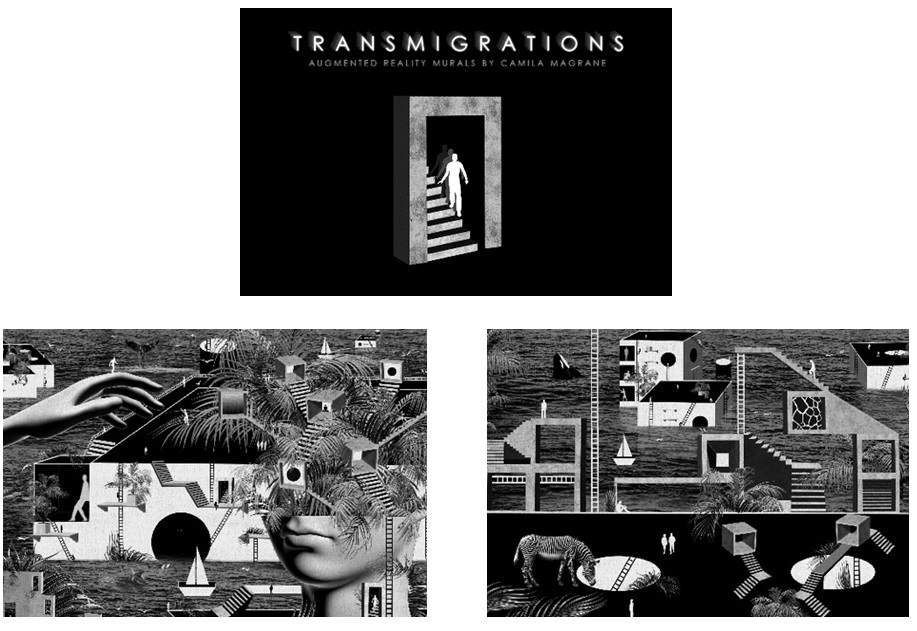 Austin-based muralist Josef Kristofoletti will lend his talents to a large and colorful mural on the exterior of a Stewart Ave.-facing mechanical building, adjacent to the Gallery Tower's porte cochere. A recent artist-in-residence at CERN, the European Organization for Nuclear Research, Kristofoletti's murals are often inspired by and meant to address ideas about nature, technology, space and architecture. In 2018, Kristofoletti debuted a commissioned mural, "Tau Ceti," which proudly looms as Austin's tallest public artwork.
Sample Works by Josef Kristofoletti
Additional artists and collaborators for Downtown Grand's forthcoming art program art to be announced.
Pairing contemporary architecture with modern design and art from several mediums, the Gallery Tower will redefine the intersection of 4th and Ogden and attract visitors with a vibrant new entrance to the hotel's casino floor. With seven guest floors providing a boutique hotel experience for the modern traveler, the Gallery Tower will add 495 new rooms to the property, bringing its total inventory to 1,124 rooms. The Gallery Tower will also offer guests a range of premier room options, including 67 studio units, 20 one-bedroom suites and three 1,500-square-feet Presidential Suites. To accommodate the additional room inventory, Downtown Grand has expanded its current fitness center footprint offering more than 1,500-square-feet of state-of-the-art workout space.
The Downtown Grand reimagined the downtown traveler when it opened in 2013. Defined by its industrial chic aura and highlighted by open ceilings, ornate fixtures, and heavy structural elements the hotel was at the forefront of the Downtown Las Vegas resurgence along with the relocation of Zappos headquarters, the development of the Fremont East District, and Life is Beautiful Music Festival. Six years later, the property continues to serve as a central hub to both tourists and locals alike for all of Downtown Las Vegas' events and happenings.
Downtown Grand is now accepting room reservations for Gallery Tower stays starting Sept. 22. For more information and to book a stay at Downtown Grand, visit DowntownGrand.com.
About Camila Magrane
Camila Magrane is a multimedia artist originally from Caracas, Venezuela. Having a father from the US and a mother from Venezuela, she grew up alternating between both countries. Being fully exposed to two different cultures gave her a greater understanding of what it means to have various perspectives. After graduating from film school in Caracas, she moved back to San Francisco to continue her studies in photography and visual storytelling. Camila later moved on to work in the game industry as a cinematic artist. Most recently, she has been exploring the involvement of technology and interactivity in art. This has driven her to obtain a Bachelor of Science in computer science with a concentration in game development. She continues to hone her skills as a creative coder through the creation of interactive videos, installations and games. Camila has been most noted for the creation of her "Digital Photogram Collages" where she has established a postmodern aesthetic by combining traditional darkroom techniques with the use of digital tools.
About Josef Kristofoletti
Austin, TX-based artist Josef Kristofoletti was born in Nagyvarad, Transylvania. His work is primarily made up of mural paintings that address ideas about nature, technology, space and architecture.  He was an artist in residence at CERN, the European Organization for Nuclear Research. As a founding member of the artist collective Transitantenna, he traveled throughout North America as part of a mobile living experiment that engaged local communities through public interventions. His work has appeared in several publications including Wired, PBS News Hour, New York Times, The Guardian, Boston Globe, Fast Company, and Symmetry Magazine. In 2013 he represented the United States at the Bienal del Sur en Panama, in Panama City. 
About Downtown Grand Hotel & Casino
Awarded the 2019 TripAdvisor® Certificate of Excellence and the 2020 AAA Inspector's Best of Housekeeping Award, Downtown Grand Hotel & Casino is a unique hospitality and entertainment destination right in the heart of revitalized downtown Las Vegas. Located on 3rd Street between Ogden and Stewart, Downtown Grand encompasses an entire urban block of hotel, casino and dining amenities. With its third hotel tower under construction and set to open in 2020, the property currently features an 18-story and 25-story tower adjoined by a walking bridge elevated over 3rd Street, with 629 guest rooms and suites offering luxury accommodations that set a new standard for sophistication and style in downtown Las Vegas. Downtown Grand's casino offerings include 25,000 square feet of gaming space with the hottest slot machines, table games and a fully featured sports book powered by William Hill. Restaurants, bars and entertainment options include Freedom Beat, Furnace Bar, Art Bar, Sidebar, The Spare Room Showroom, and the award-winning Las Vegas steakhouse Triple George Grill. Partnering venues include the famous Hogs & Heifers saloon and Pizza Rock, renowned as one of the best pizza restaurants in the city. Downtown Grand features Citrus Grand Pool Deck, a rooftop pool experience with more than 35,000 square feet of entertainment and special event space, an infinity pool, restaurant and bar, semi-private cabanas, a fire pit and a grass seating area.