Submitted by

admin

on Fri, 09/06/2023 - 16:00
HOLLYWOOD, Fla., June 7, 2023 /PRNewswire/ — Construction has officially started on Ottawa's newest tourism and entertainment destination, the future Hard Rock Hotel & Casino Ottawa. A groundbreaking ceremony, with guests using Hard Rock's legendary guitar-handled shovels, was held on June 6 at the Rideau Carleton Casino, Future Hard Rock where it will host the new state-of-the-art facility.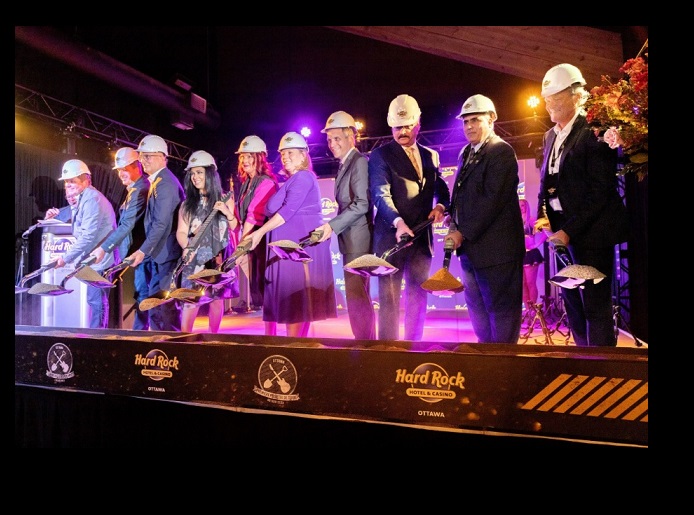 From left to right: Steve Desroches, Jim Warren, Duncan Hannay, Goldie Ghamari, Helen MacMillan, Lisa MacLeod, Mark Sutcliffe, Jon Lucas, George Darouze, Andrew Wright
Hard Rock International representatives, elected officials, and business and community leaders shared the exciting details of Canada's first Hard Rock Hotel & Casino, which will include:
A 150-room Hard Rock Hotel, including 22 suites
An expanded Hard Rock Casino with 1,500 slot machines, 40 live-action table games, a Hard Rock Sportsbook, high-limit gaming, and a Baccarat room
An 1,800-seat Hard Rock Live theatre with standing room for 2,200 guests
More than 10 restaurants, bars, and lounges, including the award-winning and iconic Hard Rock Cafe and Council Oak Steakhouse
Retail outlets that include Rock Shop® and Unity Store
"We are excited to be one step closer to bringing our iconic brand and rich music history to the people of Ottawa and the surrounding region," said Jon Lucas, Chief Operating Officer at Hard Rock International. "I wish to thank the provincial and municipal elected officials who helped us get here today. We are especially grateful to the Ontario Lottery and Gaming Corporation (OLG) and the Alcohol and Gaming Commission of Ontario (AGCO) who have been incredibly supportive in helping make this possible. We appreciate our partnership with them."
The completion of the Hard Rock Hotel & Casino Ottawa is planned for Spring 2025. Rideau Carleton Casino will continue to operate until the renovation and rebranding of the property to the Hard Rock Hotel & Casino Ottawa is complete.
"It's finally happening!" said Helen MacMillan, General Manager of Rideau Carleton Casino, Future Hard Rock. "After experiencing delays due to the pandemic, we are extremely excited to be making concrete progress on our plans to bring this amazing facility to life for our guests and team members, and for Ottawa's residents and visitors!"
Hard Rock Hotel & Casino Ottawa: An Entertainment and Tourism Economic Driver for the City 
The new facility is expected to generate significant tax revenues for the City of Ottawa, the Province of Ontario, and the federal government during construction and once fully operational.
The $350 million construction project is currently one of the largest private investment developments in Ottawa. It is expected to create close to 1,900 direct and indirect construction and ongoing employment opportunities in the city of Ottawa.
"The new Hard Rock Hotel & Casino represents a significant investment in the south end of our city. It will create new jobs and will build on the existing attraction at Rideau Carleton Casino," said Mark Sutcliffe, Mayor of the City of Ottawa. "I know many residents of the city are looking forward to enjoying this space and it will also be another great addition as a tourist attraction in Ottawa."
Since the gaming site of Rideau Carleton Casino, Future Hard Rock was added in February 2000, the City of Ottawa has generated approximately $6 million annually with over $93 million in total payments from the OLG for hosting Rideau Carleton Casino, Future Hard Rock within the national capital region. This amount is expected to rise once the expanded facility is fully operational. An additional $1 million plus per year has been invested in local sponsorships and nonprofits, benefiting local communities and the people within.
"This is an exciting day for the City of Ottawa and our colleagues at Hard Rock, and a proud day for OLG! The plans we are advancing here and with our other land-based gaming partners, are providing real local benefits and will support the long-term vibrancy and excitement of the casino experience in Ottawa, and across Ontario, for years to come," said Duncan Hannay, OLG CEO & President. "With it also being National Indigenous History Month in Canada, OLG is committed to building new pathways of understanding, respect, and action with our Indigenous and Tribal partners to advance the principles of Truth and Reconciliation. This is an important way that we at OLG continue to 'Play for Ontario'."
Connected to Community 
As part of the ceremony, Rideau Carleton Casino, Future Hard Rock presented a $20,000 donation to Minwaashin Lodge, a local Indigenous women's shelter.
"Nothing is more important to us than contributing to the economic and social well-being of our community," said MacMillan. "As we officially kick off our expansion today, we want to make it clear that as our facility grows, so too will our efforts to support local businesses and community organizations."
Hard Rock International, which is wholly owned by the Seminole Tribe of Florida, is fully committed to the ongoing support of local and Indigenous organizations through charitable donations, sponsorships, and partnerships.