Submitted by

admin

on Mon, 11/09/2023 - 12:39
Madrid/ Mexico City, September 11, 2023.- The exciting second edition of the International Codere Cup in its Spanish version will begin on September 16.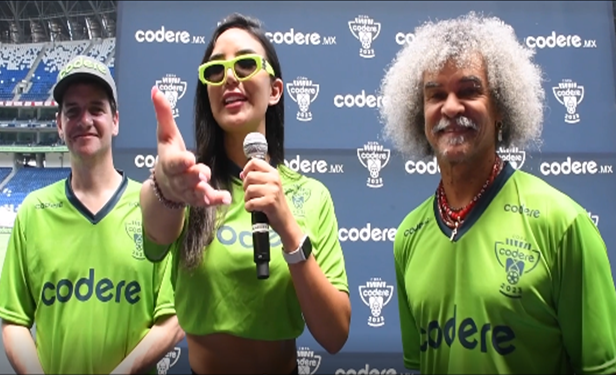 This unique event promises to combine excitement, fun and the best amateur football in Real Madrid City, where more than 250 players from the 32 participating teams will come together to compete.
The winners of this exciting competition will not only have the honor of playing in the grand final in December against the Ghostbusters team, winner of the Mexican edition, but will also enjoy exclusive experiences with Codere. This includes VIP access to the New Santiago Bernabéu Stadium for Real Madrid C.F. matches. against Real Sociedad and Granada C.F, as well as their participation in the 2024 edition of the Codere Cup.
This was the Codere Cup Mexico edition
The Mexican edition of this tournament, which took place in July, saw the Ghostbusters team crowned champions for the second year in a row. Its members will travel to Madrid in the month of December to compete in the grand final of the Cup.
The local event had a large following of fans and followers on social networks, with the support of YouTuber Jero Freixas and Colombian legend Pibe Valderrama, the company's ambassador in Latin America. In addition, Rayados de Monterrey, host of the event, provided the BBVA Stadium as the official venue for the matches, thus consolidating the success of the competition.
The electrifying video summary of the Codere Mexico Cup HERE.
About Codere Group
Codere is a leading operator in the entertainment and gaming sector internationally, with presence in seven countries in Europe – Spain and Italy – and Latin America – Argentina, Mexico, Panama, Colombia and Uruguay –, which operates gaming machines, bingo and sports betting terminals in an omnichannel manner, both through the online channel and through points of sale that include game rooms, arcades, bars, betting rooms and racetracks. www.grupocodere.com
About Codere Online
Codere Online refers, jointly, to Codere Online Luxembourg, S.A. and its subsidiaries. Codere Online was launched in 2014 as part of the well-known gaming operator Codere Group. Codere Online offers sports betting and online casino through its state-of-the-art website and mobile application. Codere Online currently operates in its main markets of Spain, Mexico, Colombia, Panama and the City of Buenos Aires (Argentina). Its business is complemented by the Codere Group's physical presence throughout Latin America, forming the basis of the leading omnichannel gaming and casino presence in the region. www.codereonline.com
Codere with responsible gaming
Codere is firmly committed to the development of a gaming offer with all the guarantees for the user, and to this end it carries out its activity by implementing the best responsible gaming practices, promoting transparency and promoting public policies that favor user guarantees, ensuring the protection of vulnerable groups and ensure the sustainability of the industry.