Submitted by

admin

on Fri, 29/07/2022 - 11:30
Madrid/Argentina, July 29, 2022.- Codere, a leading multinational company in the private gaming sector in Europe and Latin America, presented this Thursday at a press conference held at the Más Monumental stadium, its step forward in sponsorship of the Club Atlético River Plate of Argentina, for which it acquires the Club's 'Main sponsor' category, being placed on the front of the official game and training shirt.
The sponsorship agreement between both entities –by which Codere became the Official Bookmaker of the Club– was signed in July 2021 and is valid for four seasons, until August 2025. The company has presented through a video this step forward in its agreement with the Club.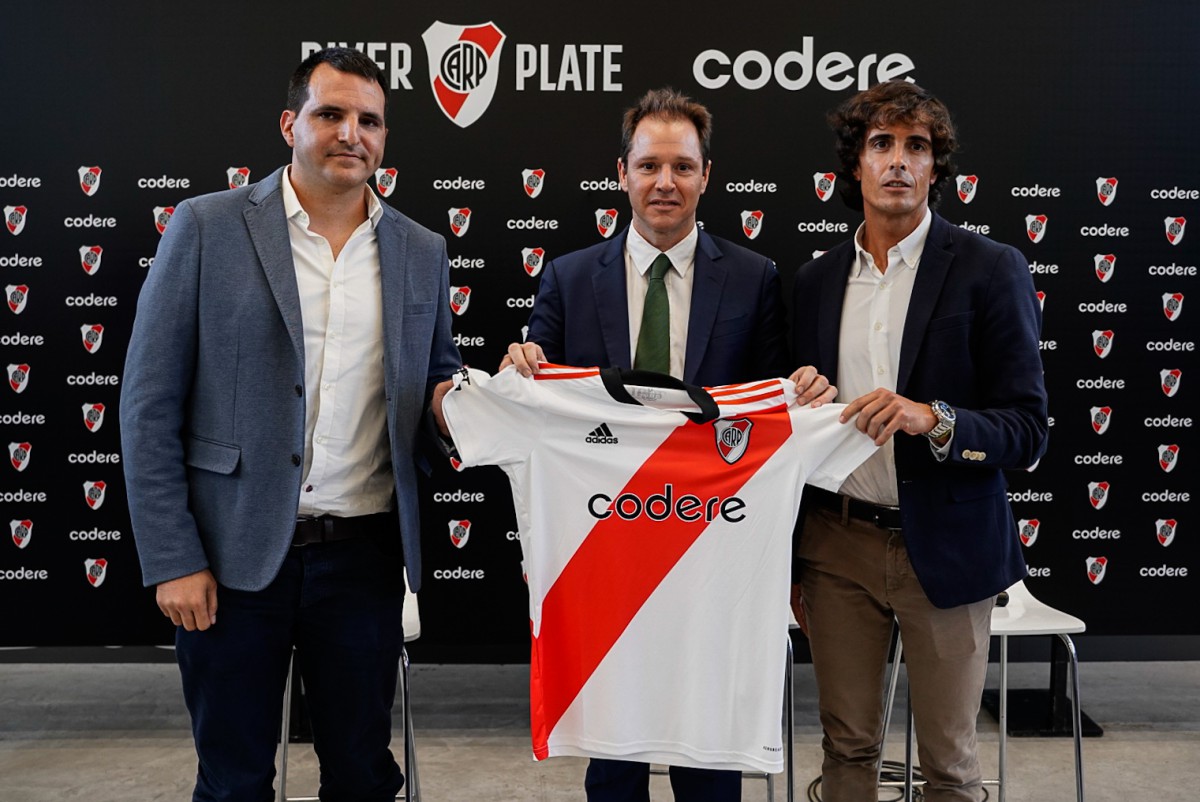 Image:  Alberto Telias, CMO, Codere Online, Jorge Brito, President   Club Atlético River Plate,  Carlos Sabanza, Responsable Sponsorships at Codere
Through this alliance, both entities have achieved a greater rapprochement with the Argentine public, thanks to the different initiatives and experiences shared with their followers.
For Carlos Sabanza, head of Sponsorships at Codere, "we are very proud to be featured on the front of the Club Atlético River Plate jersey and convinced that in this new stage we will continue to promote our brand together, as well as providing the Argentine public with the best entertainment omnichannel. We are aware of the responsibility that we acquire with our presence on the front of a shirt like River's and for this reason we will put all our efforts into continuing to grow together and achieve our goals. At Codere, we are convinced that this will continue to be an even more fruitful alliance and that we have made a winning bet by joining our paths".
For his part, Jorge Brito, president of Club Atlético River Plate, pointed out: "Codere is a sponsor that we already know and with whom we have gone through a very important journey. It is a source of pride that such a prestigious international brand continues to trust in River and that it chooses to enlarge the agreement and be our 'Main Sponsor'. We are very happy with this new opportunity that has been generated, so that River and Codere can strengthen each other".
Important deployment in Latin America
Grupo Codere began its activity in Argentina in the early 1990s, and is currently the largest bingo operator in the Province of Buenos Aires, with thirteen halls, in which, in addition to traditional bingo, it operates more than 6,200 slot machines.
In December 2021, Codere Online, in addition to establishing itself as the first gaming operator in Latin America to be listed on the Nasdaq, started its sports betting and casino gaming activity in the City of Buenos Aires through the website www.codere.bet. Ar
For Alberto Telias, Chief Marketing Officer of Codere Online, "our growth project in Latin America has been consolidating little by little, supported by the football sponsorships of Club Atlético River Plate, Club de Fútbol Monterrey Rayados and Real Madrid C.F. Strengthening our relationship with River by becoming 'Main Sponsor' is a great step to continue building the Codere brand in the country".
The company also promotes other sporting events in the region, such as the 'Copa Codere Internacional 2022', whose local edition will be held on July 30 in Argentina, giving visibility to the sponsorship with Club Atlético River Plate, by hosting the competition in its sports city , RiverCamp.
About Codere
Codere is a leading international gaming operator, with a presence in seven countries in Europe – Spain and Italy – and Latin America – Argentina, Mexico, Panama, Colombia and Uruguay-, which operates gaming machines, bingo stalls and terminals omnichannel sports betting, both through the online channel and through points of sale that include game rooms, arcades, bars, betting rooms and racetracks. www.grupocodere.com
About Codere Online
Codere Online refers, jointly, to Codere Online Luxembourg, S.A. and its subsidiaries. Codere Online was launched in 2014 as part of the well-known gaming operator Grupo Codere. Codere Online offers online casino and sports betting through its state-of-the-art website and mobile app. Codere Online currently operates in its main markets in Spain, Italy, Mexico, Colombia, Panama and in the City of Buenos Aires (Argentina). Its business is complemented by the physical presence of the Codere Group throughout Latin America, forming the basis of the leading omnichannel gaming and casino presence in the region. www.codereonline.com
Codere with responsible gaming
Codere is firmly committed to developing a gaming offer with all the guarantees for the user, and to this end it carries out its activity by implementing the best responsible gaming practices, promoting transparency and promoting public policies that favor user guarantees, ensure the protection of vulnerable groups and ensure the sustainability of the industry.