Submitted by

admin

on Thu, 06/05/2021 - 23:24
LAS VEGAS (May 6, 2021) – After being forced to board up its front door more than 400 days ago, the wildest watering hole in the west, Atomic Saloon has reopened at Grand Canal Shoppes inside The Venetian® Resort Las Vegas. Spiegelworld celebrated with two riotous, sold-out performances of ATOMIC SALOON SHOW last night, May 5.
With the hunky Mayor's state government counterparts giving Boozy the green light to round up her cavalcade of sexy and talented performers, reopening night audiences were treated to a hilarious romp through the Wild West as it never was.
"Well, it's about damn time," said Atomic Saloon proprietress Boozy Skunkton to her first audience in more than a year. "There's only so much Cobra Kai a cowgirl can bear."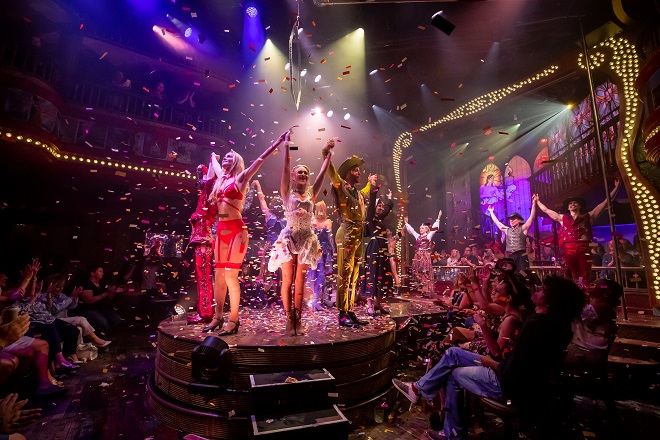 Eager guests took their socially distanced seats for the evening's two sold-out shows and imbibed from the saloon's punch-packing menu of craft cocktails, booze-filled flasks and signature cocktail towers that serve enough for the entire table. A patch of patrons upped the ante on their experience by taking in the show from a limited number of stage-side Krug VIP tables, offering parties of up to four a little extra wiggle room and a magnum of Krug champagne courtesy of Boozy herself. By the end of the night, guests were on their feet and hollering for more – a sign that audiences are excited for a taste of normalcy once again.
"We're just thrilled to have ATOMIC SALOON SHOW and its many talented cast and crew members back onstage," said Ross Mollison, Impresario Extraordinaire of Spiegelworld. "After re-opening ABSINTHE in March, this is another huge step in getting our city and the entire entertainment community back to work. We're thankful to our many partners and audiences for continuing to support our shows, and I can't wait until OPIUM returns to The Cosmopolitan of Las Vegas later this year. We've spent the last year tinkering, planning and preparing for the rebirth of the Entertainment Capital of the World, and can't wait to show audiences what else we have in store."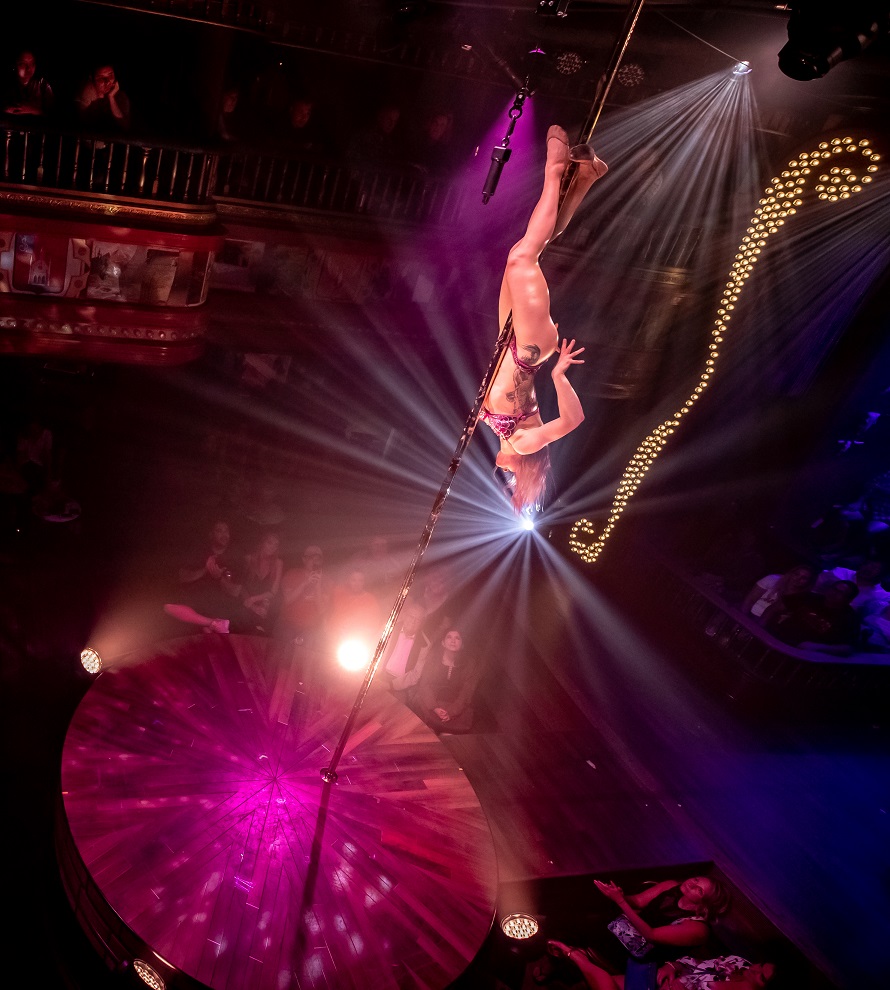 To ensure sufficient physical distancing, the saloon's capacity has been temporarily reduced, with guests seated at cabaret tables across the venue's two levels. And with word on the prairie that the Unmasked Bandit is still on the loose, Boozy and her staff will be on the lookout to ensure patrons remain masked while watching the show—unless sipping a signature cocktail, of course!
Spiegelworld is committed to providing as safe an environment as possible for ATOMIC SALOON SHOW guests, performers and staff. In keeping with the extensive protocols outlined in Spiegelworld's Health & Safety Plan, onsite health and safety efforts include but are not limited to:
Reduced audience capacity in parties of two to six at sufficiently distanced booths and tables.
All artists, staff and guests must remain masked while inside Atomic Saloon. Guests may lower or briefly remove their mask while actively drinking but are otherwise required to keep their nose and mouth properly covered.
The Atomic Saloon, including all seating areas and other frequently touched surfaces, is sanitized before and after every performance.
ATOMIC SALOON SHOW performs at 7 p.m. and 9 p.m. Wednesday through Sunday at the Atomic Saloon inside Grand Canal Shoppes at The Venetian® Resort. For tickets and more information, visit Spiegelworld.com and connect with the show on social media: @AtomicSaloonShow on Facebook and Instagram and @AtomicSaloon on Twitter.