Submitted by

admin

on Wed, 12/07/2023 - 23:42
Carnival City punter claims R1.5 million grand prize in thrilling climax to Sun International's Black Opal nationwide baccarat tournament
A Carnival City patron fought her way past 59 other contestants to don the title of 2023 Black Opal champion and take home the R1.5 million grand prize in the finale of Sun International nationwide gaming extravaganza at the resort in eastern Gauteng in the heartland of South African baccarat on Saturday, 08 July 2023.
A further R1 million in cash and prizes was given away on the day to take the total finale prize money up to R2.5 million and mark Black Opal as one of the richest gaming tournaments in the country.
Back in Black
Immensely popular in Asia, baccarat is beginning to take hold in South Africa on the back of its accessibility and vibrant social gameplay.
"It's incredibly exciting to host the finale of a group-wide tournament and present Sun International as a unified brand. Carnival City is a uniquely themed casino and the finale gives us the opportunity to showcase its magic. We're known as the home of baccarat and the game enjoys a strong following here," said Carnival City General Manager Annemie Turk.
Punters had fought tooth and nail over 10 weeks of white-hot action at Sun International casinos around South Africa and via the group's SunBet online betting platform to lay claim to a seat at the finale. The opportunity to participate in a gaming extravaganza like Black Opal is a hallmark of Sun International's Sun MVG loyalty programme, among a host of other exclusive offers and benefits.
During the three-table heats held throughout the afternoon, finalists were urged to press their luck in a bid to earn more chips than their rivals and earn a coveted spot at the final table. The gameplay was intense as bettors made their picks on a day punctuated by air-punches, groans, and fierce debate.
CAPTION:  The Sun International's Black Opal nationwide baccarat tournament was held at Carnival City Casino, Brakpan
Play your own game
Making his first appearance in a Sun International tournament finale, one 35-year-old bettor was ecstatic at having negotiated his way into the semifinals.
"My first tournament has been a great experience all-round. I've loved interacting with the other finalists and am proud to progress to the semifinals. With baccarat, it's important that you play your own game – following the table will get you into trouble," he said.
A patron of both SunBet and Time Square in Pretoria, he was enjoying being on the casino floor, where he found it easier to discipline himself than when playing online.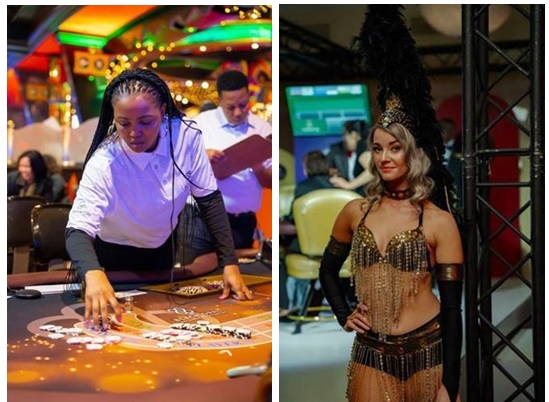 CAPTION: Carnival City dealer and promoter at the event
Eastern action
The grand finale, which saw the top six combatants take to the stage at Carnival City's Rio Ballroom decked out in an Eastern theme, proved to be a tense affair. Guests were able to view every second of the action on screens and were entertained through dance and song as the 18 rounds of betting ensued.
The Carnival City punter was able to stave off an early charge from a Time Square rival and eventually prevail after the drama of a final round Tie bet. It was a second big win for a Carnival City patron, after another bettor from the resort claimed the Slots Royale crown at Sun City earlier in the year.
Even as the beaming winner was doused in a shower of golden ticker-tape and the familiar strains of Queen's We Will Rock You, thoughts were already turning to what Sun International had in store for its legions of gaming enthusiasts. Firmly established as the home of tournaments, the hospitality and entertainment giant aims to continue serving up generous helpings of "wow and sizzle" to delight its loyal fanbase.
"These tournaments are all about fun, camaraderie, and recognising the value our customers add to the group. Our next big tournament will be the roulette-focused Black Pearl at Sibaya Casino in Durban. We certainly want to meet our customers' high expectations and continue to deliver gaming of the highest standard," said Maartin Olckers, Sun International's Gaming Product Manager.