Submitted by

admin

on Wed, 11/01/2023 - 00:54
The AGEM Index decreased by 66.85 points in December 2022 to 839.10, a 7.4 percent decline from the prior month. Compared to one year ago, the index was down 132.49 points, or 13.6 percent. During the latest month, 10 of the 12 AGEM Index companies reported stock price decreases, resulting in 10 negative contributions to the AGEM Index and two positive contributions.
The largest positive contribution to the monthly index was sourced to Agilysys (Nasdaq: AGYS), whose 19.2 percent increase in stock price led to an 8.69-point gain to the index. The largest negative contribution to the index was sourced to Aristocrat Leisure Limited (ASX: ALL), whose 12.9 percent decrease in stock price resulted in a 39.68-point loss for the AGEM Index. Additionally, Light & Wonder Inc. (Nasdaq: LNW) observed a 9.5 percent decrease in stock price that lead to an 11.95-point decrease to the index.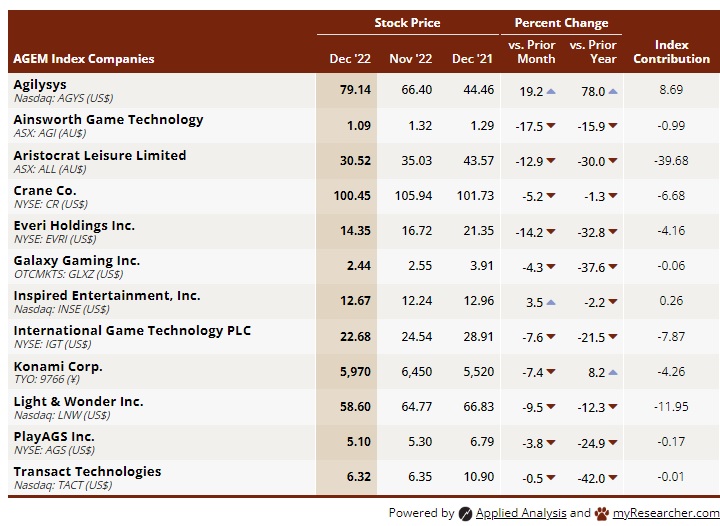 All three major U.S. stock indices saw month-over-month decreases to close the year. The NASDAQ decreased by 8.7 percent from November, while the S&P 500 fell by 5.9 percent. Meanwhile, the Dow Jones Industrial Average declined 4.2 percent over the month.