Submitted by

admin

on Fri, 04/09/2020 - 19:54
The AGEM Index increased by 61.16 points in August 2020 to 482.02 points, a 14.5 percent gain from July 2020. Ten of the 13 AGEM Index companies
reported stock price increases as global markets continued to trend positively amid the COVID-19 pandemic.
The stock price for Aristocrat Leisure Limited (ASX: ALL) increased by 8.4 percent, accounting for a 23.89-point improvement in the AGEM Index, while Konami Corp. (TYO.9766) experienced a 27.1 percent stock price jump that led to an index contribution of 21.26 points.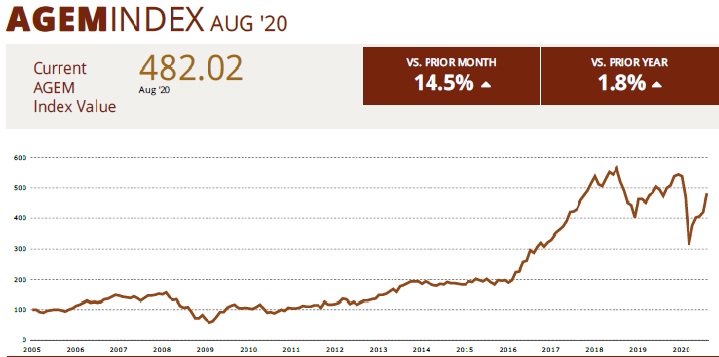 All three major U.S. stock indices increased as the Dow Jones Industrial Average grew by 7.8 percent and the S&P 500 grew by 7.4 percent.
Meanwhile, the NASDAQ grew by 10.8 percent compared to July 2020.