Gaming experts are bullish on Atlantic City and the empty Taj Mahal after its new owner, Hard Rock International, unveiled its nearly $400 million plan to transform the property into a "true entertainment destination."
Experts, however, remain "cautious" about the Shore town's future and warned that recovery won't happen overnight.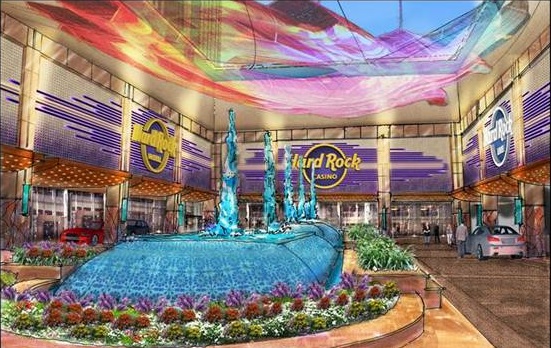 A rendering shows some of the changes coming to the former Trump Taj Mahal casino 
PICASA
Hard Rock, Atlantic City and state officials on Wednesday announced the $375 million changes planned to turn the empty Boardwalk property into Hard Rock Hotel & Casino Atlantic City, which includes moving Hard Rock Café Atlantic City to a new 400-seat venue that includes beach access.
A focus on entertainment will be a boon for Atlantic City, which lost five of its casino properties since 2014.
"Non-gaming elements generally bring a consistency and a variety of demographics to a property brand that adds interest and curiosity," said Robert Ambrose, instructor at the Center for Hospitality & Sport Management at Drexel University.
"It offers a seamless customer experience and a great benefit to the corporate bottom line," Ambrose said. "Appealing to mass and niche markets must be a blend of idea and reality."
Ambrose, however, doesn't classify the upcoming Hard Rock property as "another casino," since "Hard Rock has a global presence in all things hospitality and is a major company in the arena of entertainment."
"[Hard Rock International CEO]  Jim Allen and his great Hard Rock team bring a unique global hospitality-branded experience that is self-defining," Ambrose said. "Hard Rock has a tremendous international following and a strong customer brand identification."
Their model is about the total experience, not just the gaming portion. Hard Rock also focuses on food and beverage, lodging and great entertainment, Ambrose added.
The Shore town is ready for another casino, according to David Fiorenza, economics instructor at Villanova University's School of Business.
Twelve or 13 properties was "too much," Fiorenza said, but eight to 10 casinos is a "good equilibrium." There's one caveat: Casinos can't be one dimensional.
The Hard Rock development could be the start of what's occurred in Las Vegas and the Universal CityWalk in Orlando, Fla. — destinations where Hard Rock has a presence.
Properties on the Las Vegas Strip, which has become a model destination in terms of having a diversified business mix, generated in 2015 nearly three-quarters of their total revenue from non-gaming sources, according to an economic market study by Spectrum Gaming Group.
"Hard Rock will give other developers the confidence to continue that process of turning the city into more than just a mecca for gambling," Fiorenza said.
Atlantic City casinos, however, will need to expand their scope beyond just gambling because of the competition of online gambling and the saturation of surrounding states impact on the business.
New Jersey's online casino market hit milestone revenue figures last month.
A focus on non-gaming amenities to gain a foothold is also important since the gamblers don't typically have a preference on which property they patronize since "gaming is gaming," said Paul Debole, assistant professor of political science at Lasell College in Massachusetts.
Debole is also a gaming industry expert who once worked as an industry consultant.
"A slot or a Blackjack table is the same at the Golden Nugget as it is at Caesars," he said, so there's no real incentive for gamblers to travel to Atlantic City versus a closer property in a different jurisdiction.
"With the proliferation of gaming venues across the United States and the change in consumer expectations, this move follows the natural evolution of the gaming industry from 'gaming venues' to 'resorts with gaming as an amenity,'" Debole said.
Consumers want to maximize their vacation dollars, which means larger and more inclusive resorts. It's a change taking place in every region of the country, as well as in international gaming locations, Debole said.
One question looms: How will Atlantic City and the gaming industry as a whole continue that upward trend?
"In 1990, we saw non-gaming revenue, as a percentage of total revenue on the Las Vegas strip, at 37.5 percent, with gaming revenue at 62.5 percent," Debole said.
In 2015, those numbers on the Las Vegas Strip flipped to 70 percent for non-gaming revenue versus 30 percent in gaming revenue as a percentage of total revenue.
"Total gaming revenue rose from $754 million in 1990 to $1.7 billion in 2015," Debole said. "Non-gaming revenue, during that same period, rose from $453 million to $4.6 billion."
Debole said he is optimistic when it comes to Atlantic City, but he's "still cautious, about reversing the downward trend of Atlantic City."
"The city and state seem to be on the right path of encouraging investment while broadening the base of economic activity, Debole added.
The Atlantic City gaming and hospitality model — and its public perception — is a work in progress, Drexel's Ambrose said.
"The recovery of Atlantic City will not be because of one idea, one marketing message or one company. It is diversification of the city's resort model," he said.
Hard Rock is just part of the equation, but its commitment — along with other investors' commitments — is an "acknowledgement that the city is on the right track."
"Keep in mind it took years for Atlantic City to bottom out," Ambrose said. "Recovery for this resort city will not happen overnight."
Kenneth Hilario covers hospitality, restaurants and takes on general assignments and breaking news.