The time has come for the industry to descend on the undisputed capital of gaming— we are in Macau for G2E Asia. TRANSACT is pleased to attend and exhibit at the show, where they are displaying their premium line of gaming products, which include the Epic 950®, Epic Edge™, Epicentral® and Epic 880®. Year after year, TRANSACT continues to increase its market share and presence not only in Macau, but across all Asia.
"We are delighted to say that 2018 was an extremely eventful year for TRANSACT in Asia with several major developments that added to our already significant footprint in the region," said Tracey Chernay, Senior Vice President of Global Casino, Gaming and Lottery. "Attending G2E Asia gives us the perfect opportunity to maintain and increase our strong current business relationships with our partners, casinos, manufacturers, and systems companies." At the show, TRANSACT is eager to showcase the Epic
Edge™ TITO printer, which is the industry's most advanced casino printer. Featuring an unmatched 300 DPI print resolution, the "Edge" delivers over two times the image quality over all other current printers in the market. The firmware update port has been upgraded to a speedy USB and a micro SD card slot allows quick and easy firmware  updates on the casino floor. Additional unique features include a single rugged outer chassis with Serial, USB and Netplex ports, and a faster ServerPort™ connection.
Image: TransAct's team for the Asian region includes Rashid Suliman (right), who serves as the Vice President of Global Gaming for Asia-Pacific and Kit Leong, who works as the Technical Sales Manager in Macau
Environmentally conscious, the "Edge" also includes an adjustable ticket bucket that accommodates standard tickets and smaller, paper-saving tickets. This feature is perfectly designed to reduce paper usage and save money in concert with the ecologic programs being implemented in casinos. TRANSACT is working on the integration and approval process for the "Edge" with slot manufacturers around the world, including all major game manufacturers in Asia and Australia.
As there has been an elevated interest and demand for loyalty products throughout Asia, TRANSACT is pleased to show the latest iteration of Epicentral. Epicentral is the gaming industry's only enterprise-level promotion and bonusing software suite that can target customers in real-time while they play their favorite slot machine or electronic table game. TRANSACT has integrated Epicentral with the major systems providers in Asia to provide a seamless coupon and loyalty experience for the casino operators.
"Our main focus this year is to work closely with our partners on new opportunities for Epicentral and the rollout of Epic Edge," said Rashid Suliman, Vice President of Global Gaming in Asia Pacific. "We strongly believe in our products and the remarkable results they can offer to our customers. We look forward to continuing to set the standards high in both printing and software  solutions as more casinos implement them."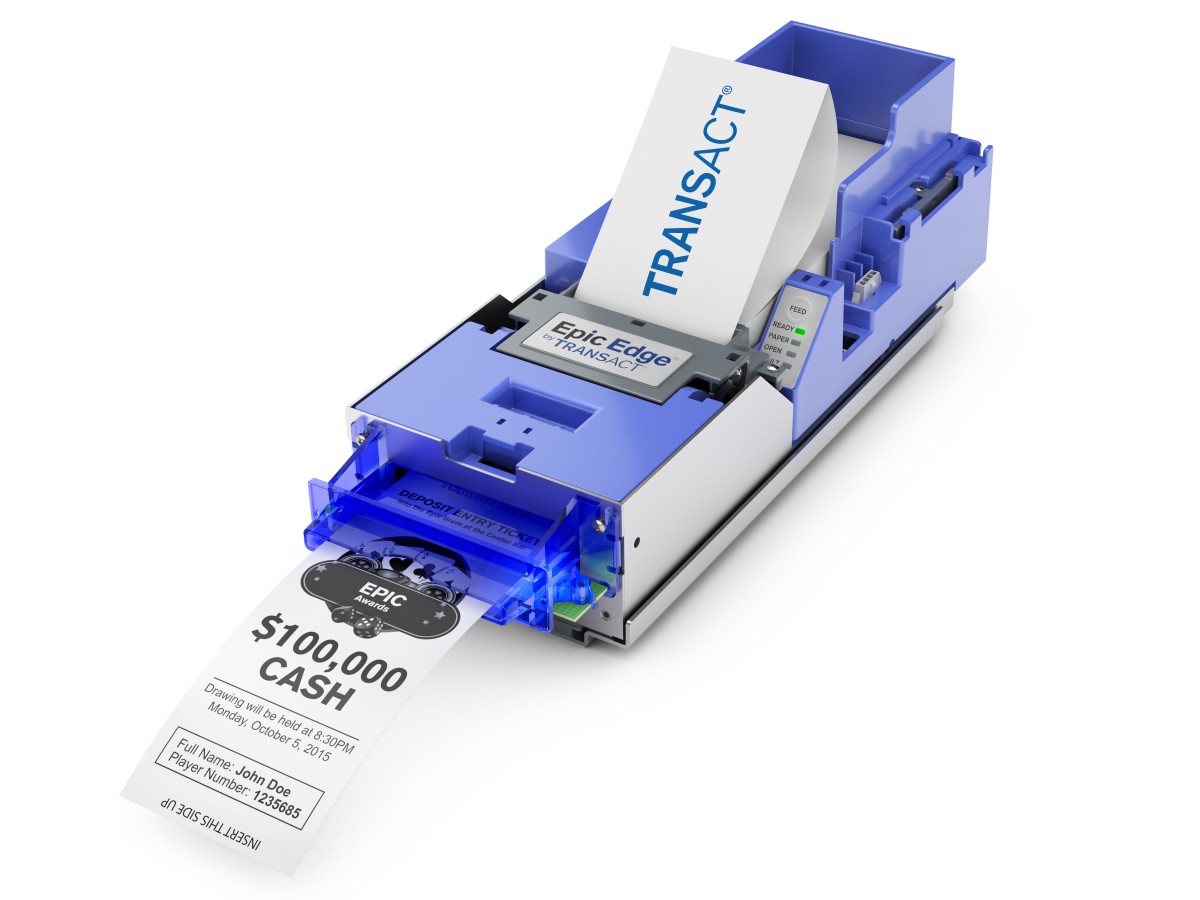 Attendees will also have a chance to view the Epic 950, which is the industry standard in TITO printing and is currently installed in over 750,000 slots throughout hundreds of casinos and gaming operations worldwide. One of its most recent installations in the Asian market includes the Corona Resort & Casino in Phu Quoc Vietnam, which opened its doors with the Epic 950 printers exclusively in all their slots and ETGs. Additionally, the casino chose the table top version of the Epic 950 printers throughout their cage and back of house areas.
With sports betting continuing to grow in popularity across the globe, TRANSACT will also demonstrate its Epic 880, which has long been the default printer used in established sports betting markets. In addition, TRANSACT will display the Epic 3000, which is the world's leading online lottery ticket printer. The gaming team will be on hand at Stand A719 and would love to talk through the range of products to anyone who wants to stop by.