Author: Dr. David G. Schwartz - Book Review by Robert Ambrose 
The individual commentaries of life on the slot floor, are based on a series of interviews conducted by Dr. David G. Schwartz, Director for Center for Gaming Research at the University of Nevada, Las Vegas.
The interviews are with present and former slot managers from a variety professional backgrounds. Their response, through a series of opened ended questions, provides the reader with a prospective on how management and slot machines have developed through the decades. It is a candid commentary, -an "oral history," from those that have lived the experience of developing slot floors, purchasing equipment, dealing with the changing technologies, leadership of employees and satisfying customer needs.
Through the series of interviews, Dr. Schwartz has also captured the historical time-line of the slot product development. The casino industry is a people business. The book is about the people, working every day in an environment of continuous high energy, anxiety, anticipation, customer excitement and customer disdain. It can be quite challenging. And that's just the first 30 minutes of the day!
There is no right or wrong answer to the questions posed by Dr. Schwartz. The answers are an individual portrait of each manager and their decisions within the framework of their work environment. You will see the managers personal and professional perspectives. How the current technologies of the "day," drove initiatives and created new paths into the parameters of gaming's platform. This book is also a sharing of leadership philosophies and management skills.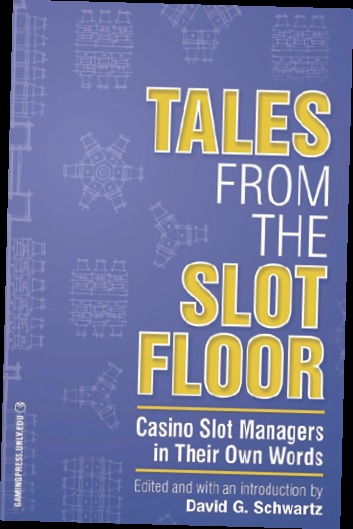 From negotiating million dollar deals, to the purchase of gaming equipment, to opening a property; the stories from the managers offer insight, and in a way, pull back the curtain, on an aspect of the casino floor that in many ways, is still cloaked in mystery.
The operational strategies of the slot floor come from the managers operating from the "back-of-the-house," an area not open to public view. To the average customer, "the-front-of-the-house," is where the slot floor resides. To the customer, it all seems very simplistic in presentation, with all the slot games placed neatly in a row like new cars in a show room. At least that's the way we like to have it appear.
It was an honor to be asked to share some of my industry stories and thoughts for this project. I am also humbled to be able to have shared my thoughts with fellow slot managers, (some I know personally,) whose talents I admire and respect. Being familiar with Dr Schwartz's literary achievements and having used his books in my classes, I knew this would be a product of superb educational quality.
Whether you are from the "old or new school of thought, currently working in casino slot management, or a related field of hospitality, a student, or are just curious about the industry, this book is for you.
Robert Ambrose, Gaming Consultant, Adjunct Professor Casino Management, Fairleigh Dickinson University