Glyn Thomas chats to Tracy Damestani, Chief Executive of The National Casino Forum, Sarah Robinson, Head of Group Marketing at Caesars Entertainment, Kate Chambers, Managing Director at sponsors Clarion Gaming and Winner of the 2018 UK Dealer Championships, Slawomir Workun
Caesars croupier Slawomir Workun is setting his sights on a European title after being crowned the UK Dealer of the Year.
Slawomir, 34, saw off competition from 23 other finalists to claim the cash prize of £2,000, sponsored by gaming technology company, Novomatic. The victory was celebrated to great acclaim as it was a 'home win' for competition hosts The Sportsman Casino, where he has worked as a dealer for the last ten years.
He will now represent the UK at the European Dealer Championships (EDC) in Montenegro in May, alongside Shaun Kelly, from Les Ambassadeurs, who finished as first runner-up and won a cash prize of £1,000. Will Gosnold, of the Hippodrome, finished as second runner-up and claimed a £500 cash prize.
Polish-born Slawomir, from Chessington, Surrey, said:
"I feel relaxed ahead of Montenegro. I am looking at that as a holiday, probably go the day before and relax a little bit. I won't prepare too much. I am not going to spend two months repeating my times table because that would be silly. I'm relaxed - we are going to go and crush the opposition!
"I am confident. I am not a cocky person but I remember standing in the chipping up and on my training school I was always the slowest at chipping up, I was always slowest at pushing the chips. So I am standing there and I know I won't win it, and the guy after me was the winner. Watching him chip up was like watching a harvester, and then this girl looks at him and says: 'How can you be confident after watching that?' I said I have always been the slowest one, but somehow I am always winning.
"Worst case scenario is I come back from a few days in Montenegro with a nice tan and some lovely memories. The best thing for me is when you get to the top 5, anyone can win seeing the level of competition. I did not expect to win the UK Dealer title. If it's my lucky day I will win it, and even if not, I still consider myself lucky. If I am relaxed I will play my best game".
The UK Dealer of the Year Championships, which is organised by The National Casino Forum, has become the pre-eminent national casino competition and attracted entrants from 12 companies, with competitors coming from all over the country.
Points were awarded to contestants for their technical skills, control of the game and hospitality, but the 20 judges prioritised excellent customer service, with the most points available in the hospitality category.
Slawomir said: "I thought I would make the second stage, I hoped I would get to the third stage, and maybe make the top three, but I honestly did not expect to win it. I didn't think it would be me and it felt unbelievable when my name was called out as the winner.
I'm not the best at anything, but I've got a complete game. I've got good customer service, I'm good with maths, I'm good with chips and card dealing. It's easy to find people who are the best at an individual skill, but it's rare to find somebody with the complete game".
The day after winning the title Slawomir was promoted to inspector, but says he wants to carry on dealing: "I love to deal. I don't like to stand and do nothing. It's like when you love driving a car. Even when you are in the passenger seat you are doing the pedals, I feel the same way watching people deal.
"When I started people told me that the positive attitude I had would fade. Lots of the experienced people I met said that after five years it would vanish, but it has never gone away. I genuinely enjoy my work still and not that many people can say that.
"I have always been tipped as a great dealer by other people, now my manager wants me to inspire people and act as more of a mentor figure. That is something I am more than happy to do.
"I enjoy mentoring some of the junior croupiers. I always try to tell people to remember the basics. I was trained in London and I know the procedures and when you are under pressure and the game is busy, you can focus on the customer service because it's second nature and your hands are already programmed".
Slawomir believes the role of a croupier has changed during his decade in the industry. Customer experience is now central to the job.
He said: "Customers are looking for the experience. People who gamble on a weekly basis know the chances of them winning, what they want is the interaction and the experience. Sometimes on the table you are like a barman, they will tell you what is going wrong at home or with their business, and you have to be able to listen to them and police the game. People want interaction.
"Nowadays is completely different, when I first started you couldn't shake hands with a customer but now people feel special and they come back because they know we appreciate their custom. The hospitality has changed so much in the last ten years. We have so much competition from online and it's so easy to jump on your phone or your laptop. People are hit from every single angle, and the only reason to come here is the human aspect that they won't find anywhere else other than the casino".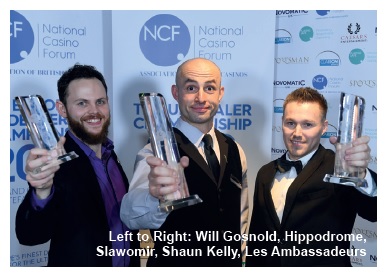 Although he has worked for Caesars Entertainment UK for ten years, Slawomir revealed that his choice of career had come about by accident.
He laughed: "I ended up in casinos as random luck! My friend was working as a bartender in the Golden Nugget casino in London and I went for the interview, got into the training school and that was it. Until that point, I had never been in a casino, I'd only seen them in James Bond films!"
Slawomir also won one of the side events held on the day, winning the maths prize. Other winners of the skills challenges were:
Card handler – Shradda Fernandes, Aspers
Chipping – Chris Stanworth, The Opera House
Chip cutting – Chris Stanworth, The Opera House
Stack pushing – Ivan Vrso, Caesars Entertainment and Francesco Di Marco, Crown London Aspinalls
Tracy Damestani, chief executive of The National Casino Forum, said:
"I was delighted by the standard of the competition, which was extremely high. It was wonderful to see so many operators taking part and there was a great spirit and camaraderie throughout the day.
"The 2018 Final was exceptionally competitive. The best croupiers command the casino floor, creating atmosphere and a sense of occasion, and Slawomir is a worthy winner".
She was pleased to see that seven of the 24 contestants were female and Verity Kaye, representing Park Lane Club, reached the final five. The National Casino Forum is promoting gender diversity throughout the industry, from the casino floor to the boardroom.
Sarah Robinson, Head of Group Marketing at Caesars Entertainment, said she would recommend hosting the event to any operator.
"It was a privilege to host the competition and to be involved in an event that promotes the casino industry and our wonderful dealers. The whole industry comes together for this event and it is a great opportunity to showcase a venue to other operators. The team at the Sportsman Casino put on a great show and did a fantastic job looking after everybody.
"It was relatively easy to host the event because the NCF set up a working group to help organise it and we were not left alone without support. The event was also an opportunity to promote the casino industry on a wider stage and we ran a Beat The Dealer competition on social media channels, encouraging the dealer community to show us their skills. Coincidentally, the competition winner, Hugo Smart, also works for Caesars so, together with Slawomir's UK Dealer award and being voted European Operator of the Year at the IGA Awards, it has been a hat-trick of victories for Caesars!"
Kate Chambers, Managing Director at sponsors Clarion Gaming said:
"The UK Dealer Championship (UKDC) is a prestigious event which champions the unique skills and talents that are required to work in a customer-facing role within a casino and we are delighted to support this competition. In addition, the UKDC provides an important shop window on what is a dynamic and exciting sector within the broadly-based entertainments and hospitality industry."
Slawomir and Shaun now turn their attentions beyond the UK, with the European Dealer Championship (EDC) running in Montenegro from 7-9 May 2018. Launched in 2007 by the European Casino Association (ECA), it is one of the premier events in the gaming calendar and last year brought together 33 participants from a record-breaking 20 European countries with 31 judges overseeing the competition. Antra Gaike, from Latvia's Olympic Voodoo Casino, was crowned as Europe's number one all-round performer, and Slawomir and Shaun will be striving to bring the trophy back to the UK.