The irony of closing the Hippodrome, very nearly re-opening and then finally welcoming customers through the door, is that it might have done us the power of good. In the longer term.
Most certainly it's going to be tough while people slowly re-remerge from their bunkers and visit places other than their local supermarket and the nearby pub.
But lockdown has taught The Hippodrome a great deal.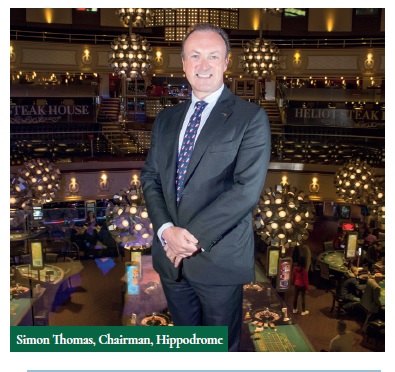 It's given us the chance to look with forensic detail at how we run the business. What works, and what we allowed to run less well but for the holistic benefit of the casino. It's toughened us up, and now every square metre is an opportunity.
It's also proved to me something I've been convinced of since we opened eight years ago; people - including us sometimes - have underestimated how important casinos can be to the local business community.
I was at a meeting recently involving neighbouring companies, talking about what we need to do to get the West End back on its feet. A café owner approached and told me he was thankful the Hippodrome was open again, because it would bring people back to the area, which meant he could open more regularly, employ more people, order more from his suppliers…
It brought into perspective the business eco-system we inhabit, where partnership and neighbourly support is vital. And just how central to an area's success a casino can be, which I think isn't recognised quite as it should.
It rankles of course that we were low down on the list for re-opening, instead of alongside pubs and restaurants when we lead the way on safety and hygiene protocols.
But now is not the time for retrospective grumbling, but to look forward to rebuilding customer numbers and confidence in our properties. And maybe embracing more than ever before our place in the local community and forge stronger partnerships.
It's certainly something we will continue to do here at the Hippodrome and we'll be inviting all our neighbours to our new £3m terrace which we were fortunate enough to complete during lockdown, on time and within budget; tripling the outdoor space for customers more eager than ever to play, eat and drink in a unique 'fresh air' environment.
Our new safety requirements have also shone a light on how we can better embrace the digital world if not restricted by regulation. There has always been customer demand, but never before has there been such a strong case, for more electronic gaming machines and contactless payment solutions. We will be working with our regulator and the government to effect change in our regulations to ensure they are fit for both the digital and Covid age.
These are strange times. But here's a thought. Let's stop talking about how tough everything is and concentrate on leading the way, locally and on a national stage, to show how UK casinos can play a small, but essential part in leading the recovery.
Simon Thomas
Chairman, Hippodrome