Glyn Thomas catches up with Derik Mooberry, Group Chief Executive – Gaming, Scientific Games, at the recent G2E Asia event in Macau
When you're interviewing senior executives – whether they be on the operations or manufacturing side of the industry - the term "veteran" has a tendency to crop up at regular intervals. Let's face it, unlike the online industry, there are few cherub faces charged with the responsibilities. After 16 years at Bally Technologies in a series of wide-ranging roles from systems, sales, service and engineering, Derik Mooberry fits the description precisely. He himself is fairly modest, ascribing his current position to being in the right place at the right time, but after the inevitable turmoil that arises from a series of mergers, having someone with his breadth of experience must be a godsend.
Over a quiet coffee we caught up on all things Scientific Games – in Asia and beyond.
Can we start back home and the recent contract Scientific Games won for ilani, Washington State's newest gaming and entertainment destination. I believe it encompasses the full suite of current innovations, so you must be delighted with the award?
Yes, indeed we are very pleased. The contract represents 57% of the gaming floor and is a perfect example of Scientific Games being able to supply a full suite of products – from systems to engaging slots and table games. One common question we are asked about our merger is how we have assimilated competing products and services; our ilani win shows how we do this to deliver best-in- class end-to-end casino product solutions.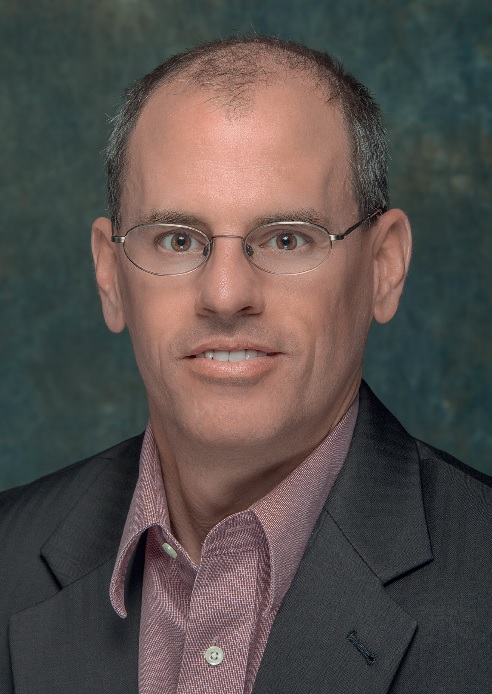 It was, as I understand, a very competitive bidding process. What do you believe were the key factors involved in their decision going your way?
I think the robust nature of our technical products – we're selling a tried and trusted series of products that fit seamlessly on a gaming floor.
What plans do you have regarding the future development of the SG Universe mobile suite?
I think the possibilities are endless. It's a hot product and we are all aware that smart phones have permeated every aspect of our lives – gaming is no different. By applying Scientific Games' technology, we think that the casino floor can be integrated into mobile applications offering wider choice and better customer service – from social gaming to checking your loyalty balance. It's a great opportunity for casinos to increase their customer base and, legislation permitting, leverage online play.
What have you brought to this year's G2E Asia?
This year we are highlighting new and innovative slot game content, proprietary table games, electronic table systems and casino-management systems solutions — designed to drive revenue and operating performance.
We're excited about our new Pro V27/27 dual-screen slant-top cabinets and the debut of 5 Elements Blazing Dragons® and Roaring Tigers, a five-level multi progressive link featuring 50 lines and rich bonus features. Players will find familiar fun during a classic Hot Shot®-style non-max-bet game-in-game feature, along with five free games, Dragon Bonus® Spins, and Wind, Earth, Water, Fire, Gold and Dragon progressive bonuses which add anticipation and a richer play experience.
On our No. 1-performing Pro Wave® slot cabinet, we are showcasing the highly anticipated third game in our Da Fu Da Gui near-area progressive link series — Eternal Happiness™. This game is rich in Asian imagery and features free games, mystery picks, multipliers, and free games retriggers. Also debuting on our Wave cabinet is Super 5 Treasures, the third standalone game in popular Fu Babies Super Series.
From our systems portfolio, we are also excited to demonstrate iVIEW4, our new in-game display manager; and the Chinese language version of Elite Bonusing Suite, with four games featuring localized Chinese art – Pirates Gold, Spin-to-Win, Lanterns of Fortune, and HiLo.
Visitors to our booth are also raving about our new high-energy Fusion Vibe player experience area featuring our electronic table systems.
Is Asia your second biggest market and can you see it as being the company's No. 1 market in the years ahead?
We view all our markets as being significant – it's not about the size, it's about us delivering the right product to the customer whether EMEA, Australia, U.S., Canada, Latin America and the UK, for example – they are all important in their own right.
What are your plans and expectations for Scientific Games in this region over the next 5+ years?
Macau aside, we are keeping a very close eye on Japan, which we think has great potential. Cautiously that market may, in fact, be more than five years away, but Scientific Games is here for the long haul. We'll be ready.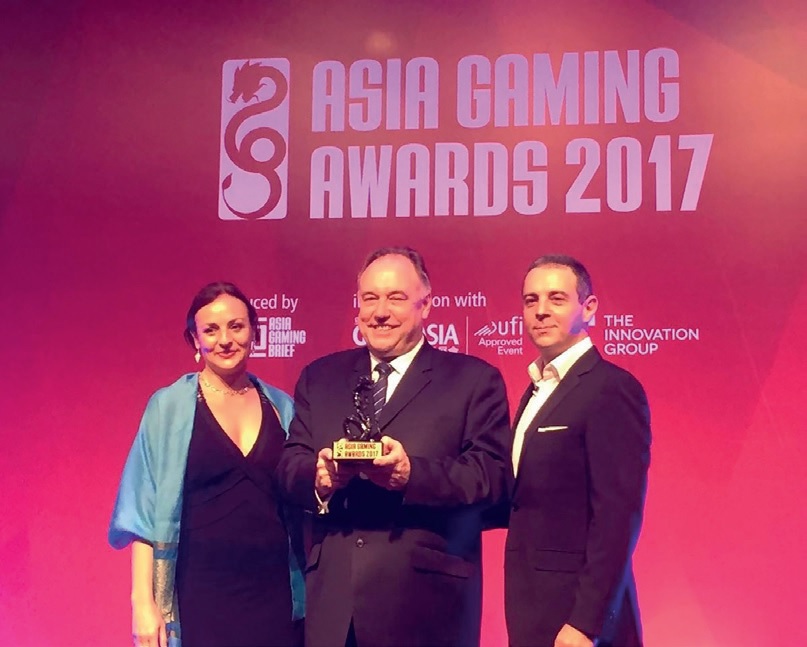 Scientific Games' VP and Managing Director of Gaming – Asia Ken Jolly (center), accepts the 2017 Asia Gaming Award
The other significant news for Scientific Games at G2E Asia was their '2017 Best Table Game Solution' award.
A panel of independent judges selected Scientific Games for the top-place honour in this annual awards competition designed to recognize significant achievements within the Asia gaming industry. The 'Best Table Game Solution' award recognizes the product that has played a key role in enhancing the casino table games experience, factoring in added value, reliability, service and support. Scientific Games was vying with six other companies for the top award in this category. Ken Jolly, Scientific Games' Vice President and Managing Director of Gaming — Asia, accepted the award during the Asia Gaming Awards' gala dinner and award ceremony at The Venetian Macao.
"We are honoured to win this prestigious Asia Gaming Award for our innovation in table game solutions. This recognition is a testament to our investment in developing ground-breaking table game solutions, which include our Shuffle Master line of engaging proprietary table games and table game progressives, as well as our leading-edge utility products such as card shufflers and chip sorters," Jolly said. "Our focus on creating pioneering table game solutions is driven by our mission to deliver the world's best gaming experiences and our commitment to excellence in providing the highest level of safety, security and reliability in the industry."