Promoting mid-week business has been a "constant" for Atlantic City as it finds its "new normal;" in the balance of gaming and non-gaming product.
I received a marketing promotion for a free overnight stay from one of the casinos mid- week. So I seized the opportunity for a mid-week mystery shop in July.
Putting all the recent headlines about this seaside resort aside; I decided to take a fresh, on the ground operational view. Armed with no analytical figures but rather using this experience as a "photo op,"  physical operation that is based solely on a 24 hr. period of sight and sound.
The results are shown below. 
A Thursday evening in the middle of July set a fair bench mark. Having worked in an AC casino for two decades I am familiar with the business levels from previous years.
Dusk on a Thursday evening on the boardwalk by Trump Plaza showed moderate business levels and definitely a young to middle age demographic.  The Trump Beach Bar was busy and the music could be heard over the dunes. Perhaps a signal of its possible closing, the Plaza signage needed a light bulb change.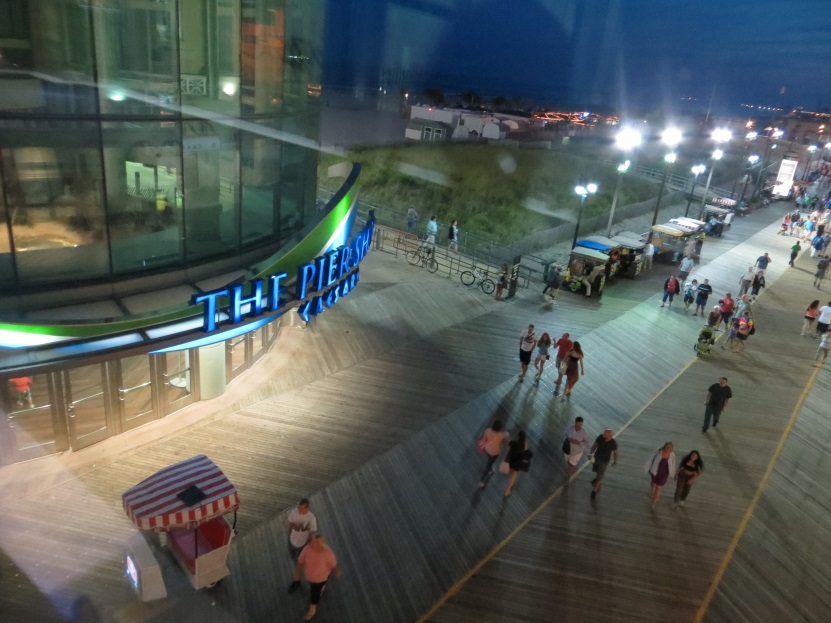 8pm on a July night on the Atlantic City boardwalk in front of Caesars Casino and what is left of the Pier Shops. The Pier at Caesars which opened in 2006 to a better economy and a still "benign environment" of multi-state gambling competition has now fallen on tragic times. It is not a representation of the better days promised when it was built out of the bones of the previous shopping mall called Ocean One which opened in 1983. Ocean One was built out of the ashes of the Million Dollar Pier which was constructed in 1906.
This 800 foot portion of Atlantic City beach has a history of entertainment, retail and dining for over 100 years. But its last attempt in 2006 with the pier was a failure of high end shops featuring over-priced designer brands that did not reflect the demographic base that has always supported this city. Many of the shops are closed, their entrance now covered by posters. The stores remaining are struggling to survive. And show nothing of high end goods for sale as I passed a store selling touristy trinkets and magnets.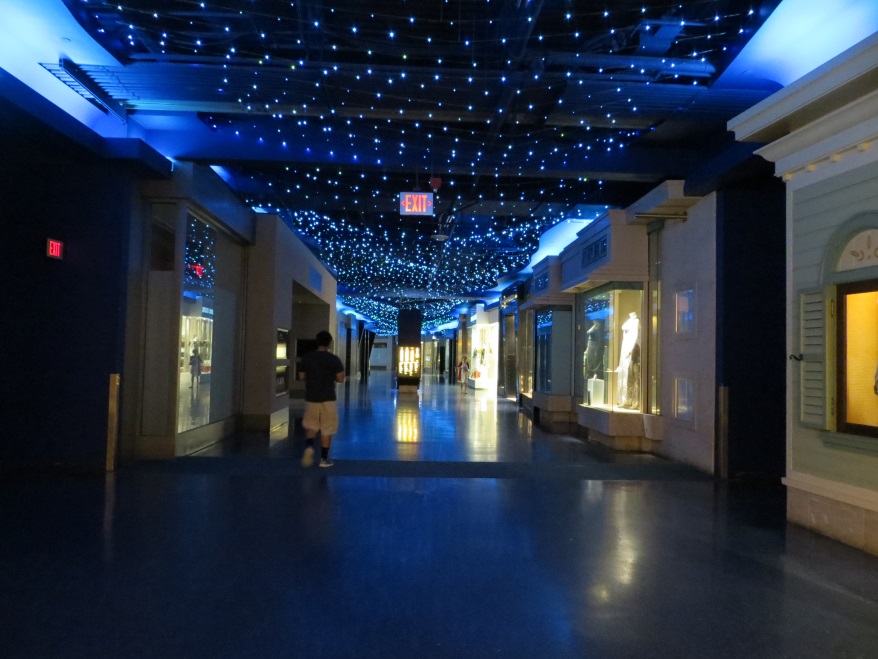 A lone stroller walks past darken store fronts on a summer July night in the Pier.
The view from the once touted 7 million dollar state of the art light/music water show, on this night is closed. The still pool of water reflects two levels of darkened store fronts.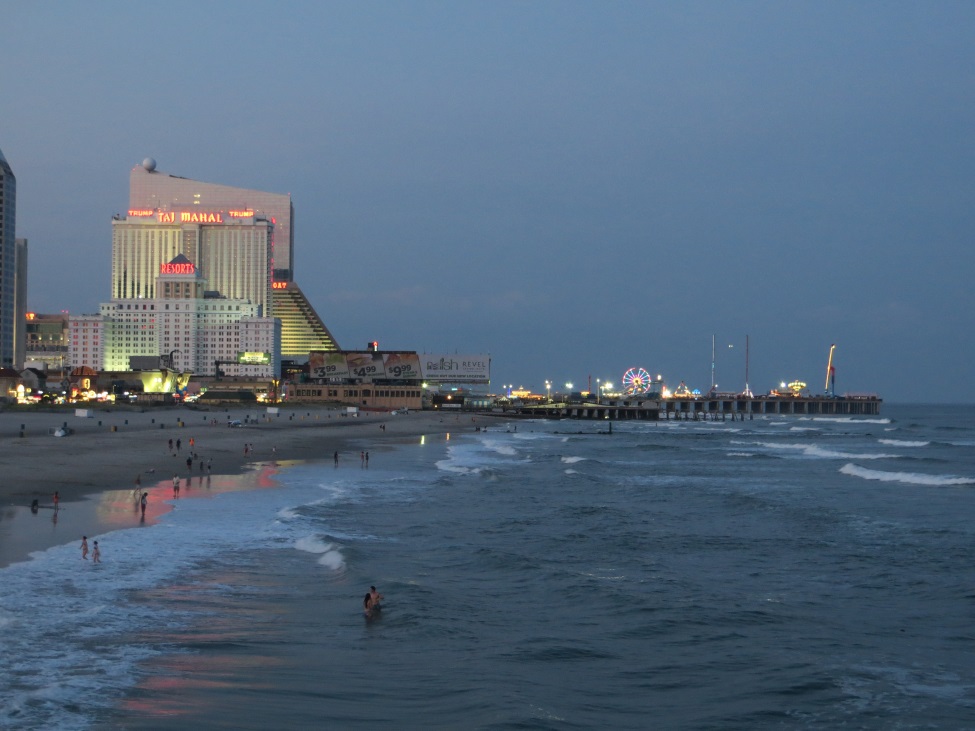 Taken from the back of the Pier at Caesars this picture reflects an Atlantic City in transition. "Roulette & Ferris Wheels."
The following day I walked the several boardwalk blocks to Revel as I wanted the entire mid-week summer boardwalk experience.  The beach was starting to fill with sunbathers and the boardwalk had some visitors gathering for an early kick off to the weekend.
At noon I passed the Showboat Casino Hotel, owned by Caesars Entertainment. It will be closing in August. Its years of neglect show in a weathered façade. The Revel whose fate is yet unknown juts into the sky in the distance.
It seemed like a lonely place as I came upon Revel. I could hear voices coming from the outdoor pool several floors up but found a casino empty of patrons. 
Noon on a Friday in July
A rolling chair and driver sit idle; waiting for business. 
The Revel captures the reflection of the Atlantic City boardwalk as it awaits the verdict in an auction August 6th that will decide its own future.
The pictures mid-week do speak for themselves in an environment where resort casinos are struggling for survival and mid-week business seems tough to sustain even in the summer.
As I stated in a previous blog; I have always been a supporter of this resort city; but always viewed them (the stake holders) as being slow to the gate when it came to supporting change or expansion of the business model.  Having worked in the city for over 25 years I strongly feel it has its place as a destination. But change is happening, it's not easy and it is not necessarily a negative.   
This is a city in transition or a city experiencing the "right sizing" of the market. That term is a bit to clinical for me when it refers to people losing their jobs. A snap shot of 24hrs.- in the summer of 2014, mid-week in Atlantic City. No analytics. Just observations. 
We know the gaming floors and hotel space will be reduced going forward.
We know there is human tragedy as thousands of people are forced to find employment elsewhere.
And we know the domino impact of dollars lost to the local business community that depends on the loyalty of the casino workers for goods and services.
Non-gaming products continue to bring in new revenue to the city. And there are still companies willing to take their shot on Atlantic City. Perhaps in a newer sleeker module of the total hospitality experience of Atlantic City that also has casinos.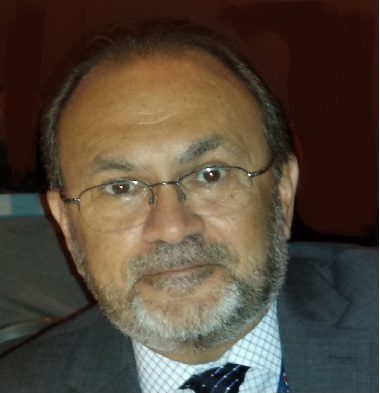 Bob Ambrose Instructor Gaming & Hospitality Center for Hospitality & Sport Management Drexel University Rja73@drexel.edu Twitter @bobambrose http://www.drexel.edu/hsm/