Circa owner Derek Stevens talks about the creation of his new resort. By: David McKee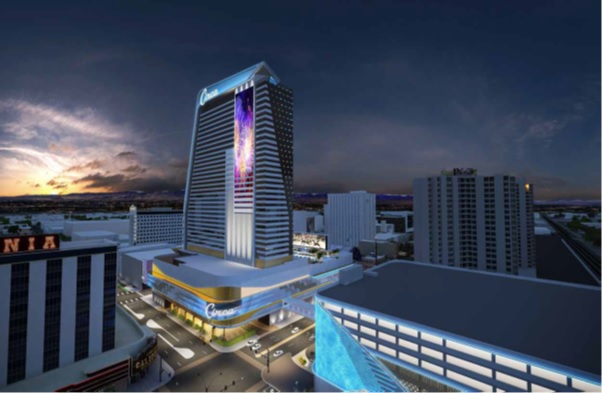 If Derek Stevens didn't exist, Las Vegas would have to invent him. The Detroit native, along with his brother Greg, has been building up a casino empire in the Downtown area of Las Vegas for almost 15 years.
Rather than come in and trying reinvent the casino business all at once, Stevens entered quietly and
observed the area, first as owner of the Golden Gate (Las Vegas' oldest extant casino), then swooping up when Fitzgerald's went bankrupt, rebirthing it as the highly popular The D (an allusion to the Stevens' home town).
In late October, Stevens' ascent into the top ranks of Vegas casino developers is consummated with the opening of Circa, his $850 million dream project and the first new casino to open in Las Vegas since Aria in 2008. (We'll just pretend that the ill-conceived Lucky Dragon never happened).
Located at the head of Fremont Street, Circa will be distinguished by a series of jaw-dropping amenities that Stevens has carefully rolled out, bit by bit, for maximum publicity oomph. For instance, much interest already centers around the sports book, advertised as the world's largest, in a town that is mad for sports betting. The room inventory will be relatively modest, opening with 512 in December and bringing the other 265 on line later, as demand dictates. But in all other respects Stevens dreams big, including four signature bars and rooftop Stadium Swim … not to mention his pride and joy, Garage Mahal, already a cult attraction. (When's the last time somebody got excited about a parking garage? Frigging never, that's when). If Stevens weren't enough of a Pied Piper, he garnered national headlines in early June by underwriting 1,000 free airfares to Sin City, to kickstart the newly reopened resort industry, badly battered by Covid-19. When those thousand plane rides were gobbled up in a heartbeat, Stevens subsidized a thousand more. It's a gesture typical of a mogul who never thinks small.