The tragic and untimely passing of Jens Halle came as devastating news to many of the 22,000 plus employees around the world of Austria's NOVOMATIC Group. 'Devastating' because Jens had been a close colleague of many and a good friend to many more. 'Devastating' that Jens, a man with a big personality and a big heart to match, should be taken aged just 57 as the result of heart failure.
The gaming industry uses the words 'Icon' and 'legend' excessively but, in the case of Jens, he was just that. An legend of business professionalism, with a track record of success lasting more than three decades, and also an icon of humanity and caring for others.
From his arrival at NOVOMATIC, from Bally, in 1999 Jens' career trajectory rose quickly, helped to no small degree by the rapid expansion of gaming in Russia and Eastern Europe. But Jens was also blessed with the human touch and he gained and maintained the respect and friendship of many at all levels of NOVOMATIC, from the shop floor to the very top.
As the success and expansion around the world of NOVOMATIC grew so too did the success and reputation of Jens Halle. By nature a born sales executive Jens was an exponent of fair and honest dealing. His word was his bond and his handshake at the conclusion of a deal was as binding as any formal contract that would follow. The growth of NOVOMATIC around the world, in Europe, Africa, Latin America, Asia and in North America stands as tribute to his excellence as a 'deal maker'.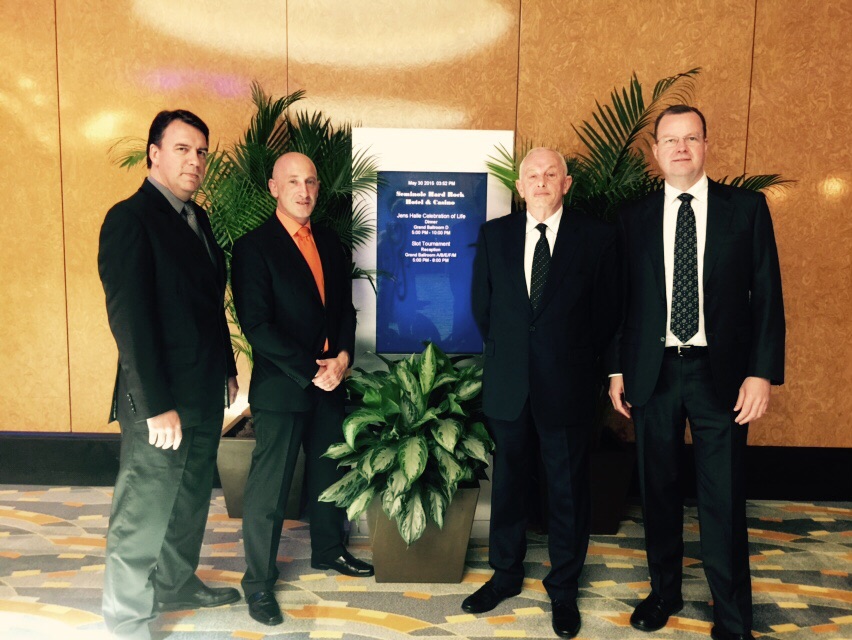 Jens helped, and in many case made, the careers of many around him. He believed in trust and would give anyone a chance. That built a climate around him of loyalty and commitment and many had just cause to be grateful to the big German with a heart of gold.
As was expressed so well at his recent Memorial event held in Florida gaming people around the world celebrated his life with the words 'Rest in peace, Jens, and shine brightly forever with the stars.'
Marietta condolence thanks:
Via this publication, our heartfelt thanks for the love, support and many, many messages of condolence that were received following the death of my husband and Jordi's father. The international gaming industry truly is a family. To those that were able to join us at the Hard Rock Casino in Florida, as well as the many more that joined us in spirit to celebrate the life of Jens and mark the many contributions that he made to that family, we send our gratitude and our warmest wishes.
In particular we wish to pay special thanks to Jens' many friends and colleagues and new friends at Merkur Gaming and specifically to Paul Gauselmann who was, and remains, a tower of strength in our time of need.
Thanks to you all. Jens will remain, forever, wherever and whenever the gaming industry meets, in our hearts.
We love you Jens.
Marietta and Jordi Halle.