Entering into a Brave New World. By Robert Ambrose
The gaming/hospitality environment has radically changed in recent years and continues to spawn new technologies and reinvented business models. At no other time in gaming/hospitality's history has the environment faced such a degree of business challenges while undergoing so many operational changes. The aesthetically designed elements, the technology, the products, the competition and partnerships are evolving every day.
At G2E this year the gaming and hospitality industry was shown to be strong, innovative and continues to host companies of interest. It is reflective of an ever evolving industry model steeped
in ideas, technical advances and the marketing of cross generational products. As an example, this was Experiture's third year at G2E and according to the company's Sales Director Wayne Wildrick, it was by far our most successful. "G2E has been a great avenue for Experiture to introduce new marketing technology to the gaming industry. It was standing room only at our booth."
Also this year there was an increased presence of the Esports model. Skill based gaming has obviously expanded its base from last year with even more floor space devoted to the products.
And the integrated resort experience, after its introduction a couple of years ago, has shown stability and continues to fit quite comfortably on the conference floor.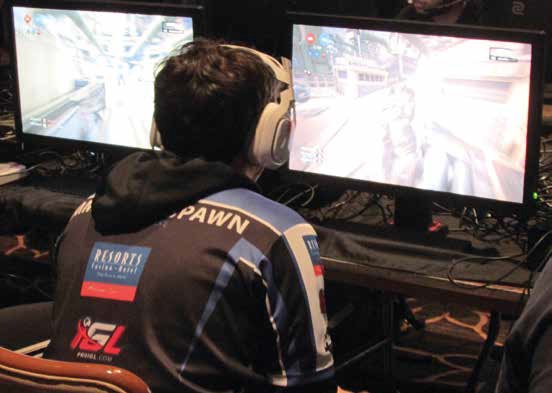 My commentary this month specifically centers on Esports. Hopefully those of you that attended G2E saw the  beginning stages of the integration with Esports vendors and panel discussions and took some time  out to learn more. Resort properties have begun to adapt to the growth of Esports with competitive  arenas either in place or in the planning phase. And if property space is challenged for a large  competitive venue dedicated to competition, what about a tournament "viewing" lounge, similar to the sports betting areas we see today.
When major Esports tournaments are being projected on the screens, the lounge is a model for guests to watch the tournaments, participate in e-game play with friends and be a contributor to the food and beverage bottom-line. In the correct regulatory environment with the right logistics, Esports wagering can take place at the same lounges or elsewhere in the casino.First time vendor at the show Jason McIntosh, ggCircuit LLC was impressed. "Overall, our first experience at G2E was fantastic," he said. "It was well worth us travelling to talk to industry leaders about what we're doing in the Esports space. While a large majority were interested in the  betting aspect of Esports, we were very encouraged at how our management software and LAN center experience can bridge the gap as an entertainment  venue until betting regulation is complete. We received multiple compliments about how we were ahead of the curve with Esports and casinos. From top to bottom we were welcomed by all and felt we left an imprint. We look forward to attending next year."
Executives that prescribe to the traditionalist point of view need to understand that Esports and the casino industry are in a process of "mapping out" their relationship and seeing how it will complement each other going forward. It is important to search out the analytics needed to determine how a massive gathering of millennials will fit into the future casino/hospitality model.
Basically, how can a property and the Esports community economically go forward together to court their customer base as jurisdictions work out wagering regulations. Esports is a marketing identifier and brings one more niche to the property footprint. As an executive, you are not required to understand the games but rather appreciate and understand what drives these events and fuels the infrastructure. Think beyond traditional game floor analytics. Esports events and wagering brings another niche marketing segment to a property. If marketed correctly it has property wide economic potential. What better forum than an event center packed full of potential present and future customers and an additional number in the thousands of online spectators to include an international audience. Is there commercial dollar value here? Absolutely!
According to an article by Danny Vena in The Motley Fool, a financial services media source: "The largest prize pool ever in Esports was for Dota 2league tournament play in 2017, with prizes totaling nearly $25 million. Twitch, the most popular  game-streaming service, was bought out for nearly $1 billion in 2014, and it now touts more than 100 million users." 
https://www.fool.com/investing/2017/10/08/3- 
ways-to-invest-in-esports.aspx There is opportunity for casino resort properties to generate not only revenue from all hospitality segments on property by hosting an event, but also introducing a future customer base which means the potential for return customers from an Esports event.
"Revenue from Esports and streaming will amount to an estimated $1.8 billion in 2017, and  that is expected to crest $3.5 billion by 2021," according to a report from Juniper Research, UK.
The report further states, "…Approximately 300 million people worldwide are expected to tune in to Esports this year, and that number is expected to grow to 500 million by 2020."
According to a report published on the website of Super Date Research, a leading provider of point of sale data.  https://www.superdataresearch.com/marketdata/ esports-market-brief/
In 2016, "Direct consumer revenue grew 36%  Y/Y, as Esports enthusiasts spend $231M on tickets, merchandise and prize pool contributions, among others. Valuing the total Esports revenue at $892.8M in 2016E, year-over-year revenue growth is largely a result of more brands and advertisers entering the market. Asia, worth $328M, still leads the market, but is giving way to North America and Europe. By 2018E, the market is set to reach $1.1B…"Industry wide… As the casino resort industry seeks to expand their demographic base, they need to continue to be innovative. The industry needs marketable options such as Esports.
If a property is multifaceted in what it can offer, it attracts several demographics.I think it's generally agreed that the new casino floor culture should not alienate those that enjoy the traditional experience. There is a need to cross market and blend generational differences into a seamless connectivity of traditional and nontraditional product. We are at the beginning stages of the Esports/ casino partnership. The future is about learning, establishing the regulations and offering a transparent Esports product to the public in definition and content. It is clear we have to move beyond the limitations of established regulatory parameters when it comes to expanding the regulations for wagering. According to the US Chamber of Commerce the "Millennials" are 80 million strong. This is the first generation that has grown up from diaper to "cap and gown" centered in a planet sized evolution of technology.
What Advertising Age Magazine describes as a difficult market to reach (males 21-35) you can find many of them participating in Esports.. The growth has continued with other major advertisers dumping huge sums of money to establish their  footprint in the marketplace and creating a steady growth in prize money. The fact that international companies are buying-in for advertising and sponsorships and major sports franchises are purchasing teams is sending a strong message. It is easy for those in marketing to become immersed in the stereo-typical-generalities of the  age group as the industry further tries to define a path leading them to the casino and all things hospitality.
Looking for the common denominators for market identification and segmentation can be challenging. However, whether you agree or disagree, Esports is a workable strategy for the casino gaming environment.  These events draw a huge fan base, a great deal of money in sponsorships and prizes as well as a sporting group of players that are no different from  NBA players in their passion for the game.
I have always considered myself an observer of the gaming and hospitality industry engaged in observational research through my employment over the years. I have been on the ground running since 1985 drawn by the psychology of the gaming/ hospitality model, fascinated by the data collection that defines the markets and in awe of the evolving state of technology and products offered to the customers.  Be open to new learning, don't fear change, and appreciate the opportunity. Welcome a Millennial in the board room, you may find out that they do have
a good grasp of the market.  Appreciate their history even if it's less than yours. An opportunity not studied, is an opportunity missed.
Bob Ambrose
Gaming Educator & Consultant
Originally published Casino Life magazine November 2017