'The most exciting thing we've seen since the early days of the Internet' is how John Caldwell, Director of Advocacy at the CasinoCoin Foundation, describes the ever-expanding world of Blockchain. Ahead of a dedicated panel on Blockchain technology at this year's Juegos Miami (May 30 – June 1, Biltmore Hotel, Miami), Caldwell addresses the legalities for the solution in Latin America, the burgeoning possibilities for operators and users in the region, and why Blockchain is 'perfect' in regards to social responsibility in gaming.
 
What can attendees at Juegos Miami expect to learn about Blockchain?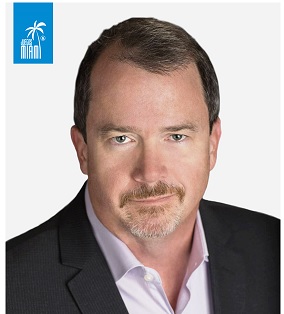 One of the key things I will discuss, on the Juegos Miami panel, is something I always try to get across - which is that the media coverage and the hype around Blockchain is still out of sync with today's reality in terms of where the tech is in the arc of its development. We're at the dawn of a new technology that's the most exciting thing we've seen since the early days the internet, however it's still very (very) early days. Ironically, because of the internet, the world moves at such a fast pace that the technology doesn't necessarily have time to catch up to the news cycle.
 
There are also a lot of money grab projects that succeeded in getting funded in late 2017, which have very little (to zero) chance of delivering on their promise. This will, for a while, sour the market and people towards the technology. It's unfortunate but it's a reality.  We have to weather this dark time - especially in the gaming business where Blockchain has many of its best use cases.
 
Which other countries in the world would you look to as a benchmark for Blockchain legalization and policy?
I really look for Malta to lead. They're the first country that I know of, that has considered gaming in a focal way, but also taken a pan-vertical approach by really breaking it all down and working to create some common-sense policy. Obviously, Switzerland took the lead early on, and it's a lead they still maintain. I think you're going to have to look towards the traditional gaming jurisdictions, Malta, Gibraltar, Isle of Man - even the UK, to establish and lead the Blockchain and crypto policy work as it relates to gaming.
 
Would you say Blockchain is compatible with social responsibility in gaming?
That's the irony of it. Blockchain is perfect for gaming. You can create, essentially, a near perfect AML environment on a Blockchain, which you can't in traditional infrastructures.
 
Additionally, the increased transparency allows social and responsible gaming to be more visible at the forefront. We will be able to create an environment where not only regulators, but operators can see with more clarity what any particular individual is doing, and intervene at an earlier stage if necessary.
 
Which hurdles need to be overcome to progress Blockchain, specifically in Latin America?
I personally think some regulatory strides need to be taken for Blockchain to really grab hold - specifically as a gaming payments option in Latin America. While crypto can solve some funding problems in the near term, as the markets move to regulation those solutions will become, not only impractical, but potentially downright problematic. With the Latin American region not being as regulated as other parts of the world, this is going to present a challenge in the near to medium term.
 
Is there a trust issue to overcome?
Again, that's the beauty of crypto - it can be a trustless system. You don't have to rely on "trusted third parties" to handle your transactions. I think the global financial crisis over the last decade put some serious doubt in the minds of some, toward these 'trusted' third parties, and so I think moving to a trustless system is an inevitability. We just have to do so thinking about regulation and consumer protection first.
 
Who are the main commercial beneficiaries of Blockchain in the region?
To me the biggest benefactor of Blockchain will almost always be the end-user. Regardless of whatever region you are in. You could argue that it's a little more appealing in areas of higher fraud, and where some of the payments, and in some cases even the infrastructure, is flawed.
 
Latin America is a very exciting region and I think conferences like Juegos Miami are particularly important in that they give people in the industry exposure to a specific region or culture, while still being (fairly) central in terms of location. It's also key that this year's event has been co-located with GiGse, with the proliferation of conferences today, two conferences with good brands joining forces makes a ton of sense and frankly in some ways it's probably inevitable. In addition, if you think there are too many gaming conferences out there, let me introduce you to the wonderful world of crypto conferences. See you at Juegos Miami.
 
The extensive Juegos Miami 2018 program, which will take place across three days at The Biltmore in Miami, will enable operators, regulators and governments to rise to the challenges and opportunities facing the industry. To download the agenda, visit: https://www.juegosmiami.com/learning-program.
 
To apply for a place at Juegos Miami, which last year attracted exhibitors and representatives from a total of 44 countries, register at www.juegosmiami.com.
Image: John Caldwell, Director of Advocacy at the CasinoCoin Foundation