Last week, the London Poker Room situated in The Casino at The Empire played host to a series of successful winning hands as players received a record-breaking payout from the legendary Bad Beat Jackpot.
On Tuesday 17 June, first prize winner, Mr Shay Benaim, scooped £28,861.50 of the coveted £57,723 Bad Beat Jackpot. Second place on the night was Mr Jing Cao who collected £14,430.75, while the four other players won an equal share of the remaining jackpot.
After Tuesday's triumph, the Bad Beat Jackpot was re-seeded at £10,000 and won again on Thursday 19 June 2014. Mr Ruben Carrasco claimed a £5000 victory followed by Mr Anesh Patel, who took home £2500. The six other players received an equal share of £416.66 each.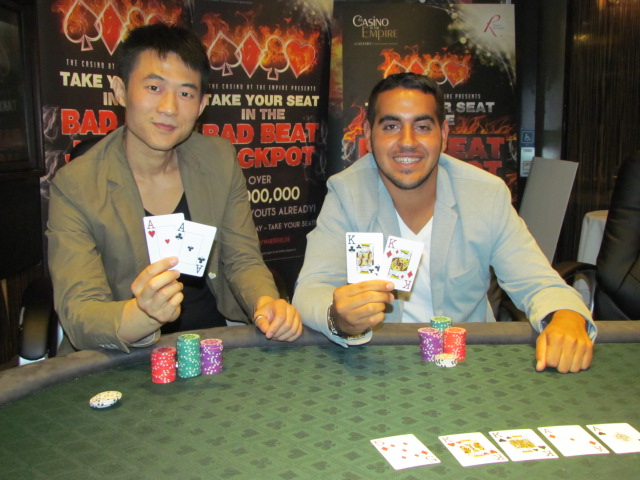 The Bad Beat Jackpot continues to prove to players that they don't have to be a poker shark to win a generous cash prize, just an awesomehand that gets a Bad Beat! Since the launch in 2010, The Empire Poker Room has cheered on players with over a £1 million payout in the Bad Beat Jackpot.
Stephen Osborne, Marketing Manager said: "We are excited our Bad Beat Jackpot has given poker players a chain of payouts in two days. We will continue to maintain the best offering for our customers so they choose The Empire Poker Room as a cardroom destination of choice in London."
The jackpot is won if your losing hand is four twos or better at showdown in any dealer dealt Texas Hold'em cash game. Both the bad beat winner and the winner of the hand must use both their hole cards. The bad beat winner (loser of the hand) wins 50% of the jackpot, the winner of the hand wins 25% of the jackpot, with the remaining 25% shared by the rest of the players on the table.
The biggest three jackpots won to date stood at £222,335, £128,705 and £118,421.